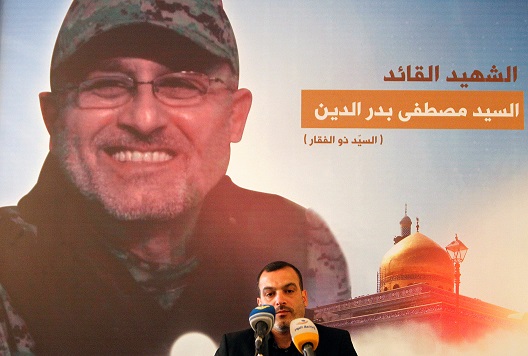 Hezbollah media outlets in Lebanon have announced the death in Syria of Mustafa Amine Badreddine, an intimate of Hezbollah Secretary-General Hassan Nasrallah and the person reportedly in command of Hezbollah forces in Syria. The news outlets initially reported that a Hezbollah facility near Damascus had been engaged by Israeli aircraft; a claim omitted from subsequent reports. For the second time in eight years a senior Hezbollah operative reportedly familiar with the key details of the 2005 assassination of former Lebanese Prime Minister Rafik Hariri has died in Syria under the watchful eyes of Syrian intelligence. The first involved the violent end of Badreddine's cousin and brother-in-law: Imad Mughniyah.

Over the years Badreddine has been a key player in Iran's Lebanese 'murder incorporated.' He achieved something close to full public notoriety when, on June 28, 2011, the Special Tribunal for Lebanon indicted him and three other Hezbollah operatives for the February 14, 2005 murder of Rafik Hariri and 22 others. Two days later the Netherlands-based Special Tribunal— authorized by UN Security Council resolution 1757 and operating under Lebanese criminal law—issued arrest warrants for the four. Iran's man in Lebanon, Hassan Nasrallah, denounced the Special Tribunal and declined to deliver up the accused for trial.
In the Hariri case, Badreddine and his confederates had left behind electronic fingerprints that made their indictments inevitable after an exhaustive investigation: one that the Hezbollah leadership cadre tried (and failed) to frustrate at every turn. The horrific car bombing of February 14, 2005 was definitely a highlight of Badreddine's murderous career, first as an understudy to the supremely brutal and bloody-minded Mughniyah and then as a principal in Nasrallah's entourage, orchestrating other political murders and attempted murders in Lebanon before moving on to facilitate Assad regime mass homicide in Syria.
Although the individual details of Badreddine's sanguinary career may not be as voluminous as those assembled by Special Tribunal investigators in connection with the Hariri assassination, he is believed to have been on the ground floor of Hezbollah's rise in Lebanon. Various reports have linked him to the bombings of the American Embassy in Beirut and the US Marine Corps barracks (Beirut International Airport) in 1983, subsequent hostage-takings, tortures and murders in Lebanon, and bombings in Kuwait. Indeed, Iraq's invasion and occupation of Kuwait in 1990 sprung Badreddine from imprisonment there.
The fact that Hezbollah has, over the years, done a serious job of leader development makes the death of Badreddine something far less than a mortal blow to the organization or to its military operations in Syria. If Israel was involved in his killing, it would probably signify something far short of a decision for sustained intervention in Syria's fighting. Badreddine would have played a key role in any Iranian attempt to shift military pressure on the occupied Golan Heights from Lebanese to Syrian territory. If another actor was responsible for the violent end of a violent man it could amount to the further winnowing of those who knew with great precision who ordered the assassination of 'Mr. Lebanon' and how precisely the heinous crime was planned and executed.
Frederic C. Hof is director of the Atlantic Council's Rafik Hariri Center for the Middle East.