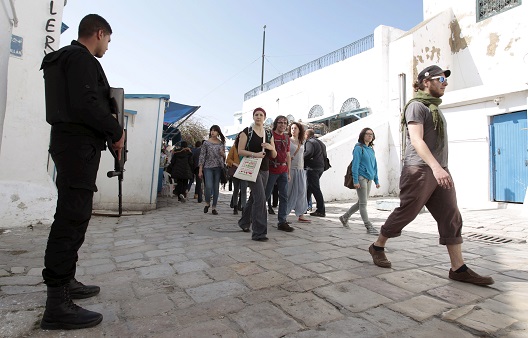 As a small and relatively poor country with limited natural resources and military capabilities, Tunisia will have to manage its relationship with powerful Western countries and volatile regional partners to ensure its future stability.
The Ennahda-led government of 2012 and 2013 followed a type of "revolutionary diplomacy" that relied on Qatar and Turkey for support, backers of a new regional order. With the defeat of Islamists in much of the Arab world, Tunisia today leans much further toward status-quo seeking policies. Under President Beji Caid Essebsi and Prime Minister Habib Essid, Tunisia will consolidate a "zero-enemy" policy, one similar to the diplomatic strategies of former presidents Habib Bourguiba and Zine El Abidine Ben Ali that sought to remove the country from regional rivalries.
The new government will likely seek to limit any political adventures, choosing instead to focus on economic and security cooperation.
Libya
Libya remains the main foreign policy challenge for Tunisia. As Tunisia's second largest economic partner, Libya remains the primary source of informal cross-border trade, which amounts to roughly 40 percent of Tunisia's gross domestic product. Despite the occasional closure of border crossings, hundreds of thousands of Libyans have taken refuge in Tunisia to escape the ongoing conflict and thousands of Tunisians continue to work in Libya.
The conflict and a divided government in Libya has posed a threat to both Tunisia's economic order and its security. Since October 2014, Tunisia has imposed an exit tax on foreigners. In response to the fee, Libya imposed its own—double the amount. Tunisian civil society activists, cross-border traders, and merchants protested the tax and shut down the Ras Jedir border crossing between the two countries, raising tensions. Libya's extremist groups also pose a direct security threat. The attack by allegedly Libya-trained militants on the Bardo Museum in Tunis thrust the security threat into the headlines on March 18.
As such, the Tunisian government will likely replay its 2011 strategy when by then-Prime Minister Caid Essebsi managed both Muammar al-Qaddafi and his opponents. The country will avoid intervening in Libyan affairs, shifting away from former President Moncef Marzouki's perceived closeness to Tripoli and calling for peaceful solutions rather than military action. Authorities will likely continue their economic and diplomatic contacts with both Tripoli and Tobruk until a clear winner emerges in Libya.
Algeria
The Algerian regime, wary of Islamists forces in power given Algeria's historical baggage and of a potentially successful democracy on its border, disapproved of the 2012-2013 governments. As Tunisia's wealthiest immediate neighbor, Caid Essebsi made it a point to first visit Algeria after his election to the presidency. Algeria-Tunisia security cooperation has grown in importance since the increase of terrorist activity on the borders of the two countries—particularly in the Mount Chaambi region.
As the largest North African country (fifteen times the size of Tunisia), Algeria balanced Libyan hegemony in the days of Qaddafi's rule—and vice versa—with Tunisia tipping the scales as needed to promote the balance. With Libya embroiled in a civil conflict, Tunisia must now manage its relationship with Algeria on its own.
Both the low-scale insurgency on the Tunisia-Algeria border and the Libyan crisis will require strong cooperation between the two sides, but Algerian overzealousness may strain security cooperation. Algerian security officials asked their Tunisian counterparts for the right to conduct cross-border counterterrorism operations in 2014. During President Caid Essebsi's visit, Algeria asked to be notified beforehand if Tunisia were to sign a military agreement with another country.
Tunisia's bandwagoning with Algeria partly explains the position it took against Egypt's and the United Arab Emirates' call for an international military intervention in Libya, which Algeria opposed.
Europe
Europe provides economic, security, and geopolitical protection for Tunisia—a relationship the new government will not jeopardize. Nearly 80 percent of all trade in Tunisia occurs with European countries, making the group of Western countries its largest economic partner. Given the proximity, roughly 10 percent of all Tunisians live and work in Europe. Europeans can also provide political disincentives should Algeria starts suffocating Tunisia. Essid's government will do its utmost to maintain the "Privileged Partnership" status gained by Tunisia in 2011, marketing its improvements in human rights, its efforts to fight corruption, and the central role his country plays in stopping illegal migration.
Tunisia, traditionally seen as France's chasse gardée, has tried to diversify its European partners. France's previous history supporting the Ben Ali regime, its hesitations towards the rise of Islamism, and its own economic difficulties has prompted Tunisia to reach out to countries such as Italy, Germany, and the United Kingdom. While France will remain Tunisia's top partner, others will compete for that rank. Italy may assume a greater role, particularly after the loss of its main North African partner, Libya. Tunisia will look to Italy to upgrade its navy, control illegal maritime immigration, and coordinate on strategies regarding the Libyan crisis. Germany is also keen to support democracy while expanding economic partnerships. The UK has provided security trainings and material, also using Tunisia as a platform for its Libya-related activities.
USA
Tunisia's relationships with the United States will be one of this government's main priorities. The appointments of Essid, a US educated agronomist, as Prime Minister and Mohamed Ezzine Chelaifa, Tunisia's most recent ambassador to Washington, as Assistant Foreign Minister suggest Tunisia's focus on strengthening the ties. Acquiescing to Ennahda's participation in government, a pressing US demand, is yet another example.
A number of high-level US official visits to Tunisia seem to recognize and reciprocate the commitment to the US-Tunisian "Strategic Dialogue." The first foreign delegation met by Essid was US Senator John McCain and other congressmen. The first ambassador met by the prime minister was US Ambassador Jacob Walles. The first major event happening in Tunisia in 2015, an investment and entrepreneurship conference, was attended by Secretary of State for Commerce Penny Pritzker, Assistant-Secretary of State for Economic and Business Affairs Charles H. Rivkin, and former Secretary of State Madeleine Albright.
Tunisian officials use both the discourses of democracy consolidation and the war on terror when addressing their US counterparts. They will rely on US backing when negotiating with international institutions, given Tunisia's need for loans to cover its deficit. Expanding the Tunisian army's capacity and equipment to help face terrorist threats and secure the borders with Libya will also fall on the United States to help support. US aid can also prevent Tunisia's excessive reliance on rich countries averse to democracy, such as Algeria and the United Arab Emirates (UAE).
The Middle East
Many expected the government appointed by Nidaa Tounes to join the Saudi Arabia/UAE/Egypt axis. Caid Essebsi, upon his inauguration, received an invitation to visit both the UAE and Egypt, and had already travelled to Saudi Arabia as president for King Abdullah Bin Abdelaziz Al Saud's funeral. Essebsi and Egyptian President Abdel Fattah al-Sisi met three times in six months and his Foreign Minister Sameh Shoukry visited Tunisia in February.
However, Tunisia sided with Algeria's noninterventionist stance on Libya and, more importantly, included Ennahda in the government. These policy positions point to a considerable degree of autonomy from the axis, but may come at a price. The Emiratis made it clear to Tunisian policymakers that investment and aid would be conditioned on excluding Islamists from politics.
Yet, Saudi Arabia's reconciliation efforts with Qatar and reception of Ennahda leaders twice in 2014, and again during the royal funerals, suggest that the new Saudi regime may want to use Ennahda as an interlocutor with the Muslim Brotherhood in the region.
Caid Essebsi and his team will likely keep flirting with the UAE without investing too much political capital. Tunisian authorities could also use their relationship with the Gulf to fend off too much criticism on democratic and economic reforms from the United States and Europe. It could also serve as a disincentive for Ennahda, a subtle threat to be used in domestic politics. In other words, Caid Essebsi and Essid may use the Tunisia-Gulf relationship the way Sisi uses Russia: a bargaining tool.
Caught in a tumultuous region and suffering its worst terrorist violence in recent memory, Tunisia's government needs to address its economic and security problems while consolidating its nascent democracy. Such tasks require international support, especially from strong and rich democracies, but also fewer enemies. The recent Bardo tragedy and the "War on Terror" discourse prevailing in Tunisia are a reminder of the country's fragility; foreign policy will play a key role in mitigating these obstacles.
Youssef Cherif is a Tunisia-based consultant on North African affairs. Follow him on Twitter @faiyla.