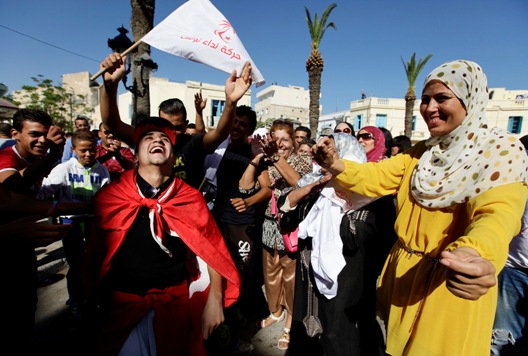 With the Tunisian elections mere days away, political parties face a skeptical population fed-up with politics after a turbulent three years since the revolution that ousted Zine El Abidine Ben Ali. Short of resources for their electoral campaigns, parties search for their appropriate patrons as the country tries to fend off a deepening economic crisis. As such, the main political parties have reached out to external players for support, targeting the wealthiest regional actors: the oil rich monarchies of the Gulf Cooperation Council (GCC) that have been engaged in a Middle East cold war since the beginning of the Arab Spring in 2011.
Qatar and the United Arab Emirates (UAE) have disagreed over fundamental aspects of the Arab Spring uprisings—not the least of which includes whether or not to support the emerging Islamist power centers. Extending their low-intensity cold war into Tunisia, they have used the two strongest parties as proxies: Ennahda and Nidaa Tounes. These alliances are likely to influence the elections, exacerbating Tunisia's inter-party polarization at a time when consensus is direly needed.
Ennahda and its Qatari Patron
Qatar saw the Arab Spring as an opportunity to maximize its regional influence, following a decade of soft power characterized by international development projects, diplomatic mediation, and the growth of its major news network, Al-Jazeera. It rightfully anticipated the Islamists, as the only organized political force, to win democratic elections in 2011-12 and offered them political and economic assistance.
In Tunisia, Ennahda considers Qatar a natural partner, with the party leaders and its coalition partners often appearing as guests on Al-Jazeera and other Qatari networks. The lead up to the 2011 elections and during the Ennahda-led transitional government—the Troika—saw frequent mutual visits between Troika and Qatari officials, whose regime supported the Tunisian government both politically and financially.
The Troika's relationships with France, Algeria, Saudi Arabia, and the United Arab Emirates (UAE), however, significantly deteriorated between 2011 and 2013. During that time, Qatar remained a reliable friend, offering diplomatic and financial cover. In fact, after losing ground in Syria and Egypt and finding itself entangled in a proxy war against the UAE in Libya, Qatar found in Ennahda one of its last surviving allies as it tries to extend its regional influence.
With Tunisia's legislative electoral campaign heating up, Ennahda feels it must demonstrate its closeness to Qatar to show voters that it has a rich ally, willing to invest in the country. Given that Qatar's rival Gulf donors, Saudi Arabia and the UAE, have made clear their divergent views towards Islamists, Ennahda really has no other regional partner to which it could turn.
Politically, as the party that claims to be behind the success of the transition, Ennahda also needs the Qatari propaganda machine to disseminate that positive image. Influential media outlets such as Al-Jazeera, Al-Araby al-Jadid, and Al-Quds al-Arabi are undoubtedly valuable assets to have on its side as the elections approach.
The success of the Tunisian transition will also draw international recognition to supporting countries. Qatar, through its petrodollars, media industry, and diplomatic backing, will undoubtedly try to capitalize on such a victory. A successful transition in Tunisia would help boost the image of the small Gulf state, its reputation already suffering from accusations of funding terrorism. Ennahda, if elected, would no doubt make a point of praising Qatar locally and abroad in the name of the Tunisian state (a highly regarded symbol), as they have done in the past.
Qatar's interest in Tunisia will remain high as long as its conflict with Saudi Arabia and the UAE continues. Despite its distance from the Gulf security sphere, Tunisia's border with Libya represents a gateway to Tripoli. The winner of the upcoming Tunisian elections can allow—or prohibit—arms shipments to Libya's west. In the struggle over regional dominance, both Qatar and the UAE are eying this road, already used to arm their proxies in 2011.
Nidaa Tounes: The Emirati Card
Saudi Arabia is often referred to as leading the "counterrevolution" in the Arab world. In Tunisia, however, and indeed in North Africa in general, it has kept a relatively low profile. In the face of Saudi Arabia's own evolving domestic challenges and the twin threats of the Islamic State in Iraq and al-Sham (ISIS) and Iran next door, the Kingdom has chosen to concentrate its forces in its immediate area of influence, giving up North Africa to its ally, the UAE.
The latter has two designated foes: Islamists and Qatar. As such, Emirati animosity towards Ennahda is no secret, given the party's history as a Muslim Brotherhood offshoot and its close ties with Qatar. Ennahda's support for different stakeholders in Libya only adds salt to an open wound, in the eyes of the UAE.
Emirati concerns are partly shared by Nidaa Tounes, whose views on foreign policy are similar; Nidaa leaders stress on the need to counter terrorism and political Islam and support Egypt's President Abdel-Fattah al-Sisi who ousted the Muslim Brotherhood-affiliated Mohamed Morsi from power in 2013. Nidaa officials have also occasionally visited Dubai and Abu Dhabi. The UAE government even dispatched a private jet for founder and party leader Beji Caid Essebsi to visit in May 2014, presenting him with two armored cars as a gift.
Nidaa leaders, in their animosity towards Ennahda, have willingly entered the Emirati axis—joining anti-Islamist forces such as Egypt's Sisi and Libya's General Khalifa Haftar—to counter the Qatari-Ennahda alliance. In much the same way that Ennahda relies on Qatar, Nidaa Tounes counts on Emirati aid to bolster the Tunisian economy and use its wealth for political positioning in Tunisia's elections. Figures from or close to Nidaa Tounes often imply that once Ennahda is ousted, Emirati (and other) funds would pour into Tunisia.
The Emiratis admire Essebsi, having strengthened ties with Tunisia during his term as prime minister in 2011 when he allowed Emirati (and Qatari) weapons to be shipped to Libya through Tunisia. The UAE, which consolidated its alliance with Egypt on the east of Libya, is interested in securing the country's western borders as well. Nidaa Tounes, if elected, may offer the Emiratis many advantages in that regard, further empowering the anti-Islamist grip on Libya.
The Emirati media—most notably Al-Arab newspaper, printed in London and funded by the UAE, and the Saudi-Emirati Al-Arabiya conglomerate—often portray the Tunisian transition as one on the brink of collapse, a discourse in direct opposition to that of their Qatari arch-rivals. That discourse aims, among other reasons, to tarnish the image of the popular uprisings and stress the failure of political Islam. Nidaa Tounes adopts similar language, placing the blame for Tunisia's troubles on the Troika in an attempt to bolster the UAE narrative.
As Tunisia enters a new era of democratic consolidation, a lack of resources and sharp polarization pushes its dominant parties to look for help beyond the borders. The symbolism of Tunisia as the star of the post-Arab Spring Arab world and its proximity to Libya, on the other hand, makes the country particularly appealing for regional players. Entering a game of regional geopolitics, however, could threaten Tunisia in the medium- and long-term. Partly due to their alignment with Qatar and the UAE, Ennahda and Nidaa Tounes—expected to win the major shares in upcoming legislative elections—will find difficulty in entering a coalition government. Their enduring quarrel will add to the political polarization, potentially destabilizing the newest democracy in the Middle East.
Youssef Cherif is a Tunisia-based consultant on North African affairs. Follow him on Twitter @faiyla.