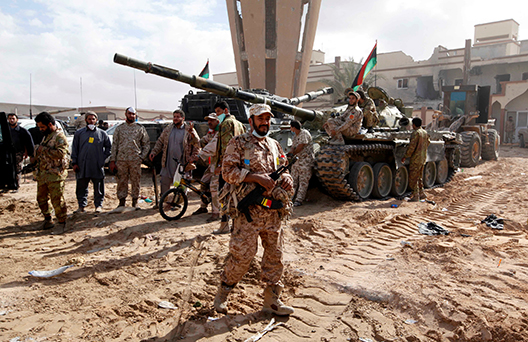 As it enters its sixth year, the crisis in Libya shows no signs of abating. The UN-backed unity government seems to be teetering on the edge of collapse, and clashes threaten to escalate between eastern and western forces. Withdrawal from Libya could have negative consequences for western interests, and the United States—under the Trump administration—could take the lead in engaging with Libya to achieve stability. This engagement is key, not only for Libya's stability, but for the stability of neighboring Egypt and Tunisia as well as US and European interests in the region.
Instability in Libya has had detrimental effects on the economic and security interests of Egypt. The loss of economic benefits Cairo once enjoyed with a stable Libya has exacerbated Egypt's economic woes since 2011. Prior to the Libyan crisis, it was estimated that up to 1.5 million Egyptian workers contributed about $33 million a year in remittances. The number of Egyptian migrant workers in Libya has fallen dramatically – in 2015 it was reported that an estimated 750,000 Egyptian workers resided in Libya which has reduced revenues from remittances and put pressure on the Egyptian labor market, which is currently witnessing about 12 percent unemployment (a figure which more than doubles for youth). Egyptian workers in Libya have also faced significant threats as a result of insecurity in Libya. Since 2011, Egyptians working in Libya, including many Egyptian Copts, have been targeted in a number of attacks. Egyptian migrant workers in Libya have also found themselves stranded at the border with Tunisia in an attempt to flee the country.
Trade between Egypt and Libya has suffered as well. Trade exchange between Egypt and Libya amounted to about $900 million by the end of 2014, compared to $2.5 billion in 2010 before the Libyan crisis. In 2015, Head of the Libyan-Egyptian Business Council Nasser Bayan said the volume of Egyptian exports to the Libyan market fell by 75 percent. And this past year, the World Bank said that the crisis in Libya contributed to downgrading Egypt's expected gross domestic product growth.
The crisis in Libya also contributes to concerns regarding the state of security in Egypt. Egypt has sought to tighten security along its border with Libya. However, militant spillover from Libya remains a major concern, especially due to the continued extremist threat that Egypt currently faces within its own borders. In addition, many more African migrants are seeking to reach Europe by way of Egypt rather than Libya due to the increasingly dangerous nature of routes through Libya. Many Eritreans, in particular, are attempting to migrate through Egypt rather than Libya due to incidents of kidnappings that have occurred in Libya, according to Eritrean activists. Indeed, in diplomatic discussions on Libya, the Egyptian Foreign Ministry has emphasized the region's interest in and need to restore security and stability to Libya, and the issue of illegal migration has been raised during talks hosted by Cairo on the crisis in Libya.
In Tunisia, the economic impact of the Libyan conflict has, in comparison with Egypt, has been even worse. The World Bank estimates that Tunisia is losing $800 million a year due to reduced investment and demand from Libya. The Economic Community of West African States estimates that the Libyan crisis has cost Tunisia at least $5 billion in total. According to Tunisia's Ministry of Commerce, bilateral trade between the two countries has fallen by 75 percent. And last year, Governor of the Central Bank of Tunisia Chadli Ayari said the Libyan crisis was one of the main factors that caused the Tunisian economy to slow dramatically in recent years. A stable Libya would provide key trading and investment opportunities for Tunisia, as well as tourism inflows (prior to the 2011 crisis, about 1.8 million Libyan tourists visited Tunisia per year but that number dropped by 30 percent immediately following the crisis). The loss of oil from Libya also dealt a major blow to Tunisia's economy. Prior to the Libya crisis, Libya supplied Tunisia with over 25 percent of Tunisian fuel needs at a preferential price. Libya's oil industry virtually collapsed in the years after 2011, and while there has been some progress in restarting output recently, reconstruction remains a long way off.
Finally, the return of Tunisian workers from Libya has added to the strain on Tunisia's economy. According to the International Organization for Migration, over 60,000 Tunisian migrant workers have returned from Libya since 2011. In 2011, remittances from Tunisians in Libya made up 0.6 percent of Tunisia's gross domestic product, amounting to $276 million. Tunisia also hosts an estimated 1 to 2 million Libyans refugees, about 10 percent of the country's population, which has contributed to price increases and placed a strain on government services. Unemployment in Tunisia currently stands at around 15 percent, with youth unemployment at more than double that figure.
The expansion of militants and extremists in Libya has repeatedly threatened Tunisia's security. According to Tunisian authorities, the perpetrators of major attacks in Tunisia in 2015 – on the Bardo Museum in March and on tourists in Sousse in June – were trained in jihadists camps in Libya. This prompted former Prime Minister Habib Essid to call instability in Libya "the greatest dilemma" facing Tunisia. A cross-border attack on police and army posts in 2016 by Islamist militants in the city of Ben Guerdane, near the border with Libya, further demonstrated the threat that militant spillover poses to Tunisia.
The impact that the Libyan crisis has had on neighbors Egypt and Tunisia is significant and far reaching. Egypt, a major recipient of US military and economic assistance, can ill afford a spillover of insecurity from Libya. And the movement of migrants through Africa to Egypt and Libya and on to Europe is a major concern for countries in the southern Mediterranean. Tunisians make up one of the largest groups of foreign fighters in Iraq and Syria, and insecurity in Libya offers a safe haven for extremists who could seek to foment radicalism in neighboring Tunisia. The threat posed by extremists in Libya and Tunisia is not one that Americans and Europeans can ignore, as evidenced by the attack on British tourists in Sousse and the more recent attack by Tunisian Anis Amri in Berlin. During his confirmation hearing, President Donald Trump's pick for Secretary of State, Rex Tillerson, criticized previous US policies in the Middle East for not achieving the goal of stability. The last six years demonstrate that the effects of instability in Libya are not confined to the country's borders. Libya cannot be forgotten alongside pressing concerns in Syria and Iraq, as the administration works to help establish stability in the Middle East.
Elissa Miller is an Assistant Director at the Rafik Hariri Center for the Middle East.