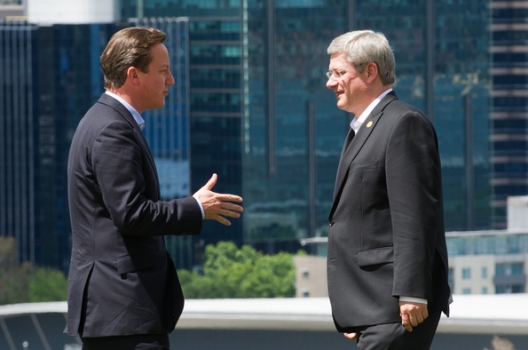 Canada has quietly rebuffed a call from Britain to join a multi-national expeditionary force that Prime Minister David Cameron's government was promoting in light of heightened tensions with Russia.
Several defence and government sources say there was a determined diplomatic push in the run-up to last fall's NATO summit to get the Harper government to sign on to the formation, which already counts Denmark, Estonia, Latvia, Lithuania, the Netherlands and Norway among its members….
The 10,000-member formation, known by its acronym JEF, is expected to be fully operational by 2018 and is intended to respond to international crises on behalf of the United Nations where warranted — or act as major reinforcements for NATO's brigade-sized rapid reaction force, which Canada is also reluctant to join….
At the conclusion of the summit, Harper said his government was waiting for more information from NATO before deciding if it would participate in the reaction force, but made no mention of the British offer.
That is still the government's position as alliance members wrestle with who will pay for the rapid reaction force, according to senior defence sources.
The country's operations commander, Lt.-Gen. Jonathan Vance, in a recent interview with The Canadian Press wouldn't comment on political aspects, but said from a military perspective joining the British expeditionary force would be a substantial undertaking. It could bind the country to respond in a specific way to a future crisis when the government might favour a different course.
By joining the force without a specific mission, "you're signalling a commitment to future operations, having done the training, that you may — or may not — be able to honour," said Vance….
"The demand on each of us as nations to participate in training is very high," Vance said. "So, what we have to do is limit ourselves so we don't spread ourselves out too much. We have to be selective."