Working with a wide community of experts and thought-leaders, the Eurasia Center delivers cutting-edge analysis and commentary on issues affecting Eurasia and the transatlantic community.

Thu, Oct 22, 2020
Ukrainians will vote in local elections on October 25. Brian Mefford offers a city-by-city guide to the mayoral races across the country and predicts who is likely to win in each of Ukraine's major cities.
UkraineAlert by Brian Mefford

Wed, Oct 14, 2020
The early October resignation of American citizen Amos Hochstein from the Naftogaz supervisory board is sparking alarm over the future direction of the state-owned Ukrainian energy sector giant.
UkraineAlert by Aura Sabadus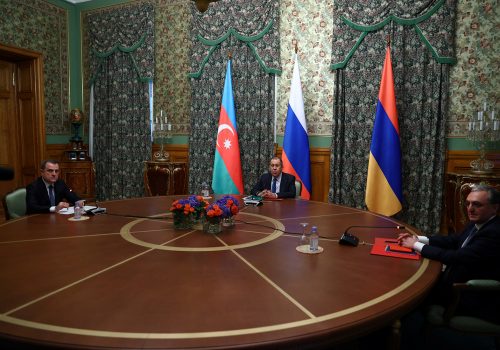 Sat, Oct 10, 2020
Russian President Vladimir Putin filled a diplomatic vacuum in the South Caucasus on October 9 by cajoling the leaders of Azerbaijan and Armenia to agree to a ceasefire in their long-time war over Nagorno Karabakh, which resumed on September 27.
New Atlanticist by Matthew Bryza
The Eurasia Center provides in-depth reporting for policymakers and influencers on vital issues of security, cooperation, and prosperity across the region with detailed country and issue analysis.

Mon, Oct 5, 2020
The FSB is one of Russia's most closed government agencies, its work cloaked in secrecy. This report lifts the veil on how the organization works.
Report by The Dossier Center

Mon, Sep 21, 2020
Ukraine's veterans from the war in the Donbas are at the crossroads of major changes occurring within Ukrainian society today, but a lack of support for veterans creates a critical void in Ukraine's national security and hobbles its transition to democracy.
In-Depth Research & Reports by Lauren Van Metre & John Boerstler

Thu, Oct 22, 2020
The Kremlin has rapidly exploited the recent absence of Western involvement in the Central African Republic. Russian propaganda arms and security forces are propping up the country's embattled leader in exchange for decisive influence in the region.
Issue Brief by Nathalia Dukhan
The Eurasia Center regularly convenes with regional leaders and key global figures to galvanize support international support a free, prosperous, and peaceful future in Eurasia.
Sign up for the latest from the Eurasia Center
Stay up-to-date with events, news, and publications for all of Eurasia with the Eurasia Center's weekly newsletter.