Activities
The Millennium Fellowship is a transformative experience that blends the Atlantic Council's expertise, networks, and convening power around global issues with world-class leadership development resources from the private sector and academia. Our 12-month "core" program is a part-time commitment including three weeks of required in-person events supplemented by virtual training, individual executive coaching, and bespoke community management and collaboration opportunities. The primary events include two leadership retreats, each lasting one week at the beginning and end of the program, as well as our annual study tour where fellows travel with a small cohort led by a senior expert to explore global challenges up close. Recent tours include Turkey and Greece at the height of the Syrian Refugee crisis, Colombia after the FARC peace deal, and Ukraine after the revolution of dignity. Beyond this, fellows also have access to a menu of optional events which take place around the world and throughout the year, including flagship conferences and galas from the Atlantic Council and our partners such as the NATO Summit, Concordia Summit, and Abu Dhabi Global Energy Forum, among others. For more information about program activities, our leadership curriculum, and previous tours, events, and trainings, visit the About the Program page.
Fellows
Every year, the Atlantic Council selects at least one cohort of twenty fellows through a competitive and open application process. Diversity is core to the program with every global region represented in each class and roughly one third from North America and Europe respectively. Each class also has a balance of public, private, and nonprofit perspectives. Public sector fellows include ministers and secretaries of finance and foreign affairs, senior advisors to heads-of-state and cabinet members, mayors, senior military officers, and other leading public officials. In the private sector, they include C-suite executives at fortune 500 companies, young CEO's, groundbreaking entrepreneurs and leading voices in the media.
The nonprofit fellows represent a wide array of professions, including prominent civil society leaders, think tank experts, and activists; executives at multinational NGO's and multilateral organizations; and award winning artists, authors, academics, journalists, and scientists, among many others. All 35 years of age or under, they are already leading at a high level with decades of impact ahead in their careers. For more information about fellows and alumni, visit our Fellows Page.
2021 Fellows
Apply
Fellows are selected annually through a competitive and open application process. Candidates from any country and sector are welcome to apply, provided they are 35 years old or younger at the application deadline and demonstrate the passion and potential for shaping a more secure and prosperous global future. Applications open in the Winter and selections are made in the Spring with the program calendar beginning in the Summer. Fellows are required to pay annual dues which vary depending on their sector. For more details about the application, eligibility requirements and costs, please visit our FAQ Page.

Incoming class of twenty-one young leaders selected from 1,300 applicants and over 100 nations.
Read More

Three Millennium Fellows shared their thoughts with us on their motivations to join, where they found the most value, and shared some advice for prospective applicants and the incoming class. Answers have been edited for length and clarity.
Read More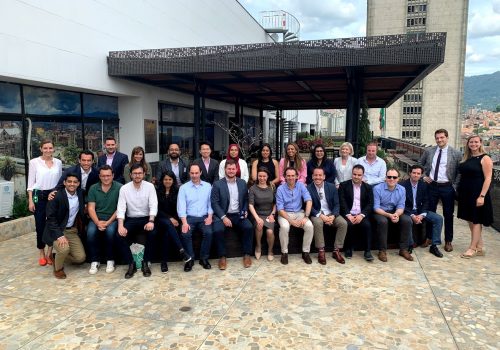 Building on our fifty-five year history of convening exceptional next generation leaders, the Atlantic Council launched the Millennium Fellowship to connect and empower rising leaders who will shape the 21st century. Fellows join a global network of outstanding peers, have unparalleled opportunities to meet world leaders at flagship Council events, learn in a hands-on environment through Master Class sessions and study tours, and lead the debate on key global issues. The fellowship is a central pillar of the Council's mission to promote constructive leadership and build enduring relationships capable of addressing shared global challenges.
Read More


The Millennium Fellowship is open to rising leaders and innovators around the world committed to achieving transformational change in their communities, countries, and professional fields with a global impact. Fellows will be at the forefront of the Atlantic Council's work to promote constructive leadership and create a more secure and prosperous world. Through a competitive application process, the Atlantic Council will accept approximately twenty exceptional leaders who are thirty-five years old and under into the 2021 class of Millennium fellows. Applications are now open for the 2021 class. Click the link below to apply!
Read More

Stay connected with your network
The Millennium Leadership program is beginning a new initiative to keep alumni of the program connected and continuing to grow with one another in their professional development and leadership skills. To learn more about this effort and to let us know what you would find valuable in an going relationship with your fellow alumni of the program, please reach out to us at [email protected].
Follow us at @ACMillenniumLP
Leadership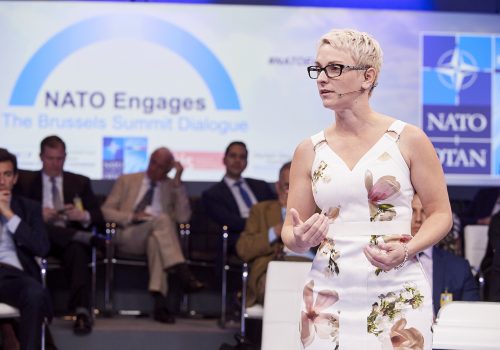 Mon, Mar 8, 2021
In celebration of International Women's Day and in continuation of our mission to foster the next generation of global leaders and change agents, the Atlantic Council's Millennium Leadership Program asked women leaders in politics, finance, energy, non-profit management, and philanthropy to highlight the importance of women in leadership roles and share the lessons they have learned over the course of their careers.
New Atlanticist by Mary Prakas and Will O'Brien