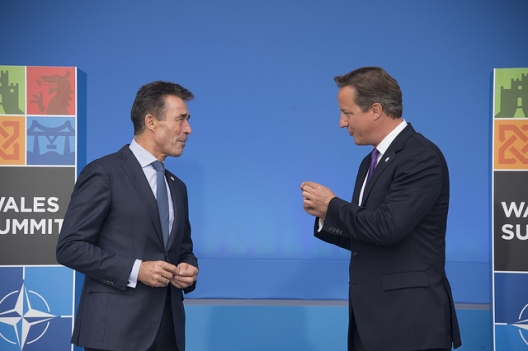 David Cameron will embolden Vladimir Putin and Islamic terrorists if he reneges on a commitment to spend two per cent of GDP on defence, two former Nato heads have warned.
Anders Fogh Rasmussen, who left the post as Nato general secretary last year, and his predecessor Jaap de Hoop Scheffer said cutting defence after the election would strength Britain's enemies.Mr Rasmussen told ​The Telegraph such a move would encourage the "forces of oppression" while Mr De Hoop Scheffer warned there would be "very serious" consequences….
"It would send, not least under current circumstances, a very, very bad signal to Russia, to terrorists, to others – an indication of what I would call retrenchment and retreat," said Mr Rasmussen, who is also a former Danish Prime Minister.
"It is quite the opposite [of what] we need right now. We need free societies, the liberal democracies, to step up to the plate and demonstrate a clear economic commitment to defence and security."
He added: "It sends a signal to the forces of oppression that the forces of freedom don't feel committed to invest sufficiently in their own security and that can, of course, only encourage those forces of oppression to continue their aggression against free societies."
Mr De Hoop Scheffer, who served as Nato general secretary before Mr Rasmussen and is also a former Dutch foreign minister, told this newspaper cutting defence would prove Britain's influence is shrinking on the international stage.
"This is Great Britain, one of the most important and influential allies in Nato. That ally reneging on two per cent would be very serious, very serious indeed," said Mr De Hoop Scheffer….
Both former Nato heads made clear they did not wish to interfere in domestic politics and expressed hope Britain would live up to its Nato obligation.