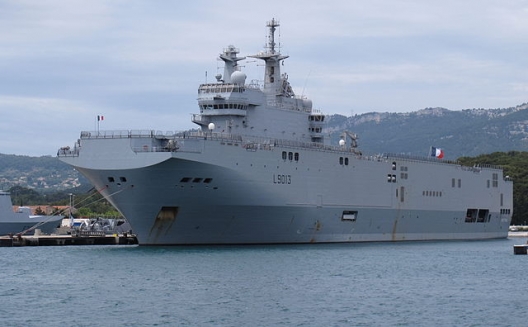 French President Francois Hollande said on Saturday Paris would review its military cooperation with Russia as part of a third level of sanctions if Moscow did not de-escalate the crisis in Ukraine.
On Monday the United States and European Union are expected to unveil a list of Russian officials subject to asset freezes and visa bans as Western nations attempt to step up pressure on Moscow over its intervention in the Ukrainian region of Crimea.
When asked whether France would suspend a 1.2 billion euro helicopter carrier contract with Russia, Hollande told a news conference: "As far as other sanctions, notably military cooperation, that is the third level of sanctions."
Until now French officials have shied away from discussing whether the 2011 contract for two Mistral helicopter carriers with an option for two with Russia could be suspended, a potentially awkward sacrifice to show French resolve. . . .
An aide to Hollande said that the Europeans would have to step up pressure on Russia once Crimeans vote in a referendum on Sunday that is likely to bring annexation by Moscow.
"There are three levels. Level 1 is done, then level 2 and level 3," the aide said ahead of the Monday meeting. . . .
"France and the European Union will not recognise the validity of this pseudo consultation," Hollande said. "There will be sanctions Monday on visas and assets of a certain number of individuals if there is no de-escalation."