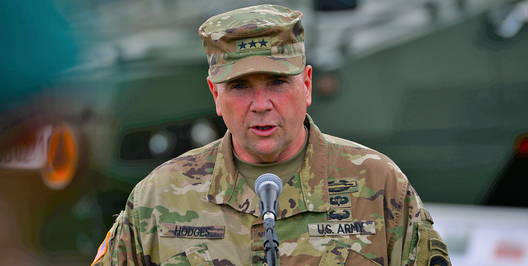 The resources didn't match the mission, and it gnawed at Lt. Gen. Ben Hodges during the early days of his tenure commanding U.S. Army Europe.
A message, Hodges thought, needed to be delivered to policymakers that his command of 30,000 soldiers was stretched thin….
Hodges' three-year tenure at USAREUR has been arguably the most consequential in Europe since the end of the Cold War, with the Army serving as the centerpiece of the Pentagon's efforts to energize what had been a languishing military mission….
About the role of land power in Europe and the importance of NATO, Hodges said, "I always felt it was my duty to help explain. I believe it so strongly. I look for every opportunity, whether it is a kindergarten class or a professional journalist or a think tank, trying to explain all those things."
In an age of "information war," an adversary's narrative of events needs to be countered rather than left to stand unchallenged, which sometimes requires military leaders to adopt a more public role, [former SACEUR General Philip] Breedlove said.
"Ben was not shy to make sure that what he saw as the appropriate and right narrative did get on the street," Breedlove said.
Hodges' warnings have been severe at times. He argues that Russia aims to split NATO apart and that the West should find ways to make Moscow's intervention in Ukraine more painful. He's spoken of the need for allied unity but also called members out.
"For the most powerful nation in Europe, which takes a leadership role in the (European Union), it is unacceptable to have helicopters that don't fly, or aircraft you can't use," Hodges said of Germany, raising eyebrows at the time in Berlin….
Hodges outspokenness about Russia has won praise from allies in the east, where anxiety about a resurgent Russia is strongest.
"Certainly in terms of military planning, he really zeroed in on the key weak points for NATO in our region. Not only the Baltics and Poland, but also the legal blocks to the rapid movement of armor (in Europe)," said Toomas Ilves, former president of Estonia….
A key achievement for USAREUR, Breedlove said, was "re-energizing" the Army's exercise program as soldiers relearned how to face a large, capable enemy after a decade of counterinsurgency fighting. Hodges also took on the challenge of moving forces around Europe with greater speed, conducting convoys up and down NATO's eastern flank to test the Army's ability to mobilize….
"I never wanted to be found wanting." Hodges said. "The whole freedom of movement, speed of assembly, getting caught unprepared — I worry about that every day. Not because I think it is going to happen. But that is my main responsibility, for us to be ready."