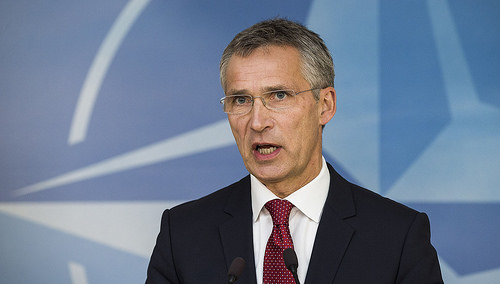 NATO is at the forefront of the fight against international terrorism. The aim of its biggest-ever operation was to deny safe haven to international terrorists in Afghanistan. NATO developed the Afghan security forces from scratch into a highly trained force of over 350,000 troops, and it continues to work tirelessly to help Afghanistan tackle the root causes of extremism.
NATO is also training Iraqi officers in areas such as countering roadside bombs, de-mining, cyberdefense and military field medicine. It is working with Tunisian intelligence and the country's special forces to fight terrorism, and NATO stands ready to support Libya when the situation allows. And it is supporting Ukraine, Moldova and Georgia to better defend themselves. NATO supports states that are at risk from internal or external pressure, because prevention is always better than intervention.
In Iraq and Syria, all NATO allies are taking part in the global coalition to degrade and destroy ISIS. They have agreed to additional assurance measures for Turkey, and NATO will continue to enhance Turkey's own air defenses. NATO fully supports all efforts to find a political solution to the conflict in Syria, including a political transition and democratic elections.
Those most affected by conflict and terrorism are often those most determined to continue living a normal life. This is not a decision that can simply be taken by governments or parliaments. It is a decision being taken by millions of people in all NATO countries: to stand in unity and to live their values every day.
Jens Stoltenberg is the secretary-general of NATO.