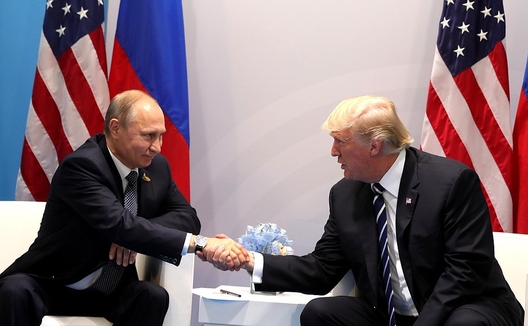 For Putin, the best outcome of the summit is a tacit — or even explicit — endorsement from the American president on par with the praise Trump heaped on North Korean dictator Kim Jong Un after this month's summit in Singapore.
Such global recognition could help Putin toward some of his longer-term goals, including the recognition that Russia was right to annex a portion of Ukraine in 2014, a commitment to respect Syrian President Bashar al-Assad's continued rule in Syria, or even a pledge to end the expansion of NATO, the North American-European military alliance that serves as a counterweight to Russian aggression.
And Trump has already endorsed another long-term Putin goal — readmission into the G7 — a group of major world economic powers that banished Russia over its intervention in Ukraine….
"I think the assumption is that Trump will go off script. What we've learned with his recent summit in Singapore is that he loves the focus and attention that comes with this kind of high-stakes summit," [Wilson Center expert William] Pomeranz said. "There is always a risk that Trump promises something that his advisers don't want him to put on the table…."
The potential Trump-Putin summit is expected to come either just before or after the July NATO summit, which the U.S. president will attend. European officials are deeply concerned that Trump will be more focused on his meeting with Putin than his discussions with NATO allies. The situation could mirror the recent spectacle of Trump cutting short his meeting with the G7 leaders, angrily withdrawing his support for a joint statement and jetting off to praise Kim in Singapore.
"I think the Europeans have been worried about this meeting since Trump became president," said Jorge Benitez, a senior fellow at the Scowcroft Center for Strategy and Security who focuses on NATO. "The optics coming out of Singapore were not good. I think it raises fears of just how much he'll embrace Putin."
A July get-together would be Trump's third personal encounter with the Russia leader — the two met for the first time at the annual G20 summit of leading economic countries in Hamburg, Germany not quite a year ago, and later met on the sidelines of the Asia-Pacific Economic Cooperation summit meeting in Vietnam.
After their first meeting last year in Hamburg, Putin and Trump agreed to work together to push for a ceasefire in the Syrian civil war, to end the conflict in eastern Ukraine and combat cybersecurity threats. There seems to have been little progress on any of those fronts.
But Trump has made clear that he is eager to develop positive relations with Russia, even sometimes to the irritation of his national security staffers. Briefing materials provided to Trump earlier this year explicitly warned the president, in capital letters, not to congratulate Putin on his election victory. Trump did it anyway.