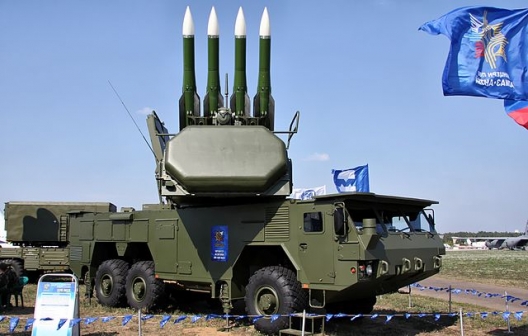 At a June 30 Pentagon news conference, NATO Supreme Commander Gen. Philip Breedlove said Russia had been providing air defense training to Russian separatists on its side of the border with Ukraine that focused on "vehicle-borne" surface-to-air missiles. A vehicle-borne capability would involve a surface-to-air missile with a longer range than portable shoulder-fired missiles known as MANPADS.
"What we see in training on the east side of the border is big equipment, tanks, APCs, anti-aircraft capability, and now we see those capabilities being used on the west side of the border," Breedlove said at the time. He added that the anti-aircraft capability training focused on larger vehicle-borne missiles instead of portable MANPADS.
"We have not seen training of MANPADS," Breedlove told reporters. "But we have seen vehicle-borne capability being trained."
U.S. officials say an Antonov-26 cargo plane that crashed in eastern Ukraine on Monday was shot down by a surface-to-air missile.
On Wednesday, a senior administration official said the AN-26 aircraft "was shot down from an altitude of 21,000 feet, with eight crew on board. And only very sophisticated weapons systems would be able to reach this height."