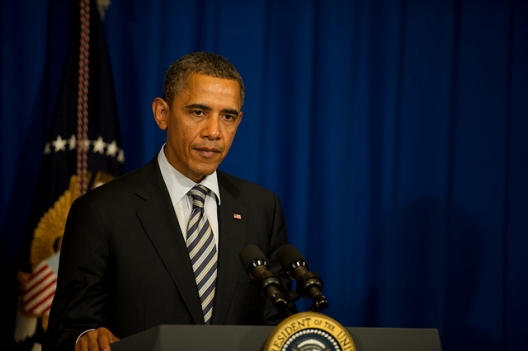 "Free riders aggravate me," he [President Barack Obama] told me. Recently, Obama warned that Great Britain would no longer be able to claim a "special relationship" with the United States if it did not commit to spending at least 2 percent of its GDP on defense. "You have to pay your fair share," Obama told David Cameron, who subsequently met the 2 percent threshold.
Part of his mission as president, Obama explained, is to spur other countries to take action for themselves, rather than wait for the U.S. to lead. The defense of the liberal international order against jihadist terror, Russian adventurism, and Chinese bullying depends in part, he believes, on the willingness of other nations to share the burden with the U.S. This is why the controversy surrounding the assertion—made by an anonymous administration official to The New Yorker during the Libya crisis of 2011—that his policy consisted of "leading from behind" perturbed him. "We don't have to always be the ones who are up front," he told me. "Sometimes we're going to get what we want precisely because we are sharing in the agenda. The irony is that it was precisely in order to prevent the Europeans and the Arab states from holding our coats while we did all the fighting that we, by design, insisted" that they lead during the mission to remove Muammar Qaddafi from power in Libya. "It was part of the anti–free rider campaign…."
[On Libya], you've got Europe and a number of Gulf countries who despise Qaddafi, or are concerned on a humanitarian basis, who are calling for action. But what has been a habit over the last several decades in these circumstances is people pushing us to act but then showing an unwillingness to put any skin in the game."
"Free riders?," I interjected.
"Free riders," he said, and continued. "So what I said at that point was, we should act as part of an international coalition. But because this is not at the core of our interests, we need to get a UN mandate; we need Europeans and Gulf countries to be actively involved in the coalition; we will apply the military capabilities that are unique to us, but we expect others to carry their weight. And we worked with our defense teams to ensure that we could execute a strategy without putting boots on the ground and without a long-term military commitment in Libya.
"So we actually executed this plan as well as I could have expected: We got a UN mandate, we built a coalition, it cost us $1 billion—which, when it comes to military operations, is very cheap. We averted large-scale civilian casualties, we prevented what almost surely would have been a prolonged and bloody civil conflict. And despite all that, Libya is a mess."
Mess is the president's diplomatic term; privately, he calls Libya a "shit show," in part because it's subsequently become an isis haven—one that he has already targeted with air strikes. It became a shit show, Obama believes, for reasons that had less to do with American incompetence than with the passivity of America's allies and with the obdurate power of tribalism.
"When I go back and I ask myself what went wrong," Obama said, "there's room for criticism, because I had more faith in the Europeans, given Libya's proximity, being invested in the follow-up," he said. He noted that Nicolas Sarkozy, the French president, lost his job the following year. And he said that British Prime Minister David Cameron soon stopped paying attention, becoming "distracted by a range of other things." Of France, he said, "Sarkozy wanted to trumpet the flights he was taking in the air campaign, despite the fact that we had wiped out all the air defenses and essentially set up the entire infrastructure" for the intervention. This sort of bragging was fine, Obama said, because it allowed the U.S. to "purchase France's involvement in a way that made it less expensive for us and less risky for us." In other words, giving France extra credit in exchange for less risk and cost to the United States was a useful trade-off—except that "from the perspective of a lot of the folks in the foreign-policy establishment, well, that was terrible. If we're going to do something, obviously we've got to be up front, and nobody else is sharing in the spotlight…."
Libya proved to him that the Middle East was best avoided. "There is no way we should commit to governing the Middle East and North Africa," he recently told a former colleague from the Senate. "That would be a basic, fundamental mistake."