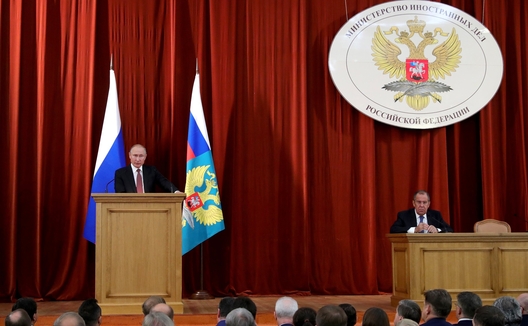 Excerpt from speech by Russian President Vladimir Putin, July 19, 2018.
PUTIN: The key to providing security and safety in Europe is in expanding cooperation and restoring trust, and not in deploying new NATO bases and military infrastructure near Russia's borders, which is what is taking place now.
We will respond appropriately to such aggressive steps, which pose a direct threat to Russia. Our colleagues, who are trying to aggravate the situation, seeking to include, among others, Ukraine and Georgia in the orbit of the alliance, should think about the possible consequences of such an irresponsible policy.
We need a new, positive agenda aimed at collaboration and attempts to find common ground. Of course, I discussed this during my meeting with the President of the United States, Mr Trump.
With our views being different on many matters, we agreed that Russia-US relations are deeply unsatisfactory and in many ways even worse than during the Cold War.
Reuters: Russian forces entered two breakaway Georgian regions in 2008 and annexed Ukraine's Crimea in 2014 after which a pro-Russian separatist uprising erupted in eastern Ukraine.
Swathes of both countries remain garrisoned by Russian troops, something Moscow says is in keeping with local people's wishes, but which the West and the governments of the two countries call an illegal occupation.
NATO leaders discussed ties with Ukraine and Georgia – both former Soviet republics once ruled from Moscow — at their summit in Brussels earlier this month.
Under NATO rules, countries with territorial conflicts cannot join NATO.