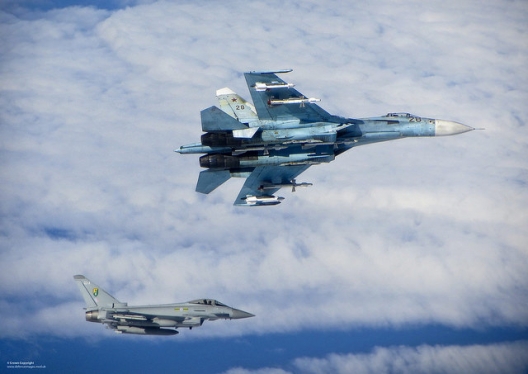 The war of words between America and Russia is escalating. So, too, is the movement of implements of war — from U.S. fighter jets to Russian nuclear weapons.
So is an actual war imminent?
No one in Russia, NATO or the United States has gone that far yet. Still, the rhetoric and actions from both sides have definitely ratcheted up in recent days, raising concerns of a new arms race — if not worse — amid tensions both sides blame on each other….
Part of it has to do with the unpredictable nature of other actors, like Russian-backed separatists in eastern Ukraine who may broaden their own conflicts by inadvertently or purposefully striking others. The biggest such example may be the 2014 shooting down of a Malaysia Airlines commercial plane over Ukraine by rebels.
Then there's the danger that something goes wrong as powerful militaries become more aggressive, as when a Russian fighter jet recently came within 10 feet of a U.S. Air Force reconnaissance aircraft over the Black Sea.
"Given the tempo of Russian military operations over the last year," said Steven Pifer of the Washington-based Brookings Institution think tank and a former U.S. ambassador to Ukraine, "you have more interactions, more possibilities for things to go wrong."
NATO announced late last year that it intercepted more than 400 Russian military planes in 2014 alone — a 50% increase from the previous year.
Then there was the Russian jet that in May came within 10 feet of an American military plane in international airspace above the Black Sea.
"You don't have to fly 500 feet above a ship to do intelligence-gathering," Jorge Benitez, a NATO expert at the Atlantic Council, said. "(Putin) is trying to use these threats to push back on the West and say, 'I'm willing to do these things to get you out of my sphere of influence….'"
U.S. officials are particularly concerned by large-scale Russian military exercises near Ukraine set to take place this summer — just the latest in a series of exercises that have come either close to the Ukrainian border or simulated military strikes, including nuclear strikes, on Europe.
Western officials believe that they need to respond in kind — and that's come in the form of increased NATO military exercises with Baltic allies like Estonia and the latest American plans to send artillery to bases in the region.
"We want to make sure that NATO allies are defending their territory on a 24/7 basis and we'll continue to support them and exercise vigilance in that regard," White House Press Secretary Josh Earnest said Monday about increased U.S. military engagement in the region….
"I think we're going to be seeing more and more of this," said Benitez, who is not alone in arguing that the Obama administration is not doing enough to beat back Russian aggression. Republicans in Congress and others in Washington are calling for Obama to green light lethal aid to the Ukrainians.