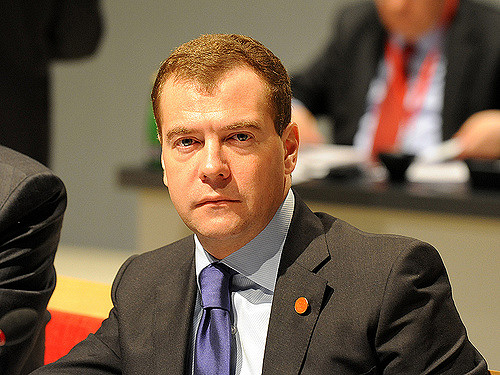 Russian Prime Minister Dmitry Medvedev said on Monday that any future NATO decision to admit Georgia to its ranks could trigger "a terrible conflict" and questioned why the alliance would consider such a move….
"This (Georgia's entry to NATO) could provoke a terrible conflict. I don't understand what they are doing this for," Medvedev told Russia's Kommersant newspaper in an interview….
"As for the recent NATO decision reaffirming its commitment to eventually admit Georgia, what can I say to this? It is an absolutely irresponsible position and a threat to peace," said Medvedev….
[Medvedev:] "Yes, clearly so, because we view Abkhazia and South Ossetia as independent states. We understand that if any other country claims that they are part of its national territory, this may have severe consequences. Therefore, I hope that the NATO leadership will have enough sense not to take any steps in this direction."
Under NATO rules, countries with territorial conflicts cannot join the alliance.