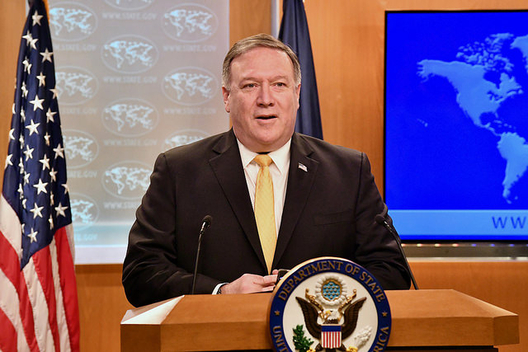 Excerpts from CNN's Elise Labott interview with Secretary of State Michael Pompeo, June 24, 2018.
QUESTION: You have this NATO summit, the President's trip to the UK in a few weeks. It's on the heels of the President imposing these tariffs. And I mean, he's used some pretty incendiary language, I think, to describe some of our closest allies, and now you hear the Europeans and Canada say that they just don't think they could count on the U.S. And that's got to make your job harder now in advancing some of your top policy goals when your friends aren't with you. How are you going to mend these kind of rifts in the transatlantic alliance?
SECRETARY POMPEO: I was a young soldier in Germany in the 1980s. I remember some of the same conversation – oh goodness, the European partners are concerned about something that the United States is doing. I say all of that, right? We were going to put missiles in, we were going to take missiles out – I could go on. I could go on for hours about places where the United States and Europe have had issues where they disagreed.
I set that up by way of background because the things that you mentioned are in line with the kinds of discussions that America and Europe have had for decades. In this instance we're trying to make sure that the European partners share their fair burden of building out the critical alliance with NATO. We're trying to make sure that the trade arrangements between our countries are fair and reciprocal and balanced.
But every conversation – and I have conversations with great frequency – I spoke with Chrystia Freeland within the last 30 hours. I spoke with the foreign minister of France yesterday morning as well, and I'm sure I'll speak with Boris sometime this week. Every conversation we have is aimed at achieving a shared set of objectives. The rift between the United States and Europe is much overstated. There are so many things where we share common values and common concerns. I am confident that we will work to achieve the goals that the President has laid out and these things that are presenting challenges today; but in the end the traditional values-driven alliance between Europe and the United States, that transatlantic alliance, will remain strong, as it has for coming on 70-plus years now.
QUESTION: Mr. Secretary, the President is soon going to meet with President Putin. The last time they met, Putin said that Russia didn't meddle in the election, and Director of National Intelligence Coats said that he thinks though they still are. And with the midterm just a few months away, does this have to – doesn't this have to be an important agenda item at this – at this upcoming meeting?
SECRETARY POMPEO: There's lots to talk about between the United States and Russia. As you know, Ambassador Bolton is headed that way now. I've spoken with my counterpart, Sergey Lavrov, a couple of times in these first couple months, whether it's the battlefield in Syria, the situation in Ukraine, Russian active measures. There are many topics that I'm sure President Trump and President Putin will discuss, and each of them is important to trying to put the relationship back in a place where there are a common set of understandings. The Russians, unlike the Europeans, don't share our value set. It is a different conversation, but it is still a conversation that's worth having.
QUESTION: But don't – I mean, that aside, and obviously there are a lot of areas that you do work together, but don't you – do you think this is the issue that's preventing those warming of ties, really – the mistrust?
SECRETARY POMPEO: I mean, they killed someone in Britain. I could go on. To say that there's a single issue that's caused there to not be a warm relationship between the two countries, I think, would be a misnomer. But make no mistake; I think President Trump agrees the Russian interfering – Russians interfering in our election – is something that they simply cannot do. I don't think – I don't think he'd take any umbrage with that.