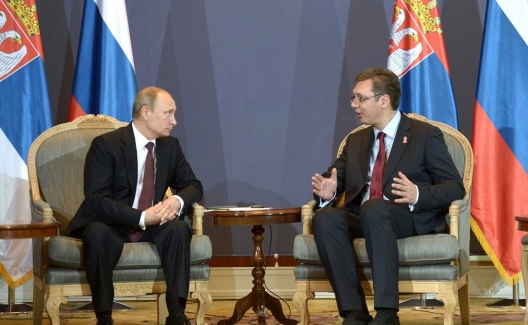 Serbia has deported a group of Russians suspected of involvement in a coup plot in neighbouring Montenegro, the Guardian has learned, in the latest twist in a murky sequence of events that apparently threatened the lives of two European prime ministers.
The plotters were allegedly going to dress in police uniforms to storm the Montenegrin parliament in Podgorica, shoot the prime minister, Milo Ðjukanović, and install a pro-Moscow party….
A group of 20 Serbians and Montenegrins, some of whom had fought with Moscow-backed separatists in eastern Ukraine, were arrested in Podgorica, the Montenegrin capital. In Serbia, meanwhile, several Russian nationals suspected of coordinating the plot were caught with €120,000 and special forces uniforms.
According to the Belgrade daily, Danas, the Russians also had encryption equipment and were able to keep track of Đjukanović's whereabouts.
Diplomatic sources told the Guardian the Belgrade government quietly deported the Russians after the intervention of the head of the Russian security council, Nikolai Patrushev, who flew to Belgrade on 26 October in an apparent effort to contain the scandal. The country's interior minister, Nebojša Stefanović denied the government carried out any deportations connected to the plot….
The Serbian government was further rattled three days after Patrushev's visit when a cache of arms was found near the home of the prime minister, Aleksandar Vučić. The weapons were discovered at a junction where Vučić's car would normally slow down on his way to the house….
"You know the people who don't like a strong Vučić or a strong government of Serbia and who could contribute some money, €10m or so, to see this kind of thing done," Stefanović told the Guardian.
"We know that the people who were potentially hired to do this kind of thing were from the region, but not from Serbia, and that there were crime groups that are operating in the region that were involved. But these were just the trigger persons," the minister added.
"We believe that criminal gangs are just being used to do the job, but the motives are not linked to the gangs. The assassination of the prime minister is not something that even they would do lightly, we believe they are being used."
Since the discovery of the weapons, Vučić has announced plans to shake up the intelligence service, saying the security situation was "even more serious than we expected…."
A few days after the would-be coup, a former intelligence officer, Leonid Reshetnikov, who ran a hawkish research institute in Moscow, was relieved of his duties by Putin. The Russian Institute for Strategic Studies has a branch office in Belgrade, and Reshetnikov had given strong backing to the anti-Nato opposition party in Montenegro.