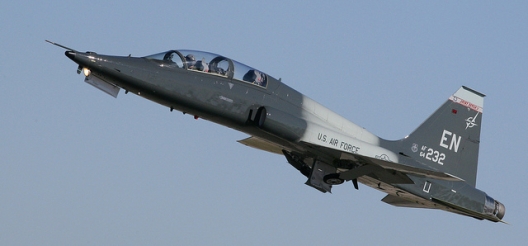 Sheppard Air Force Base is not especially well-known in the United States. But in some parts of Europe, particularly Germany and the Netherlands, the base is famous for its role as a NATO pilot training center. Every German and Dutch fighter pilot first learns how to fly in this part of North Texas. Italians, Norwegians, Greeks, the Dutch, and Turks also train here.
There is nowhere in the United States quite like Sheppard AFB. The base U.S. hosts a NATO-run training program called the Euro–NATO Joint Jet Pilot Training (ENJJPT). It's been here at Sheppard since 1981 and has produced 6800 fighter pilots for the alliance. Although most of the pilots who train here are American, Europeans direct the instructors, command leadership, and create the syllabus. Nations contribute funding based on their level of participation. And why Texas? Europeans appreciate the dry weather and the open sky of North America. "It's hard to find good airspace in Europe," says Maj. Antonio Nappi, an Italian air force instructor pilot at Sheppard. . . .
For student pilots of all nationalities, their time in Texas is the start of their military lives. They are usually between 21 and 26 years old, except for U.S. National Guard pilots, who trend older. The lessons learned here over the 55-week course—half in the T-6 Texan II, half in the T-38 Talon—will inform the rest of their careers. That includes the way they learn to fly, and the people they meet. Foreign air forces are not that big, and there is a good chance that they will bump into each other at NATO training exercises or combat deployments. ENJJPT is the first opportunity for these pilots to learn about the way other nations' militaries work, an important thing to be familiar with in an alliance. "The role of military officers differs from country to country," says Lt. Michael Buhr, a student from Germany.
Sheppard is like high school for pilots, where they learn the basics. Later, they'll progress through a Formal Training Unit, where they learn how to operate a specific aircraft, and then to a real operational squadron. Finishing an education at Sheppard is the end of the very beginning of a fighter pilot's career. "They still don't know anything," says Capt. [Edemumo] Oboho, who flew F-15s before coming to Sheppard as an instructor pilot. By the time students leave Sheppard, "you basically have someone who is trainable."
The students usually fly at least once a day, a rare treat for fliers at any experience level. It's a good thing the classwork and flying keeps them busy; the student pilots say there are few distractions in Wichita Falls. "I am amazed by how little there is to do here," says Gijsbrecht Van Batum, 22, who grew up an hour outside of Amsterdam. Now he's at least 2 hours' drive from Oklahoma City and sees the boundless prairie from the cockpit of a T-38. "I am amazed by the sheer nothingness," he says.
Many of the instructor pilots have a different perspective on training in North Texas. They cite a good atmosphere for families, regular schedules, and a lack of deployments as positives of the job. . . .
As NATO finds new relevancy in a chaotic world, the partnerships forged at Sheppard will grow more important.