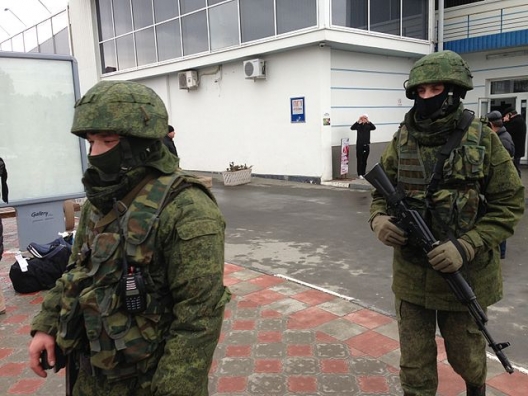 From David Alexander, Reuters: NATO's top military commander said on Monday that Russia appeared to be following some of the same "hybrid warfare" script in dealing with the former Soviet republic of Moldova that it used before annexing Crimea and intervening in eastern Ukraine.
Moscow intervened in Ukraine amid growing unrest by pro-Russian residents and rebels. U.S. Air Force General Philip Breedlove, the head of NATO forces in Europe, noted that "little green men" – troops in uniform of unclear national origin – helped the rebels shape the military situation in Ukraine.
At the same time, Russia built up its military forces and supplies on the border under the guise of conducting an exercise. It eventually intervened, moving to annex Crimea in the south in the first case and to prevent the defeat of pro-Russian rebels by Ukrainian forces in the second.
"To the little green men thing, we've clearly now seen the script play out in Crimea, we've seen the script play out in eastern Ukraine. We're beginning to see some of the script in Moldova and Transnistria," Breedlove said in a discussion at the Atlantic Council think tank.
Russian troops earlier this year staged military exercises in Moldova's breakaway Transnistria region, which borders Ukraine on the southwest, and Moldova's president warned Moscow against annexing the region like it did Crimea.
Russian Deputy Prime Minister Dmitry Rogozin last year warned Moldova that its drive for closer ties to Europe could cause it to lose control of Transnistria for good and lead to more costly energy ties with Russia, its main gas supplier.
From INFOTAG: There are "little green men" present in Moldova, who recruit and teach the local youth how to misinform the populace and how to act in emergency situations, Ghenadie Cosovan, former Deputy Minister of the Interior, stated at the Thursday's meeting of the Chisinau Press Club that was organized at the NATO Information and Documentation Center in Chisinau and was dedicated to the NATO Summit in Wales.
Cosovan said that there are whole subdivisions in Moldova formed by the so-called "big brothers" from Russia, and that these units are trained in Transnistria and Gagauzia. . . .
According to data available with him, over 500 young men were recruited in southern Moldova, who were trained in Rostov-on-Don [in southern Russia], Moscow, Transnistria and Balti [Moldova's second-largest city]. . . .
"As is known, the Transnistrian army is more numerous than ours and better prepared. Unlike our armed forces, it has been provided with up-to-date weaponry and military equipment, which means that in case of a military conflict, the Moldovan army will be not able to render proper resistance", said Cosovan.