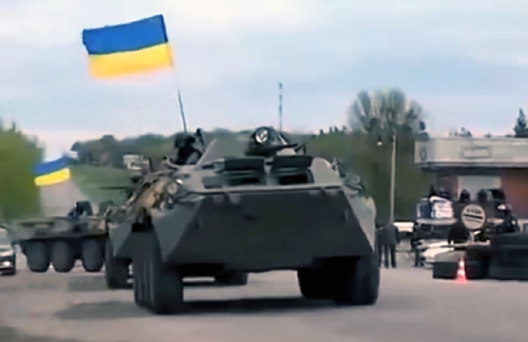 With Russian-backed separatists pressing their attacks in Ukraine, NATO's military commander, Gen. Philip M. Breedlove, now supports providing defensive weapons and equipment to Kiev's beleaguered forces, and an array of administration and military officials appear to be edging toward that position, American officials said Sunday.
President Obama has made no decisions on providing such lethal assistance. But after a series of striking reversals that Ukraine's forces have suffered in recent weeks, the Obama administration is taking a fresh look at the question of military aid.
Secretary of State John Kerry, who plans to visit Kiev on Thursday, is open to new discussions about providing lethal assistance, as is Gen. Martin E. Dempsey, the chairman of the Joint Chiefs of Staff, officials said. Defense Secretary Chuck Hagel, who is leaving his post soon, backs sending defensive weapons to the Ukrainian forces.
In recent months, Susan E. Rice, Mr. Obama's national security adviser, has resisted proposals to provide lethal assistance, several officials said. But one official who is familiar with her views insisted that Ms. Rice was now prepared to reconsider the issue….
Fueling the broader debate over policy is an independent report to be issued Monday by eight former senior American officials, who urge the United States to send $3 billion in defensive arms and equipment to Ukraine, including anti-armor missiles, reconnaissance drones, armored Humvees and radars that can determine the location of enemy rocket and artillery fire.
Michèle A. Flournoy, a former senior Pentagon official who is a leading candidate to serve as defense secretary if Hillary Rodham Clinton is elected president, joined in preparing the report. Others include James G. Stavridis, a retired admiral who served as the top NATO military commander, and Ivo Daalder, the ambassador to NATO during Mr. Obama's first term.
"The West needs to bolster deterrence in Ukraine by raising the risks and costs to Russia of any renewed major offensive," the report says. "That requires providing direct military assistance — in far larger amounts than provided to date and including lethal defensive arms…."
All told, the separatists have captured 500 square kilometers — about 193 square miles — of additional territory in the past four months, NATO says. The assessment of some senior Western officials is that the Kremlin's goal is to replace the Minsk agreement with an accord that would be more favorable to the Kremlin's interests and would leave the separatists with a more economically viable enclave….
The report by Ms. Flournoy and the other former officials argues that the United States and its allies should capitalize on this fact to dissuade the Russians and the separatists from expanding their offensive.
"One of the best ways to deter Russia from supporting the rebels in taking more territory and stepping up the conflict is to increase the cost that the Russians or their surrogates would incur," Ms. Flournoy said in an interview….
The report was issued jointly by the Atlantic Council, the Brookings Institution and the Chicago Council on Global Affairs. The other officials who prepared it are Strobe Talbott, who served as deputy secretary of state in the Clinton administration; Charles F. Wald, a retired Air Force general who served as deputy commander of the United States European Command; Jan M. Lodal, a former Pentagon official; and two former ambassadors to Ukraine, John Herbst and Steven Pifer.