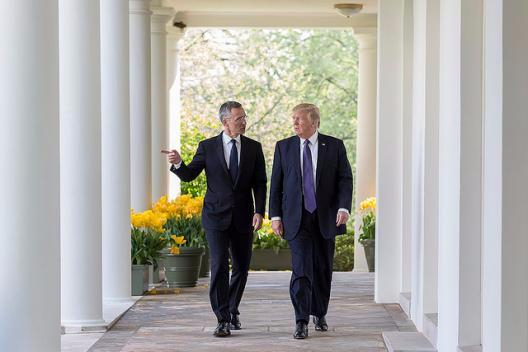 US President Donald Trump made very clear his presidency marked a new era of "America First," but as the president prepares to head overseas for the first time, his administration is looking to clarify the US does not intend to go it alone.
"'America First' didn't mean 'America alone', ever," Trump's National Security Advisor HR McMaster said just days before Trump heads on a five-nation tour with stops in the Middle East and Europe.
"The president has done a great deal to strengthen our alliances. And 'America first' didn't mean 'America not leading….'"
Trump's presence is expected to shake up the May 25 NATO leaders summit even as the US leader has shifted course on the US-European military alliance, declaring last month that it was "no longer obsolete."
Trump has pushed US allies to do more to shoulder defense burdens and is expected to call on the members of the alliance to meet their goals of spending 2% of gross domestic product on defense and to focus on counter-terrorism efforts.
The military alliance is expected to decide before the summit whether or not to join a military coalition against the Islamic State terrorist group, even though all 28 members are already individually involved.
The leaders are not expected to make any major decisions at the summit itself, and for Trump the benefit may come largely in talking to a slew of leaders he has not yet met.
"It is an important meeting on the personal level, not the policy level," Jorge Benitez, who studies NATO at the Atlantic Council think tank, said.