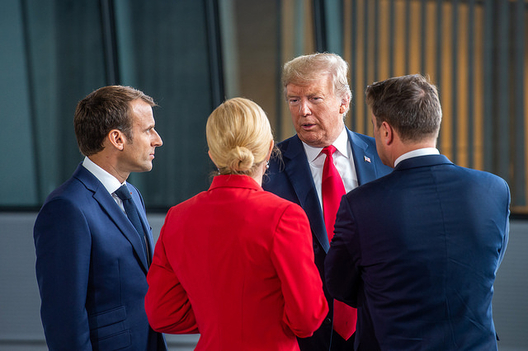 President Donald Trump cast new doubt on his willingness to come to the defense of NATO allies Tuesday when he said a small member state could provoke a conflict that could start "World War III."
Trump, during an interview on a Fox News talk show Tuesday, was asked by host Tucker Carlson why his son should come to the defense of tiny Montenegro, NATO's newest member.
"I understand what you are saying," Trump said. "I've asked the same question…."
[D]oubts have lingered among NATO watchers about Trump's underlying commitment to the alliance's Article 5 collective defense provision that an attack on one member equals an attack on all.
"Montenegro is a tiny country with very strong people," Trump said. "They are very aggressive people. They may get aggressive and congratulations you are in World War III…."
Trump has long expressed ambivalence over defending allies. Early in his tenure, he suggested U.S. security guarantees depended on whether allies where spending enough money on their militaries….
But mixed messages from Trump create doubt, said Jorge Benitez, a NATO expert with the Atlantic Council.
At NATO's summit last week, Trump's confrontational approach with allies "weakened the alliance and damaged US national security," Benitez said.
"The only winner is (Russia President Vladimir) Putin. Putin may now question if NATO's Article 5 is still credible and he may be tempted to probe NATO and test the commitment of its members," Benitez told Stars and Stripes.