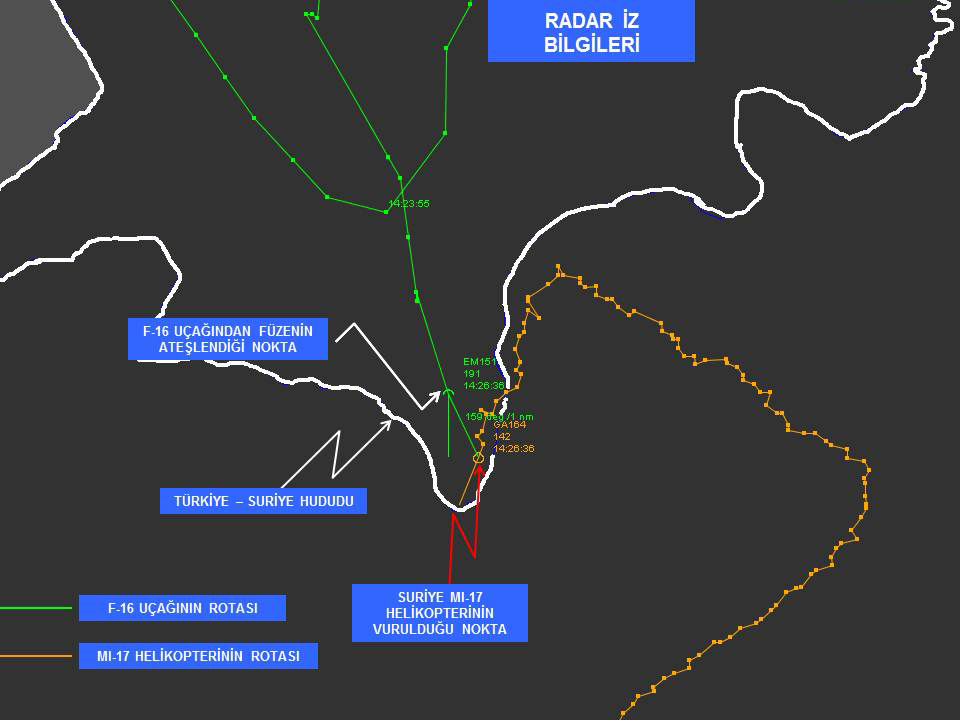 From Today's Zaman: Turkish warplanes shot down a Syrian helicopter on Monday after it violated Turkish airspace and are continuing to patrol the border, Turkey's Deputy Prime Minister Bülent Arınç said.
"Today at 14:20 (1120 GMT) an Mi-17 helicopter belonging to Syria violated the Turkish border in the Güveççi area of Yayladağı in Hatay province by 2 km," Arınç told reporters in Ankara after a regular cabinet meeting.
"It was repeatedly warned by our air defence elements. When the violation continued, our planes … hit the helicopter at 14:25 with a missile causing it to fall on Syrian soil. . . ."
After violation, a number of Turkish fighter jets from a Malatya military air base dispatched to the area and shot down the helicopter, Arınç said.
From Desmond Butler, AP: Turkish Foreign Minister Ahmet Davutoglu, speaking in Paris after meetings about Syria with his counterparts from other countries, said Monday's encounter should send a message. "Nobody will dare to violate Turkey's borders in any way again," he said, according to Anatolia, the Turkish state-run news agency. "The necessary measures have been taken."
From Hurriyet Daily News: Turkish Foreign Minister Ahmet Davutoğlu has said that Turkey conducted a "punitive action" by downing a Syrian helicopter, justifiable in terms of international justice and rules of engagement as the helicopter violated Turkish air space despite warnings. . . .
"As it was before, we are decisive about protecting our borders and citizens to the end … The necessary information [about the incident] will be handed to NATO, the United Nations Security Council, and the U.N. General Secretary," he said.