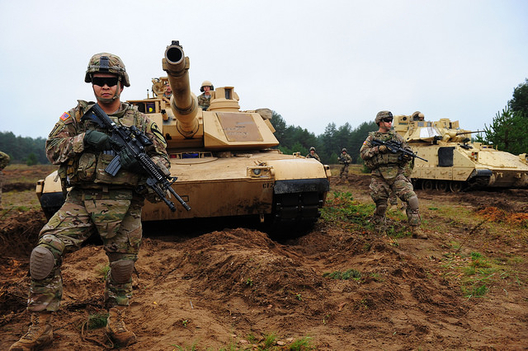 The Pentagon is analyzing the cost and impact of a large-scale withdrawal or transfer of American troops stationed in Germany, amid growing tensions between President Trump and German Chancellor Angela Merkel, according to people familiar with the work.
The effort follows Trump's expression of interest in removing the troops, made during a meeting earlier this year with White House and military aides, U.S. officials said. Trump was said to have been taken aback by the size of the U.S. presence, which includes about 35,000 active-duty troops, and complained that other countries were not contributing fairly to joint security or paying enough to NATO….
U.S. officials, who spoke on the condition of anonymity to comment on the unpublicized effort, emphasized that the exercise is limited to an internal exploration of options. The top military brass are not involved as yet, and the Pentagon has not been tasked with figuring out how to execute any option.
A spokesman for the National Security Council at the White House said in a statement that the NSC had not requested a Defense Department analysis of repositioning troops in Germany. But "the Pentagon continuously evaluates U.S. troop deployments," the statement said, and such "analysis exercises" are "not out of the norm."
Several officials suggested that Pentagon policymakers may have moved ahead with the assessment to prove the worth of the current basing arrangement and dissuade Trump from carrying the thought of withdrawal any further.
Pentagon spokesman Eric Pahon dismissed any suggestion of a full or partial withdrawal from Germany and described such analysis as routine.
"The Pentagon regularly reviews force posture and performs cost-benefit analyses," he said in a statement. "This is nothing new. Germany is host to the largest U.S. force presence in Europe — we remain deeply rooted in the common values and strong relationships between our countries. We remain fully committed to our NATO ally and the NATO alliance…."
Defense officials said a cost analysis of options for changing that was being conducted at a staff level to inform a wider discussion about the U.S. troop presence in Europe. As part of the regular analysis of the cost and justification for its troops around the world, the United States has dramatically reduced the size of its force in Germany from Cold War levels….
In recent months, Poland has proposed spending at least $2 billion to obtain a permanent U.S. base. The U.S. military already fields a rotating force in Poland, with other alliance members doing the same in the Baltic states, as part of a NATO effort to deter increasing Russian aggression along the alliance's eastern flank….
Last week, White House frustration was on display in a contentious meeting in Washington between Trump's national security adviser, John Bolton, and German Defense Minister Ursula von der Leyen. Von der Leyen said German budget projections called for increasing defense spending to 1.5 percent of the country's GDP by 2024. The White House was disappointed with Germany's efforts, according to officials.
A senior NATO official said that neither the alliance headquarters nor individual member governments had been notified of any Trump plans to raise the issue of withdrawing or repositioning American troops in Europe at the summit, although all are aware of Polish lobbying to place at least some components there….
The official said Poland's offer was "peanuts by comparison" to U.S. military investment in Germany, including "the value of 60 years of sunk costs in facilities" such as the Landstuhl military health complex and Ramstein Air Base.
The NATO official and others suggested that the cost analysis of the U.S. presence in Germany and a pullout option was reminiscent of Trump's leaked request last winter for military options to go to war with North Korea, designed "to scare the living daylights out of everyone and get [North Korea] to the table." In this case, the official suggested, the goal may be to "pile more trouble" on Merkel, while rattling the alliance in general and positioning himself as a summit spoiler.
U.S. allies hosting permanent American military footprints pay for a certain portion of the costs in various ways. Japan and South Korea, for example, make cash contributions, according to a 2013 study the Rand Corp. prepared for the U.S. defense secretary's office, while Germany supports the U.S. troop presence through in-kind contributions such as land, infrastructure and construction, in addition to foregone customs duties and taxes.
Basing its statistics on data from 2002, the study estimated that Germany offset about 33 percent of the costs of U.S. military personnel stationed there. It is unclear how much would be saved by bringing them all home, because the United States would still be responsible for paying them, in addition to housing and other personnel expenses. At the same time, a large portion of the American troops in Germany are engaged in the U.S. military's efforts outside Europe and simply base operations in the nation.