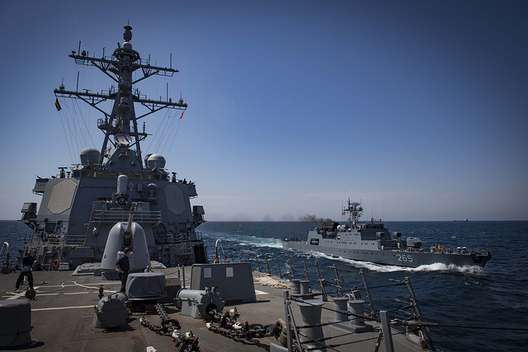 The U.S Navy on Friday formally reactivated the Cold War-era naval command it relied on for decades to confront adversaries in the waters off North America — the latest in a series of efforts to check Moscow's military expansion.
The move comes as Russian submarine activity surges in the Atlantic.
The 2nd Fleet in Norfolk, Virginia, which was deactivated in 2011, will once again be assigned ships, aircraft and Marine landing forces for potential operations along the East Coast and in the North Atlantic, where melting Arctic ice has also heightened the competition for natural resources.
"We as a Navy, as a nation, have not had to confront such peer competitors since the Cold War ended nearly three decades ago," one of the Navy's top officers, Fleet Forces Command chief Adm. Chris Grady, said during a ceremony in Norfolk aboard the aircraft carrier USS George H.W. Bush.
"Our sea control and our power projection, two vital elements of our national security, are being challenged by resurgent foreign powers, namely Russia and China," he added….
Vice Adm. Andrew "Woody" Lewis, who took command of the new headquarters Friday in Norfolk, said he and his staff will "aggressively and quickly rebuild this command into an operational warfighting organization."
But Lewis doesn't actually control any ships yet, nor many personnel. Navy spokeswoman Lt. Cmdr. Ashley Hockycko called his outfit a "lean" headquarters that has yet to reach its planned manning level of 250."
The fleet "will not immediately have oversight over assets until they reach initial and full operational capability at a future date to be determined, as they are being established using a phased approach," she said….
Last month, the United Kingdom's Royal Navy announced plans to establish its own new headquarters with a similar role as 2nd Fleet, citing Russia's military "resurgence." NATO formalized plans in June to establish a new Atlantic Command, which would bring together the naval assets of the alliance in the same area 2nd Fleet is charged with patrolling, and the Pentagon has offered Norfolk as a likely headquarters site.