This past year was marked by historic peace agreements, contentious trade and diplomatic negotiations, hard-fought electoral consequences, causes for concern, and reasons for hope. As 2018 draws to a close, we take a look at some of the biggest news stories of the year from around the world.
February 23: Trump Applies 'Maximum Pressure' on North Korea

North Korean leader Kim Jong Un meets participants of the 5th National Conference of War Veterans in this undated photo released by North Korea's Korean Central News Agency (KCNA) on July 27, 2018. (KCNA via REUTERS)
The Trump administration flexed its sanctions muscles in 2018. In February, new sanctions were placed on North Korea to close "many of the numerous loopholes and gray areas cleverly exploited by North Korea to game the sanctions regime," Robert A. Manning, a senior fellow in the Atlantic Council's Scowcroft Center for Strategy and Security, told us.
In addition to the North Korea sanctions, the Trump administration would go on to place sanctions on Russia and Russians for meddling in the 2016 US presidential election and malign activity, and expel Russian diplomats over the poisoning of former Russian spy Sergei Skripal in the United Kingdom.
The Trump administration also re-imposed sanctions against Iran after withdrawing from the Iran nuclear deal and placed fresh measures against Daniel Ortega's administration in Nicaragua.
---
Support the Atlantic Council
---
March 13: Tillerson Out, Pompeo In

 US Secretary of State Rex Tillerson boarded his plane to depart at the end of a five-country swing through Africa from Abuja, Nigeria, on March 12. On March 13, US President Donald J. Trump tweeted that he had fired Tillerson. (Reuters/Jonathan Ernst)
US President Donald J. Trump announced the move in a tweet after a rocky relationship with his first secretary of state, who was traveling in Africa at the time of the announcement. Trump and Tillerson had serious policy disagreements on issues such as the Paris climate accord, the Iran nuclear deal, and North Korean negotiations.
"It was evident for some time that Tillerson and the president were not on the same page on many issues," Atlantic Council Distinguished Fellow Alexander Vershbow told us, adding that "Pompeo may be more successful in convincing the president to set realistic goals."
Less than a month later, John Bolton replaced H.R. McMaster as Trump's national security advisor, while the US Ambassador to the United Nations Nikki Haley in October announced her intention to step down at the end of the year.
March 14: Britain Expels Russian Diplomats Over Skripal Poisoning


Britain's Prime Minister Theresa May visits the city where former Russian intelligence officer Sergei Skripal and his daughter Yulia were poisoned with a nerve agent, in Salisbury, Britain March 15, 2018. (REUTERS/Toby Melville/Pool)
British Prime Minister Theresa May announced the move in response to a report that determined it was "highly likely" Russian agents were behind the March 4 poisoning of former Russian spy Sergei Skripal and his daughter in Salisbury, England.
The UK's action was followed by similar Russian diplomat expulsions from the United States and Europe. "This tit-for-tat is reminiscent of the Cold War, which feels like a reference invoked far too often now with respect to Russia," Brian O'Toole, a nonresident senior fellow with the Atlantic Council's Global Business and Economic Program, told us.
April 13: The United States, Britain, and France Launch Airstrikes on Syria

The Syrian Scientific Research Centre in Damascus was targeted by US and allied airstrikes on April 14. (Reuters/Omar Sanadiki)

In response to a suspected April 7 chemical weapons attack by the Syrian government in the Damascus suburb of Douma, the United States, the United Kingdom, and France launched airstrikes on Syrian positions during the night of April 13. Strikes focused on chemical and biological weapons storage and production facilities.
Faysal Itani, a senior fellow in the Atlantic Council's Rafik Hariri Center for the Middle East, described the attack as "a narrow action done for narrow purposes, punishing and deterring the use of chemical weapons."
May 8: Trump Pulls Out of the Iran Nuclear Deal

Iran's President Hassan Rouhani speaks at a news conference on the sidelines of the 73rd session of the United Nations General Assembly at U.N. headquarters in New York, U.S., September 26, 2018.
Trump announced that the United States would pull out of the multilaterally negotiated Joint Comprehensive Plan of Action (JCPOA). He said the deal did not sufficiently limit Tehran's ability to obtain a nuclear weapon or limit its "malign activity" and support for terrorism in the Middle East.
The move was largely criticized by Washington's European allies who have been trying to figure out how to save the deal. According to Rachel Brandenburg, the director of the Atlantic Council's Middle East Security Initiative, Trump announced the withdrawal "without offering an alternative for preventing Iran from reinvigorating its nuclear program or a plan for pressuring Iran to halt its ballistic missile proliferation or destabilizing regional activities."
May 31: Trump Hits Allies with Steel and Aluminum Tariffs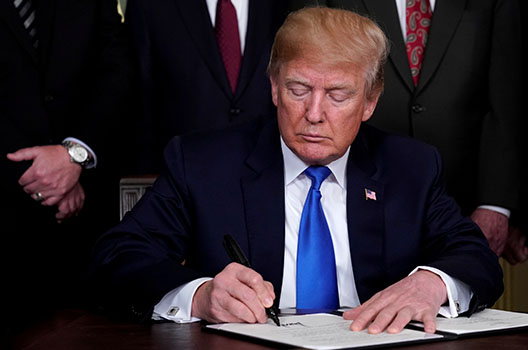 U.S. President Donald Trump signs a memorandum on intellectual property tariffs on high-tech goods from China, at the White House in Washington, DC, U.S., March 22, 2018 (Reuters/Jonathan Ernst)

Trump announced on May 31 that the European Union, Canada, and Mexico would no longer be exempt from tariffs on steel and aluminum imports that he announced on March 8. The announcement would begin a tense period of negotiation between the White House and EU negotiators on a new free trade deal that has yet to be finalized. The tariff move also pushed Mexican, US, and Canadian negotiators to expedite talks on a revised North American Free Trade Agreement (NAFTA), which was agreed to later in September.
The steel and aluminum tariffs were accompanied in 2018 by increased tariffs on Chinese imports, which are being used by the White House in an attempt to force Beijing to curb some of its unfair trading practices and intellectual property theft.
June 12: Trump Meets Kim

US President Donald J. Trump (right) and North Korean leader Kim Jong-un shook hands after signing an agreement at the end of their summit in Singapore on June 12. (Susan Walsh/Pool via Reuters)
Trump became the first sitting US president to meet with a North Korea leader when he held direct talks with Kim Jong-un in Singapore on June 12. Trump hailed the summit as a win for his administration's quest to achieve denuclearization of the Korean Peninsula, but reports later in November suggested that North Korea had hidden more than a dozen missile bases despite pledges to curb its nuclear activity.
Daniel Fried, a distinguished fellow at the Atlantic Council, wrote that the summit "was not itself a bad idea. But signing an empty paper is questionable."
June 12: Macedonia and Greece End Twenty-Seven Year Dispute

Greek Prime Minister Alexis Tsipras (right) met Macedonian Prime Minister Zoran Zaev at the EU-Western Balkans Summit in Sofia, Bulgaria, on May 17. The two leaders announced on June 12 that they had reached an agreement on a deal to end their twenty-seven-year name dispute. (Reuters/Stoyan Nenov)
Greek Prime Minister Alexis Tsipras and Macedonian Zoran Zaev reached an agreement that would end Greece's opposition to Macedonia joining NATO and the EU in return for Macedonia changing its name to the "Republic of North Macedonia." Although the deal has not been finalized yet as Macedonia changes its constitution and the Greek parliament ratifies the agreement, NATO offered an invitation for Macedonia to join the Alliance on July 11.
Speaking at the Atlantic Council, former NATO Secretary General George Robertson said the new agreement is "an alignment of stars that is unlikely to happen for another thirty of forty years."
July 9: Eritrea and Ethiopia Sign Historic Peace Agreement

Eritrea's President, Isaias Afwerki receives a key from Ethiopia's Prime Minister, Abiy Ahmed during the Inauguration ceremony marking the reopening of the Eritrean Embassy in Addis Ababa, Ethiopia July 16, 2018. (REUTERS/Tiksa Negeri)
Eritrean President Isaias Afewekiu and Ethiopian Prime Minister Abiy Ahmed signed a declaration ending the state of war between the two countries that has existed since 1998. Their meeting was the first between leaders of the two neighboring countries in nearly two decades.  The two leaders have followed up on this announcement by unblocking telephone lines, restarting flights between both countries, and reopening several border crossings.
"Ethiopia and Eritrea stand to gain immeasurably from peace—not only in terms of the massive economic benefits, which will accrue to both sides, but also in terms of regional peace and stability," Bronwyn Bruton, director of programs and studies and deputy director of the Atlantic Council's Africa Center, told us.
July 11: NATO Leaders Seek to Reinvigorate Alliance

U.S. President Donald Trump arrives to hold a news conference after participating in the NATO Summit in Brussels, Belgium July 12, 2018. (REUTERS/Reinhard Krause)
NATO leaders met for a summit in Brussels focused on calls for increased defense spending and upgraded Alliance capabilities. NATO leaders agreed to invite Macedonia as a member of the Alliance should the country ratify its name deal with Greece, decided to financially support NATO's Operation Resolute Support Mission in Afghanistan through 2024, announced a new Iraqi training mission, and unveiled plans for three new command centers for the Alliance.
NATO Secretary General Jens Stoltenberg credited Trump for sending a "clear message" to other allies that they needed to commit more resources to the Alliance, which Stoltenberg believed was effectively acted upon by many allied countries. Speaking once the dust had settled, Atlantic Council President and Chief Executive Officer Frederick Kempe observed that Trump "took credit for NATO being stronger than ever, and committing itself to greater spending on defense, and that's a big success. We might wish the journey had been a little smoother, but did this turn out better than many had feared? The answer has to be yes."
July 16: Trump-Putin Summit. That (Hel)sinki Feeling

US President Donald J. Trump shakes hands with Russian President Vladimir Putin during a joint news conference in Helsinki on July 16, 2018. (Lehtikuva/Jussi Nukari via Reuters)
Just five days after the NATO Summit in Brussels, Trump met with Russian President Vladimir Putin in Helsinki. In a press conference after the summit, Trump appeared to believe Putin's denial that Russia had actively meddled in the 2016 presidential election. Trump was criticized for being largely silent on Russian aggression in Ukraine and its illegal annexation of Crimea. Although both leaders appeared at the time to be open to an official visit by Putin to Washington, no such meeting has yet been confirmed.
Atlantic Council board member and former US Undersecretary of State R. Nicholas Burns said "on issue after issue, the enduring image from that press conference was a strong, confident Putin and a hesitant, weak, uninformed American president."
August 2: Zimbabwe Has a President and it's Not Robert Mugabe


Election posters were plastered on a wall in Harare, Zimbabwe, on July 19 (Reuters/Philimon Bulawayo).
On July 30, Zimbabwe held its first free and open presidential election following Robert Mugabe's decision to relinquish power after thirty years. Four days after the vote, the Zimbabwe Electoral Commission announced interim President Emmerson Mnangagwa had won the election with 50.8 percent of the vote, enough to avoid a potential runoff. Opponent Nelson Chamisa challenged the results, but lost a Supreme Court ruling on August 24. Protests in the aftermath of the election resulted in six deaths.
Going forward, Mnangagwa must "really show in more than just words that he is no longer Mugabe's right-hand man," J. Peter Pham, the Atlantic Council's vice president for research and regional initiatives and director of the Africa Center, told us. "There must be a clear break with that past, not a slow return to it."
September 30: NAFTA By Another Name?

US President Donald J. Trump discussed the United States-Mexico-Canada Agreement (USMCA) at a news conference in the White House Rose Garden in Washington on October 1. (Reuters/Kevin Lamarque)
Canadian negotiators agreed to sign onto a US-Mexican trade agreement to replace the North American Free Trade Agreement  (NAFTA) with moments to spare on a September 30 deadline. The United States and Mexico had reached an agreement on the deal on August 28, but significant sticking points delayed an agreement with Canada. The White House had imposed a September 30 deadline for reaching agreement before they would consider unilaterally withdrawing from NAFTA. The deal—labelled the US-Mexico-Canada Agreement (USMCA)—was signed by Trump, Canadian Prime Minister Justin Trudeau, and outgoing Mexican President Enrique Peña Nieto on November 30. It must be ratified by all countries.
Although the White House has portrayed the deal as a new agreement, Bart Oosterveld, director of the Atlantic Council's Global Business and Economics Program, argued that "in a nutshell, it is a slightly updated version of NAFTA."
October 2: The Khashoggi Murder

A demonstrator holds picture of Saudi journalist Jamal Khashoggi during a protest in front of Saudi Arabia's consulate in Istanbul, Turkey, October 5, 2018. (REUTERS/Osman Orsal)
Jamal Khashoggi, a columnist for The Washington Post and a prominent critic of the Saudi monarchy, was killed in the Saudi Consulate in Istanbul on October 2.  Khashoggi's murder brought upon widespread condemnation of Saudi Crown Prince Mohammad bin Salman (MBS), who many believe orchestrated or at least had direct knowledge of the murder.
MBS' "unrivalled power now has made him the central figure to watch in the Khashoggi case," Frederick Kempe wrote in reaction to the murder, saying that  "it has been his silence thus far as the country's ultimate figure of authority that has been most disturbing to those who had hoped the initial reports of official Saudi complicity were untrue."
The Trump administration would eventually slap sanctions on seventeen Saudi nationals for their involvement in the murder, although stopped short of directly implicated the crown prince or taking action against him personally.
October 20: INF RIP?

An unarmed Minuteman III intercontinental ballistic missile launches during an operational test at 2:10 a.m. Pacific Daylight Time at Vandenberg Air Force Base, California, U.S., August 2, 2017. Picture taken August 2, 2017. (U.S. Air Force/Senior Airman Ian Dudley/Handout via REUTERS)
Trump announced his intention to withdraw from the Intermediate-Range Nuclear Forces (INF) treaty  with Russia over Moscow's apparent breach of the treaty and concerns that China was not subject to the same restrictions. The agreement was signed by the Soviet Union and the United States in 1987 and sought to ban both countries from keeping ground-based nuclear missiles with ranges of 500 to 5,500 kilometers.
US Secretary of State Michael Pompeo announced on December 4 that the United States would cease its treaty obligations "within sixty days" if Russia did not provide evidence it was no longer in breach of the accord.
"Moscow has been violating the INF treaty for years at no cost," John Herbst, director of the Atlantic Council's Eurasia Center, told us. "But the smarter move would be to use that threat as a lever to persuade our till this point silent allies to agree on a set of stiff counter measures if Russia violations continue," he said.
October 28: Brazil Swings Right

Federal deputy Jair Bolsonaro, a pre-candidate for Brazil's presidential election, is greeted by supporters as he arrives at Luis Eduardo Magalhaes International Airport in Salvador, Brazil May 24, 2018. (REUTERS/Ueslei Marcelino)
Right-wing candidate Jair Bolsonaro defeated left-wing candidate Fernando Haddad with 55 percent of the vote on October 28, to become the first president elected since 2000 that did not come from the Workers' Party. The intense election campaign included a knife attack on Bolsonaro and was marked by voters' intense frustration with corruption scandals and economic mismanagement by Haddad's Workers' Party.
"The convincing election of Jair Bolsonaro," according to Jason Marczak, the director of the Atlantic Council's Adrienne Arsht Latin America Center, "shows Brazilians' rejection of the status quo. His election reflects voter disenchantment with corruption, insecurity, and anemic economic growth."
In addition to Bolsonaro, left-wing populist Andrés Manuel López Obrador (AMLO) was elected president of Mexico, and Iván Duque was elected as the youngest president in Colombia's history.
November 14: May's Cabinet Approves Brexit Deal. (Watch this Space)

British Prime Minister Theresa May arrived at a news conference after an extraordinary EU leaders summit to finalize and formalize the Brexit agreement in Brussels, Belgium, on November 25. (Reuters/Piroschka van de Wouw)
UK Prime Minister Theresa May and her Cabinet of ministers approved a negotiated deal with the EU laying out the conditions of the UK's withdrawal from the EU in March 2019. The deal has been meticulously negotiated for over the last two years, with much attention paid to the preservation of an open border between Northern Ireland and the Republic of Ireland.
Despite May's endorsement, the deal has yet to be approved by the UK Parliament, where ratification is far from certain. Disapproval of the deal from some of May's own Conservative Party triggered a leadership election on December 12, which May survived, while other parties are now maneuvering for a vote of no confidence in May's government.
Despite the hard negotiations, Peter Westmacott, a distinguished ambassadorial fellow at the Atlantic Council and former UK ambassador to the United States said, "we don't have a deal which has a chance of passing Parliament."
November 25: Russia Seizes Ukrainian Ships and Sailors

A detained Ukrainian serviceman and crewmember of one of the three Ukrainian naval vessels seized by Russia's FSB security service in the Kerch Strait on November 25, looked out of a minibus window outside a court building in Simferopol, Crimea, on November 28. (Reuters/Pavel Rebrov)
Russia seized three Ukrainian vessels as they were preparing to enter the Sea of Azov—a shared sea between Ukraine and Russia—ramming a Ukrainian tugboat, firing on three Ukrainian ships, and injuring up to six crewmembers on November 25. Twenty-Three Ukrainian sailors were put into Russian custody.
Atlantic Council Executive Vice President Damon Wilson explained that "for months, Russian forces have been working to make the Azov Sea an internal Russian body of water in order to both cut off Ukraine's eastern ports and cement Moscow's hold on Crimea." By attacking Ukrainian ships in the Sea of Azov, "the Russians escalated with the aim of intimidating Ukraine into backing off its own effort to assert its access to its own territorial waters and its own ports."
David A. Wemer is assistant director, editorial at the Atlantic Council. Follow him on Twitter @DavidAWemer.