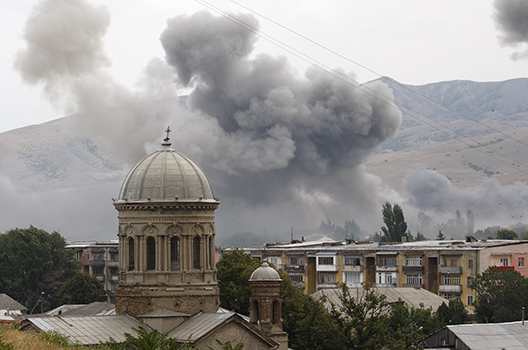 The Russo-Georgian War lasted a brief five days, but its impact is still felt deeply in Georgia and throughout the region. Ten years later, Russia exerts ever-growing influence on Georgia, occupying one-fifth of the country's territory – the breakaway republics of South Ossetia and Abkhazia – and using this position to project its power throughout the region. Despite Russia's enduring interference in Georgia, Tbilisi continues to forge a path westward, resolute in their desire to join NATO and the European Union (EU).

What Caused the 2008 War?
Although the Russo-Georgian War was brief, the roots of enmity between Georgia, Russia, South Ossetia, and Abkhazia extend much deeper. South Ossetia and Abkhazia had long functioned autonomously within Soviet Georgia, later declaring de facto independence in 1990 and 1992, respectively.
By 2008, Georgia had moved significantly along the path to NATO membership, following the Rose Revolution in November 2003. Russia, determined to prevent NATO offering Georgia a Membership Action Plan (MAP) at the 2008 NATO summit, used its continued "peacekeeping" presence in the breakaway republics to create a casus belli. Hostility between the two countries escalated soon after Georgia's NATO membership decision was deferred, when Russia shot down a Georgian unmanned drone over Abkhazia. On May 30 and 31, Russia deployed several hundred troops to Abkhazia for railway repairs, viewed by Georgia as Russian military aggression. In the first days of August, there were several incidents of roadside bombs and skirmishes between Georgians and South Ossetian separatists at the border.
What Happened During the War?
On August 7, 2008, Georgian President Mikheil Saakashvili swiftly responded to the deployment of Russian troops into South Ossetia, which violated Georgian territorial sovereignty. Russia, accusing Georgia of aggression and provoking war, began shelling Georgian villages, with Putin declaring "war has started." On August 10, Russian troops advanced through South Ossetia and into Georgia, simultaneously launching cyberattacks on Georgian government agencies, financial institutions, and news outlets. Russian news outlets spread disinformation on domestic networks to discredit Georgia. This was Russia's first use of hybrid warfare and provided useful knowledge for its much larger application in Ukraine in 2014.
On August 12, following calls for a ceasefire from the United States, United Kingdom, and NATO, Russia halted its advance into Georgia. French President Nicolas Sarkozy, representing a joint delegation from the European Union (EU) and United States, negotiated a peace plan.
By August 16, President Saakashvili and Russian President Dmitry Medvedev had signed a ceasefire agreement, ending the hostilities. In the following days, Russia partially withdrew its troops, but maintained peacekeeping forces near the breakaway regions, which remain today.
Medvedev then recognized the independence of South Ossetia and Abkhazia, later joined by a Syria and Venezuela, countries within the Kremlin's sphere of influence. The United States and the vast majority of the international community recognize the republics as part of Georgia and continue to support "the territorial integrity of Georgia."
What is the Situation in Georgia Now?
The United States has been, and remains, a crucial ally to Georgia. The United States supported Georgian NATO membership at Bucharest, and supplied humanitarian aid to Georgia during the 2008 war. It currently provides military assistance and training to Georgian troops and continues to advocate for Georgia's democratization and accession to NATO among the international community.
Russian influence in South Ossetia and Abkhazia has continued to increase over the last ten years. In contravention of the 2008 ceasefire agreement, Russia still occupies these territories, including fully operational military bases. According to David Bakradze, the Georgian Ambassador to the United States, Russia has continued to implement "integration treaties," which absorb Georgia's occupied regions into Russia's political, military, and economic systems. One standout example is the formalization of the Abkhazian military's relationship with the Russian armed forces, a step that the Georgian government denounced as "annexation."
Since 2011, Russian separatist forces have used "creeping annexation" tactics to further divide Abkhazia and South Ossetia from Georgia. This includes the construction of illegal fencing and barriers further into Georgia, claiming more Georgian territory for Russia. South Ossetia and Abkhazia elected Russian-backed separatists in 2017 via referendums that have been condemned by Georgia, NATO, and the international community.
Protection of basic human rights differs significantly between Georgia, Abkhazia, and South Ossetia. Nearly half a million ethnic Georgians in South Ossetia and Abkhazia have been displaced from their homes. Since the war, fifty-three Georgian villages and over 35,000 houses have been burned. The breakaway regions have begun to prohibit education in Georgian, deny ethnic Georgians freedom of movement, and frequently illegally detain and kidnap its citizens. South Ossetia and Abkhazia operate authoritarian regimes, with Freedom House scores of eleven and forty-one, respectively, compared to Georgia's score of sixty-four.
Georgia has continued to forge a path westward, determined to join NATO and the EU, despite being denied a MAP at the 2008 NATO summit in Bucharest. NATO member states have confirmed their support to Georgia's accession at the NATO summits in 2009, 2010, 2012, 2014, and 2016, calling for the withdrawal of Russian forces from Abkhazia and South Ossetia. At the Wales Summit in September 2014, the allied heads of state granted Georgia significant aid to strengthen its defense capabilities, known as the Substantial NATO-Georgia Package (SNGP). NATO granted this package to recognize that Georgian forces have supported NATO missions in Kosovo and Afghanistan, and intends to increase their "strategic, tactical, and operational" abilities, further preparing Georgia to become part of NATO.
Georgia has similar aspirations to join the European Union and entered into the EU-Georgia Association Agreement on July 1, 2016. This agreement seeks to "deepen political and economic relations between the EU and Georgia", principally achieved through the creation of a Deep and Comprehensive Free Trade Area (DCFTA). The DCFTA facilitates Georgia's economic integration into the EU by removing tariffs and quotas, but it does not apply to South Ossetia and Abkhazia. Georgian citizens have also enjoyed visa free travel to the Schengen area since March 2017, another benchmark of integration with the EU in preparation for Georgia's eventual accession.
As noted by Bakradze, "Georgians . . . have done more than most to fight to defend the principles of the Alliance. They are also prepared to be serious contributors. [They] spend well over 2 percent of their GDP on defense. Georgia is among the most significant troop contributors to NATO and other international missions." Clearly, Georgia is determined to continue its path westward, but it still remains unclear if they will do so with or without the breakaway republics of South Ossetia and Abkhazia.
Mary Trichka and Margaret Meiman are interns with the Eurasia Center.
This piece is part of a week-long series on the New Atlanticist marking the tenth anniversary of the 2008 Russian-Georgian War. To read all the pieces, check the New Atlanticist homepage from August 7 until August 10.