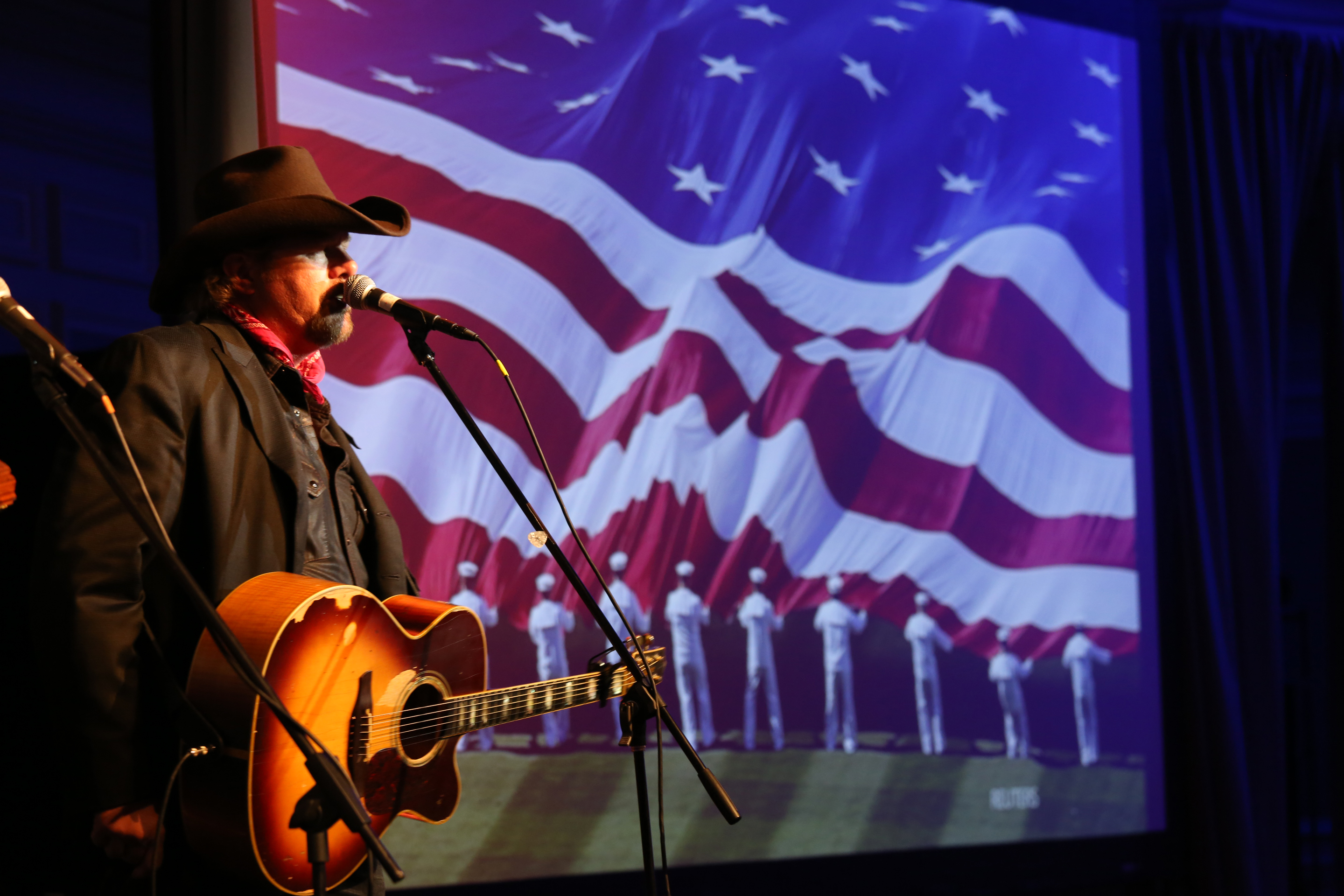 Breedlove, Ghani, Hewson, and Keith receive Atlantic Council's Distinguished Leadership Award
What do Gen. Philip M. Breedlove, Ashraf Ghani, Marillyn A. Hewson, and Toby Keith have in common? The answer to that question is probably: not much. That was until all four were honored with the Atlantic Council's Distinguished Leadership Award at a glittering ceremony April 30 at the Ritz-Carlton in downtown Washington.

Breedlove, Supreme Allied Commander, Europe, and Commander of US European Command, received the Distinguished Military Leadership Award.
Hewson, Chairman, President, and CEO of Lockheed Martin, received the Distinguished Business Leadership Award.
Ghani, President of Afghanistan, received the Distinguished International Leadership Award.
And Keith, American country music singer-songwriter and record producer, received the Distinguished Artistic Leadership Award.
All four exemplify the "leadership, vision, and character" that today's times demand, said Atlantic Council Chairman Jon M. Huntsman, Jr.
Atlantic Council President and CEO Frederick Kempe said the awardees "represent four pillars of global leadership."
Breedlove's warning on a 'revanchist Russia'
In his acceptance speech Breedlove warned of the challenge a "revanchist Russia" poses to the United States' transatlantic allies and partners.
Russia's annexation of Crimea in March 2014 and continuing support for separatists in eastern Ukraine are just the latest in a series of signals that Moscow is intent on shifting its relationship with the West from "strategic cooperation" to "strategic competition," NATO's top military commander said.
Breedlove said Russia's approach of "strategic competition" requires a new mindset and approach. "The US and NATO must adapt… and I am happy to report that we are adapting," he said. "The stakes are high… but we should not shy away from that… because Russia is not."
Early in his presidency, Barack Obama sought to "reset" the US relationship with Russia that had become strained toward the end of the George W. Bush administration.
"We broke with confrontation and pursued a policy of cooperation," said Breedlove. "And for a long time, many of us believed that Russia would also embrace that cooperation."
In hindsight, however, it became clear that Russia was on a different path, he added.
Breedlove proceeded to list a series of Russian transgressions, including:
Russia stoking separatists tensions in Georgia and Moldova in the early 1990s;
The Kremlin's decision to suspend observance of the Conventional Forces in Europe Treaty in 2007;
Russia's invasion of Georgia in 2008;
"All of these were signals of a changing Russia, breaking with the principles and values of the West," he said.
"Through it all, we remained optimistic and continued to treat Russia as a valued and trusted partner. But last year, that optimism faded," he added.
Russian President Vladimir Putin annexed Crimea on March 18, 2014. In a documentary to mark the first anniversary of the annexation, Putin insisted that the annexation was justified.
Breedlove said it is nevertheless important for the West to keep an open dialogue with Russia, "but we must talk from a position of strength."
He praised the "powerful role" the Atlantic Council plays in "energizing" the dialogue, "sharpening our thinking, and pointing toward solutions."
Breedlove was introduced by Georgia Institute of Technology college mate Adm. James A. "Sandy" Winnefeld, Jr.
Ghani: 'We just want to be normal'
Kempe announced the establishment of the Afghanistan Rising Initiative at the Atlantic Council and the creation of the Zalmay Khalilzad Chair, named for the former US Ambassador to Afghanistan. Another former US Ambassador to Afghanistan, James B. Cunningham, will be the chair's first occupant.
"Jim will bring a wealth of experience," said Kempe.
Kempe also announced that former Defense Secretary Chuck Hagel would be joining the Council's International Advisory Board. Hagel is a former Chairman of the Atlantic Council.
Ghani, a former member of the Atlantic Council's International Advisory Board, was not present at the dinner but received his reward at a private ceremony on a March 25 visit to Washington. Former Secretary of State Madeleine K. Albright, an Honorary Director of the Atlantic Council's board, had presented the award to Ghani.
In an acceptance speech taped at that event and played for guests at the awards dinner, Ghani said Afghans "just want to be able to be normal."
"What we are determined to do is not to become victims of history," he said.
Ghani's daughter, Mariam, a New York-based artist, accepted the award on her father's behalf.
"I know how much it means to him to receive this award, and I know he wishes he could be here himself to celebrate with all of you—but as you know, he has a rather demanding job," she said.
Ghani said her father's presidency represents "an opportunity for today's young Afghans—and I hope, particularly young Afghan women—to reimagine Afghan politics again."
"We Ghanis are not programmed for failure—that's a family joke, but so far it has proved true," she added.
Hewson: Sequestration and STEM
Hewson used her acceptance speech to talk about the uncertainty created by sequestration and the importance of promoting STEM—science, technology, engineering, and mathematics—education.
Threats to the United States have grown since 2011 when the Budget Control Act cut $487 billion from projected defense spending over the next ten years, said Hewson. Top Pentagon officials have been making a pitch to prevent the recurrence of spending caps, which could return in October.
"As long as sequestration is on the table we are undermining our ability to protect America's sovereignty and defend our interests around the globe," said Hewson.
Warning that other countries are investing in asymmetric fifth-generation technologies, she said: "As a nation we must work together to put sequestration behind us."
Hewson also spoke about maintaining a competitive edge. But, she added, there are just not enough students graduating in STEM to meet the needs.
She talked about the importance of advancing the spirit of collaboration through an investment in resources and nurturing collaborators. In that vein, she praised the Atlantic Council for being a champion of collaboration.
Boeing Chairman and CEO Jim McNerney introduced Hewson. He noted the irony of having to present a competitor.
"From Boeing's perspective, Marillyn has turned an always-worthy business adversary in Lockheed Martin into an even more formidable competitor and, in many cases, a valued partner as well," he said. He cited the collaboration between Boeing and Lockheed Martin through a joint proposal to build the next long-range strike bomber for the US Air Force.
Keith: 'American Soldier'
Keith rounded off the night with a performance of his hit song "American Soldier." Twelve servicemen and women stood behind him on the stage as he performed.
Earlier, another musical note was struck in honor of retired Air Force Gen. Brent Scowcroft, a former National Security Advisor. Atlantic Council co-chairs joined Huntsman and Kempe on stage for a surprise rendition of "Happy Birthday." Scowcroft, a former Atlantic Council Chairman, turned 90 on March 19.
Former US National Security Advisor, retired Marine Corps Gen James. L. Jones, Jr., introduced Keith.
Jones recounted how Keith—a close friend who has performed for US troops around the world since the terrorist attacks on the United States on September 11, 2001—would often slip away on a Blackhawk helicopter after many of his performances and fly to a forward operating base in more dangerous areas to perform to the small group of troops who were unable to attend his concerts.
"His connection with the troops is legendary," said Jones, who is Chairman of the Atlantic Council's Brent Scowcroft Center on International Security.
In his remarks, Keith lauded the Atlantic Council for providing "great light at the end of the tunnel."
Ashish Kumar Sen is a staff writer at the Atlantic Council.