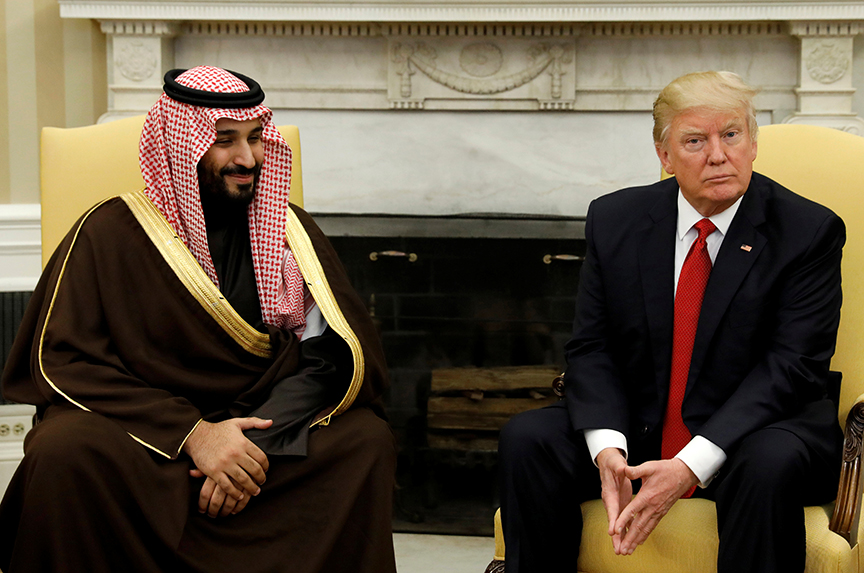 While Saudi Arabia's King Salman was on the fourth leg of his three-week Asia tour, his son, Deputy Crown Prince Mohammed bin Salman (MbS), became the first Saudi royal to visit the White House during the administration of US President Donald J. Trump. With the king wrapping up his state visit in Japan before going to China, and MbS in Washington, the timing sent a message that Riyadh is seeking to work with allies, friends, and partners across the world. These visits occurred at a time when the kingdom is pursuing an economic transformation in line with Vision 2030, a blueprint for improving the future of Saudi Arabia. Riyadh is also facing a host of financial challenges stemming from cheap oil as well as ongoing security crises near and within its borders.

MbS' visit to Washington and his meeting with Trump on March 14 provided clear signals that the United States considers Saudi Arabia a major ally and MbS a credible partner. Trump and MbS' meeting may suggest that the White House views the thirty-one-year-old deputy crown prince as the next king of Saudi Arabia, a future leader to depend on in the Middle East, and a representative of the Gulf Cooperation Council (GCC). Yet the meetings in Washington may also leave the impression that the United States is trying to balance its relations with both MbS and Saudi Crown Prince Mohammad bin Nayef (MbN), suggested by Central Intelligence Agency (CIA) Director Mike Pompeo's visit to Riyadh in February where he met with MbN and awarded him with a medal for his counterterrorism efforts.
MbS, who is charge of all Saudi economic portfolios and is a businessman who owns many companies, seeks to establish a sovereign wealth fund (SWF), a pillar of Vision 2030. This could possibly be the largest SWF in the world, worth $2 trillion, depending on the sale of 5 percent of Saudi oil company Aramco's shares.
The reception MbS received in Washington sent a signal that the Trump administration has given the deputy crown prince carte blanche to discuss all economic, political, military, and security portfolios as he has, arguably, become the kingdom's first decision maker.
At the top of the agenda in Washington, Trump and MbS discussed countering "Iran's destabilizing regional activities," and exploring "steps across a broad range of political, military, security, economic, cultural, and social dimensions to further strengthen" US-Saudi strategic relations, according to a White House statement.
Trump and MbS also discussed former US President Barak Obama's decision to suspend the sale of precision-guided munitions to Riyadh in response to high civilian casualties caused by the Saudi military intervention in Yemen. US officials pointed out that Trump was considering ending the ban and approving the sale of such munitions, and all that is left is a White House approval. It should be noted that the kingdom's military spending, which surpassed $87 billion last year, has almost doubled since 2006.
Saudi investments in the United States were also discussed on the Washington visit. Saudi Oil Minister Khalef Al Faleh, who is close to MbS, said that the kingdom would invest in US infrastructure projects, including fossil fuel. These investments could help to grow the economy and create new job opportunities, which Trump promised during his election campaign.
The visits of both the king and his son to Asia and the United States, respectively, aim to strengthen the kingdom's economic, military, and political alliances with major world players. This could set the kingdom's economy on a positive trajectory. The Saudi economy suffered a setback because of plummeting oil prices that have left a huge budget deficit in the kingdom.
An outstanding issue, which will remain a source of tension in Washington-Riyadh relations, is the controversial Justice Against Sponsors of Terrorism Act (JASTA). The US law, which passed last year despite Obama's veto, implies that the Saudi government was partially culpable for the September 11, 2001, terrorist attacks on the United States and permits victims' family members to sue the kingdom in US courts. Trump, on the campaign trail, supported JASTA. It is unclear how his administration will address the legislation and future problems it will undoubtedly create in US-Saudi ties.
MbS' trip to the White House was about resetting US-Saudi relations in the wake of the Obama presidency, which one of the crown prince's senior advisers described as a "period of difference of opinion" between Washington and Riyadh. The Saudi leadership is cautiously optimistic that the Trump administration will reverse what it sees as the Obama administration's flawed policies and strategies vis-à-vis Iran, which, either intentionally or unintentionally, empowered Tehran to expand and consolidate its influence across the Middle East. MbS' visit to Washington signaled that Riyadh is determined to foster close ties with the Trump administration.
Shehab al-Makahleh (Sam Mak) is a senior advisor at Gulf State Analytics with experience as a political advisor in the United Arab Emirates.