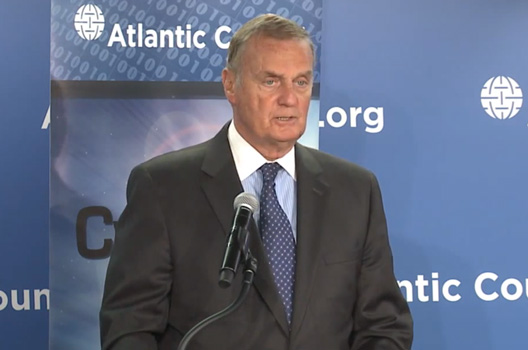 Atlantic Council's James L. Jones, Jr. recommends a toolkit that includes economic, political, and security components
The United States must develop a three-pronged approach that includes economic, political, and security components to deter Russian President Vladimir Putin's "retrograde ambitions in favor of the peaceful and progressive order the transatlantic community and the world had envisioned at the opening of the 21st century," retired Gen. James L. Jones, Jr., a former National Security Advisor, said October 8.
Putin's "strategic objective is to reassert Russian power and prestige on his terms without regard to international principles and norms," Jones, who is Chairman of the Atlantic Council's Brent Scowcroft Center on International Security, said in testimony to the Senate Armed Services Committee.
The Russian leader is willing to use force to achieve his objectives, including disregarding state sovereignty, as was evident from the annexation of Crimea in March 2014, he added.

The hearing, titled "Russian Strategy and Military Operations," took place amid an increase in Russian military support for embattled Syrian leader Bashar al-Assad. The Russian military has conducted airstrikes against a broad array of groups that are fighting the Assad regime, including US-backed rebels, according to US officials.
Jones said Putin is using the pretense of fighting ISIS to prop up Assad who has presided over a civil war that is now in its fifth year, has killed at least 220,000 according to the United Nations' January 2015 estimate, and created more than four million refugees.
Russian Defense Minister Sergei Shoigu said this week that Russia had fired rockets on Islamic State of Iraq and al-Sham (ISIS) targets inside Syria from warships based in the Caspian Sea. Russia denies hitting non-ISIS targets.
US military leaders are worried that the extensive new capabilities Putin is accumulating are being used to "pursue an anti-access/area denial strategy against NATO, particularly in the Baltic Sea region from Kaliningrad; in the Black Sea region from Russia's buildup in Crimea; and now in Syria from its deployment of anti-aircraft capabilities," said Jones, who served as National Security Advisor in the Obama administration from 2009 to 2010. An anti-access/area denial (A2/AD) strategy refers to defense capabilities designed to keep the adversary out.
Putin is using a series of capability deployments in these sensitive areas to "raise the risk, or perceived risk, of US or coalition military action in these regions," he added, noting growing unease within NATO over such developments.
In Syria, Russian combat aircraft and sophisticated air defenses are not needed to fight ISIS, but are actually intended to deter the US-led coalition from establishing a no-fly zone in northern Syria, Jones said.
In response to criticism of the Obama administration's Syria policy from the committee's Chairman, Sen. John McCain (R-AZ), Jones said the United States has been "off balance" in Syria since Assad violated US President Barack Obama's red lines on the use of chemical weapons.
"The penalty for that should have been quick and decisive," he said.
Now, "Putin is basically offering a trade: 'Assad stays in power and then we will take care of ISIL,'" he added, referring to another acronym by which ISIS is known.

Besides Jones, Stephen Sestanovich of the Council on Foreign Relations, Heather Conley of the Center for Strategic and International Studies, and retired Gen. John M. Keane of the Institute for the Study of War also testified before the Senate panel.
Putin's 'revanchist' foreign policy
Jones recalled attending a breakfast meeting with Obama and Putin in 2009 following which he drew the conclusion that the Russian President is "wholeheartedly committed to 'righting' what he sees [as] an historic injustice, the collapse of the Soviet Union," and "clearly believes that NATO is a great evil and that his interests are best served by weakening the transatlantic alliance and destabilizing his western periphery."
In order to achieve these goals, Putin's "revanchist" foreign policy relies on a broad toolkit that includes major military, energy, and political elements, Jones said.

Russia has conducted military exercises and maneuvers, including in the Arctic and on NATO's eastern flank, and its jets frequently violate NATO airspace. It has used "little green men," who provide Moscow the cover of plausible deniability, as part of its hybrid warfare tactics. These "volunteers," who have been deployed in eastern Ukraine, will soon turn up in Syria, Jones predicted.

Putin has also used European dependence on Russian energy as a "lever for manipulation," Jones said, but noted that Europe is now taking steps to reduce this dependence by investing in gas storage hubs and interconnectors.
Besides all this, Putin is "working hard to sow division within the Western alliance and to undercut the cohesion of the Euro-Atlantic arc of economic and security cooperation," Jones said. One way he is doing that is by building ties with the leaders of far left and far right political parties across Europe.
What can be done to counter Putin?

Putin is "consumed by this idea that we are his natural enemies," Jones told Sen. Angus King (I-ME). "I think Mr. Putin will pay attention when he sees decisive action."

Jones recommended a series of measures that the United States should consider to address the challenge posed by Putin.
For one, the United States should support the European Union's development of energy, telecommunications, and transportation infrastructure from the Baltic to the Adriatic Sea in order to blunt Putin's use of energy as a political weapon, said Jones.
In response to a question from Sen. Jack Reed (D-RI), the ranking member of the committee, Jones said that even today the United States lacks a strategic energy policy. "This is an asset in our quiver that is incredible in terms of future potential and the sooner we understand that energy security is a vital part of our toolkit" the better, he said.
The United States should help its European allies wean themselves off their dependence on Russian energy, he added.
Jones' other recommendations included passing the Transatlantic Trade and Investment Partnership (TTIP) pact between the United States and the European Union; maintaining US and EU sanctions on Russia over its actions in Ukraine; strengthening the transatlantic alliance by, among other things, admitting Montenegro into NATO to "counter Russia's growing influence in the Balkans and send a powerful signal that the vision of a united Europe, whole and free, remains viable," enhancing NATO's cybersecurity capabilities and responsibilities, and providing robust assistance to Ukraine.
"Given Russia's aggressive exercises and troop positioning on NATO's eastern flank, I believe we run a greater risk of conflict by not increasing NATO's presence in Central and Eastern Europe," he said while making the case for enhancing the presence of NATO forces in Eastern Europe.
Jones submitted proposals from the Atlantic Council to the Senate committee for lawmakers and the Obama administration to consider while responding to Putin's actions and providing assistance to Eastern European allies.
"President Putin will not be in power forever. There will be a Russia beyond him," said Jones.
Ashish Kumar Sen is a staff writer at the Atlantic Council.