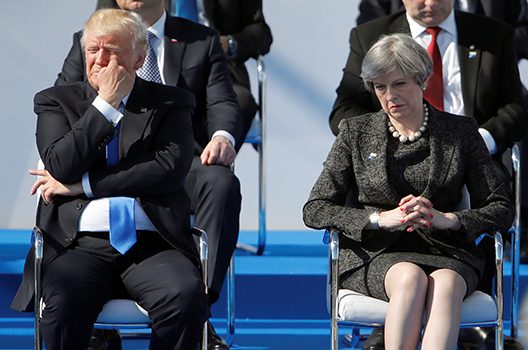 A week Theresa May was dreading got a whole lot worse on July 9. The British prime minister is set to host US President Donald J. Trump on July 13, while also trying to save her government from collapse.
May's recent troubles are due to the lasting divisions within her Conservative Party on the proper negotiating strategy to achieve the United Kingdom's exit from the European Union (EU). After May's office released a report arguing that London would recognize EU product standards to maintain a "combined customs area," the Foreign Secretary Boris Johnson and the Secretary for Exiting the European Union, David Davis, resigned in protest. It now appears that May will have to fend off a serious challenge to her leadership, all while preparing for what is sure to be a controversial visit by the American president.

The imminent meeting with May appears to be something of an afterthought for Trump as well. His time overseas will start with a very high-profile NATO summit in Brussels on July 11 and 12, when he will try to cajole NATO members into spending more on defense, and will end with a dramatic one-on-one meeting with Russian President Vladimir Putin in Helsinki on July 16. With the addition of his announcement of a new Supreme Court nominee on July 9, it is likely that May figured no higher than fourth on his list of priorities for the week.
The overshadowing of Trump's visit to the United Kingdom is symbolic of the precipitous decline the US-UK "special relationship" has endured over the past two years. Trump's spats with London Mayor Sadiq Khan, his retweeting of an inflammatory anti-Muslim video, and unpopular stances on immigration and foreign policy have led to his rock-bottom popularity in the United Kingdom. His visit will likely be accompanied by massive protests around the country, particularly in London, which Trump will conspicuously avoid during his visit.
The relationship, however, has also been greatly harmed by the uncertainty surrounding the United Kingdom's decision to leave the EU, or Brexit, and the diminished British influence in continental politics.
May's visit to the White House in January 2017 was met with indifference by most in Washington, compared to the lavish state dinner in honor of French President Emmanuel Macron, whose handshake with Trump received more media attention than May's whole visit. While Macron gave a high-profile address to the US Congress, May slipped in and out of town without much ado, despite having been in power for almost a year longer than Macron. Meanwhile, May's German counterpart, Angela Merkel, has attained near cult status amongst Washington's liberal opposition. When Trump was elected, it was the German chancellor, not the British prime minister, who was anointed the new "leader of the West."
This is a dramatic shift from even the last two decades of the special relationship. Few Americans will forget the image of then British Prime Minister Tony Blair standing in the viewing box of the US Capitol days after the 9/11 terrorist attacks as then US President George W. Bush declared, "America has no truer friend than Great Britain." Although Blair's lower-profile successor, Gordon Brown, never quite broke through with American audiences, he also got a chance to address Congress. May's predecessor, David Cameron, got the full red-carpet treatment from then US President Barack Obama, including a precedent-breaking state dinner.
The indifference shown to May by many across the Atlantic is indicative of a real shift in the US-UK relationship, which is as much to do with Brexit as the current occupant of the White House. With the United Kingdom preparing to leave the EU, many foreign policy watchers have turned to Paris or Berlin for Europe's reaction when an international crisis hits. Once a cornerstone of the Brexit plan, a new US-UK trade deal would be way down the list of trade priorities for the Trump administration, which is focused on NAFTA, China, and the EU.
May's week encapsulates the current isolation the United Kingdom now finds itself in. Its departure from the EU has estranged it from many of its partners on the Continent, while its main alternative, the United States, finds London less useful than it used to. Trump could have been a natural ally to a post-Brexit Britain—indeed Brexit campaigner Nigel Farage has always been a big fan—but Trump's constant criticism of London for being soft on terrorism effectively shut that door.
Conversely, many Democrats in the United States treat Brexit and the election of Trump as the same phenomenon, and have quickly found other darlings in Macron and Merkel. Rather than allowing the United Kingdom to become a "global Britain," as Boris Johnson famously quipped, Brexit seems to have left London isolated and starved for attention.
May could see the overshadowing of her meeting with Trump as a gift—the US president has a record of producing more bad headlines than good ones. But the contours of this week are not unique, and the rehabilitation of London as a global player will need to be a top priority once the United Kingdom actually leaves the EU. Right now, Britain still has a seat at the table, but has seemingly lost its voice. It will need to find a way to prove its values to its old friends and neighbors if it wishes to reinvigorate its status as a global leader.
David A. Wemer is assistant director, editorial at the Atlantic Council. Follow him on Twitter @DavidAWemer.