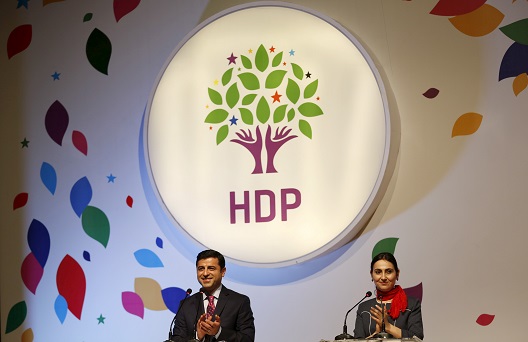 Election should boost Turkey's regional prestige, says Atlantic Council's Ricciardone
Turkish elections that eroded the ruling Justice and Development Party's parliamentary majority for the first time in thirteen years and put the country on the path to coalition politics represent a big win for Turkey's democracy, says the Atlantic Council's Francis J. Ricciardone.
"This is something that Turks can be hugely proud of" and "ought to be a boost for Turkish prestige in the region," said Ricciardone, Vice President and Director of the Atlantic Council's Rafik Hariri Center for the Middle East.

"Many are anxious at the results, but I was very pleased as a longtime observer of Turkey to see the system really work, to see the strength of Turkish democracy, its institutions of democracy, and its civil society," said Ricciardone, who served as US Ambassador to Turkey from 2011 to 2014.
In many ways, the election was a referendum on Turkish President Recep Tayyip Erdoğan, who has been firmly in control since 2003—first as Prime Minister, and since 2014 as President. Erdoğan, uncharacteristically for a President, campaigned openly and actively to drum up support for his party, known by its Turkish acronym AKP.
Erdoğan's plans to rewrite the constitution and transform Turkey from a parliamentary into a presidential form of government—vesting more powers in the presidency and thereby himself—may now be on hold. AKP needed a two-thirds, or 367-seat, majority to enable it to rewrite the constitution. It fell short, winning only 258 seats.
The election's outcome underscored the importance of "checks and balances on state authority," said Ricciardone. "That was an issue here as a subtext of the whole question of a presidential system."
While AKP still has the most number of seats in Turkey's Grand National Assembly following the June 7 elections, it does not have the numbers to form a majority government. The liberal pro-Kurdish People's Democratic Party (HDP) significantly dented AKP's support among religious Kurds and grew its own presence, easily sailing past the 10 percent electoral threshold to enter Parliament.
Coalition politics
The stage has now been set for weeks of political jockeying as parties court coalition partners. HDP leader Selahattin Demirtas ruled out any coalition with AKP as votes were being counted June 7. Erdoğan can call new elections after forty-five days if a coalition is not formed.
While the HDP's electoral prospects dominated pre-election analyses, attention will now shift to the far-right Nationalist Movement Party (MHP), which would be AKP's "most likely" coalition partner, said Aaron Stein, a Nonresident Fellow at the Rafik Hariri Center.
A couple of scenarios could play out. AKP could decide to form a minority government, or the Republic People's Party (CHP), MHP, and HDP could agree to form a tripartite coalition. But the latter scenario is unlikely to happen, due to the hostility between the nationalists and the Kurds.
The MHP has a "stridently anti-Kurdish view, so they are uncomfortable working with the HDP," said Stein.
For the next forty-five days, the focus in Turkey will be on "is there a pathway to a coalition and if there is not a pathway to a coalition are early elections, and how will those early elections play out," said Stein. "Will the presidential system continue to be on the table or will the AKP take this time to look inward … to expand its voter base?"
Ricciardone and Stein spoke in an Atlantic Council conference call June 8.
Foreign policy impact: Syria and the United States
Turkey's relationship with the West, especially the United States, has become strained by the war in Syria. While the Obama administration had made destroying the Islamic State of Iraq and al-Sham (ISIS) its No. 1 priority, for the government in Ankara ousting Syrian President Bashar Assad is the main focus.
Western officials say Turkey has not done enough to help the alliance that is bombing ISIS in Syria, including providing access to its Incirlik air base from which alliance jets could carry out bombing runs.
The Syrian war has produced almost four million refugees, 1.7 million of whom are in Turkey, according to the United Nations Refugee Agency.
The Turkish government's strong anti-Assad policy has not been very popular within Turkey, but that policy is unlikely to change anytime soon, said Ricciardone.
"I imagine the main thrust of Turkish foreign policy toward Syria, in particular, is likely to continue partly for lack of really terrific alternatives from a Turkish perspective," said Ricciardone. "But what I also imagine is that coalition politics will mean there isn't going to be a free ride. There is going to be much more open, public debate within the Parliament. That can be a good thing… it makes policy making harder as in any democracy, but surer, in a certain sense, because issues get a fuller airing."
He added: "I tend to see this as a positive outcome in terms of Turkey's ability to figure out its national interests with respect to Syria, and therefore I think it's good for Turkey's collaboration with its allies, including the United States, on Syria as well as all else."
The HDP has been an outspoken critic of AKP's Syria policy.
"We're going to start seeing some problems creeping up over the Kurdish offensive in northern Syria that is about to encroach upon certain areas along the Turkish border [which will] certain bring the issue back to fore in Turkish politics," said Stein.
Future of Kurdish peace process
AKP initiated a peace process with the Kurds in 2013, when the leader of the Kurdistan Workers' Party (PKK), Abdullah Ocalan, declared a ceasefire. That process has stalled for political reasons.
The HDP's electoral success, however, has pushed the Kurdish issue front and center again.
Noting that AKP was Turkey's first ruling party to seriously grapple with the Kurdish issue, Ricciardone said he didn't see how the peace process could move forward unless AKP and HDP work together.
The success of that process will depend on Erdoğan, who will remain President for the next four years, said Ricciardone. "If he is behind it, and the HDP is willing to work with him, then I think that whole process can move forward."
Stein said there is a pathway back to the peace process.
"The peace process benefits the AKP if they chose to go that route. It is really the HDP's only route to really solidify itself," he said, adding that a lot will depend on the outcome of the political wrangling over the next few weeks.
"You could see the peace process being put on hold up until the future trajectory of Turkish politics are decided upon either through a coalition government or early elections," Stein said.
Ashish Kumar Sen is a staff writer at the Atlantic Council.