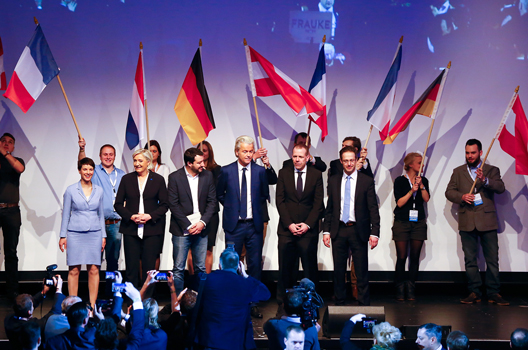 While the European Union (EU) will continue to face a broad range of challenges—foreign as well as domestic—in 2017, there is also an opportunity for EU leaders, if they can muster the will and ideas, to skillfully present a European vision.
Challenges such as terrorism, migration, and the economy could either accelerate the anti-EU sentiment on the Continent or become a rallying point around which EU leaders define a stronger EU action agenda on cross-EU and international issues. Given the boisterous group of sceptics, however, it will take a great deal of hard work and genuine leadership to keep the EU on a positive track toward tackling big issues on the table or considering important reforms in the year ahead.

Immigration, flowing from North Africa and the Middle East, and terrorism are pressing, unresolved issues among European publics and require sensitive management by EU member states.
In addition, many Europeans remain angry with the slow pace of economic recovery and high rates of unemployment, while economic and banking challenges in Italy and Greece still require careful attention from the EU. Negotiations for the United Kingdom to exit the EU—a Brexit—add to the challenges facing the Union.
Many European citizens blame Brussels for the lack of solutions to these challenges. Some observers argue that EU governance is cumbersome, the monetary framework has not worked well, and reform is needed to achieve better outcomes.
From the outside, US President Donald Trump and his advisers have criticized the Union as well as several EU leaders and member states, while sending positive signals to Eurosceptics by praising Brexit and predicting other nations would also leave the Union. Russia, too, is encouraging nationalist, Eurosceptic forces in Europe overtly and covertly, while maintaining pressure on Ukraine and its EU neighbors.
Domestic politics in some member states will certainly add to the difficulty in reaching tough decisions, let alone launching new EU-wide initiatives. A strong showing by Eurosceptic parties in upcoming elections in France, Germany, and the Netherlands (and possibly Italy) will increase this pressure. Many Eurosceptic candidates are calling for their countries to leave the EU, or renegotiate the terms of membership.
In light of these tenuous circumstances, some analysts predict European leaders will shy away from difficult choices. Additionally, the publics of many EU member states want their governments to look inward to solve problems.
EU institutions, bolstered by positive economic signals, are still resilient. The autumn standard Eurobarometer, a regular poll of European views of the EU and its institutions, shows trust in the EU standing at 36 percent—a seemingly modest figure, but higher than average numbers representing trust in national parliaments and governments! Additionally, a fall 2016 poll on the Future of Europe found that a majority of Europeans polled favor more European-level decision making regarding priority concerns such as terrorism and migration.
Europe emerged from 2016 with a modest economic recovery and world growth projections headed in a positive direction. EU leadership continued to muddle through, even if only giving the impression of moving from crisis to crisis. This provides hope for the EU in 2017.
Publics divided
As indicated by the rising poll numbers of Eurosceptic parties, Europeans are divided in their opinion of the EU and the role of their own governments. For example, majorities in Greece, Hungary, Italy, Poland, the United Kingdom (UK), and the Netherlands favor their respective countries dealing with national problems first and letting others find their own solutions, while majorities in Germany, Sweden, and Spain favored helping other countries deal with their problems. As in the United States, the EU faced popular opposition from the left and the right to international trade/economic deals, whether it was the Transatlantic Trade and Investment Partnership (TTIP) with the United States, the trade agreement with Canada (CETA), or the EU-Ukraine Association Agreement.
A Pew survey also found that Eurosceptic parties seem to be effectively rallying many of those with anti-globalization, anti-immigrant, and anti-Muslim sentiments in local populations. For example, a clear majority of Europeans have a positive view of the Euro, but in some member states the Euro common currency has become associated with endless austerity and high youth unemployment. In France that critical sentiment goes beyond the extreme right National Front: 61 percent of the population was found to hold a negative view of the EU.
Yet not all public views of the EU are negative. The Pew poll found strong support for a more active EU role in world affairs—a median of 74 percent of Europeans polled supported international EU activism across the ten countries in the Pew poll, and Eurobarometer found 70-80 percent of people favor decision-making at the European level with regard to fighting terrorism, promoting democracy and peace, protecting the environment, promoting gender equality, and in dealing with migration from outside the EU. There is clearly support for effective EU-wide decision and policy-making, upon which EU leaders could build if they try to strengthen the EU's ability to stand up to outside pressure and criticism or internal Eurosceptics.
Eurosceptic influence, timidity, institutional weaknesses
All eyes will be focused on upcoming presidential elections in the Netherlands, France, Germany, and possibly Italy to see how well the anti-EU parties perform. Commentators argue that whether or not the Eurosceptic parties win these elections, they will have gained significant influence. Their criticism of EU leaders' actions on the economy, trade, terrorism, migration, and budgets will keep those leaders on guard. This might push EU leaders to give the Union better ways to handle problems, but it may also paralyze the process. In the US-EU TTIP negotiations, for example, EU officials and leaders lost control of the popular debate in Germany and elsewhere.
Going forward, the handling of immigrant flows will remain a key issue as well. EU leaders are struggling to stay ahead of popular outcries. If the debate on immigration were to shift to restrictions on internal EU flows of labor, as was the case in the UK during the Brexit campaign, the issue could become even more divisive as the Central European EU members tend to be most in favor of free internal EU migration of labor and most opposed to external migrant inflows.
Given the many issues and pressures, it is not clear how willing or able EU leaders will be to make big decisions, particularly with regard to fiscal, financial, and other structural reforms. Will they be too timid, fearing a strong political reaction at home? Or could this situation cause EU leaders to adopt hardline positions to preserve the Union?
Some analysts question whether the EU decision-making process is too complicated to address the tough issues on the table. Divisions between member state leaders and populations add to the challenges. This has led some observers to call for revision of the EU's institutional framework to make decisions at least procedurally easier, since agreeing will not be an easy task for an organization of twenty-eight [twenty-seven after the UK leaves] members, and especially when facing so many challenges and critics.
Clearly, 2017 will be difficult for the European Union. There is, however, political space for creative leadership evident from the strong majorities of Europeans who support more European-level solutions to priority problems. The new skeptical tone from the United States and the continued aggression from Russia could give European leaders additional leverage to rally support for more concerted action and/or pan-EU initiatives. For example, European Council President Donald Tusk wrote to the twenty-seven member-state leaders in late January expressing concern about the new tone coming from Washington. Whether current EU leaders are able or willing to step up and what steps they can agree remains to be seen. They may well again just muddle through.
Earl Anthony Wayne is a nonresident senior fellow with the Atlantic Council's Global Business and Economics Program and became a career ambassador in 2010.