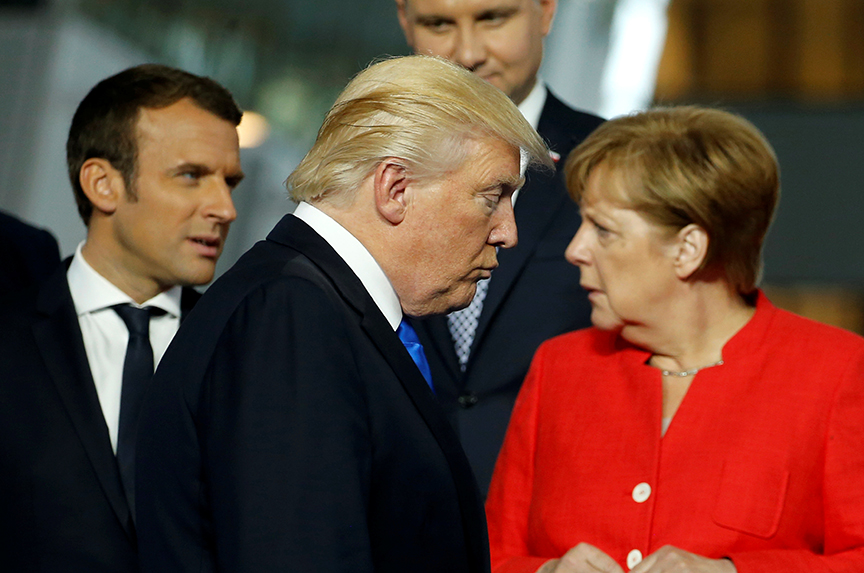 The NATO summit in Brussels on May 25 was an important opportunity for US President Donald J. Trump to turn his recent statement about the Alliance no longer being obsolete in his opinion into real progress in transatlantic relations. However, Trump's boorish behavior at the summit, his failure to endorse the Alliance's mutual defense clause, and his hectoring about European defense contributions only reinforced pre-existing European doubts about the administration's commitment to the Alliance.
When coupled with the drift in transatlantic relations over the past couple of decades, as the United States under Trump turns its focus to bilateral deals with other countries and Europe focuses on addressing domestic challenges, Trump's rhetoric in Brussels may result in European nations acting independently and in a decreased US influence in Europe.

The NATO allies had good reason to expect an explicit endorsement of Article 5 by Trump in Brussels because his national security team suggested as much to members of the press during the trip. Instead, Trump made vague pronouncements about Alliance unity, which failed to alleviate growing European concerns about the United States as a reliable ally.
European military spending
During the US presidential campaign last year, Trump said the United States might not come to a NATO ally's defense if it had not met the agreed-upon target to spend 2 percent of gross domestic product (GDP) on defense. In a later meeting with NATO leaders, US Secretary of Defense James Mattis echoed the president's sentiments saying that the United States would moderate its commitment to countries falling short of the 2 percent benchmark. These statements rattled allies and undermine the very foundation of the Alliance. They also ignore the fact that the agreement to increase spending in 2014 set a ten-year timeline for allies to increase spending to 2 percent; it did not stipulate that changes must be immediate. Further, over the past three years, many NATO members have increased defense spending in response to an increased threat from Russia.
In addition, Trump continues to mistakenly suggest that European countries owe back dues to the Alliance, and even suggested that money from the allies "is beginning to pour in" as a result of his admonitions, which is simply not the case as the spending increase predates his presidency.
Most media reports of the summit focused on the fact that Trump's admonishments would have been more effective in private, but there is more to the story.
First, the only direct payments NATO members make to the Alliance are for contributions to shared military assets. The United States currently pays 22 percent of those costs, while Europe and Canada make up the remaining 78 percent.
Second, it is true that European NATO members should make a greater military commitment to the Alliance, but how much they spend on defense is ultimately determined by their own political systems and societies. Current spending levels reflect Europeans' postwar focus on rebuilding their economies, not projecting military power. Contrary to his intentions, Trump's lecturing could make it more difficult for European leaders to convince their publics to spend more.
Third, European NATO members make a wide range of contributions to the Alliance that are not captured within the 2 percent target. For example, they have devoted considerable personnel and equipment to the sixteen-year Afghan deployment; they spend more than the United States on foreign aid, which reduces the burden on the Washington; and after the terror attacks on the United States on September 11, 2001, they pledged their own military assets and offered unconditional support in the war on terror. NATO's entry into the war in Afghanistan following the September 11 attacks constitutes the only time Article 5 was invoked.
European-US defense cooperation
Trump's approach to NATO may also end up backfiring by pushing the Europeans away from the Alliance and toward more independent action within the European Union (EU).
After the Brussels summit and the successive G7 summit in Italy, German Chancellor Angela Merkel expressed her disillusionment with both Trump and the United Kingdom (UK), saying that traditional alliances were no longer as reliable and that Europe should " really take our fate into our own hands."
This statement was not intended to mark a fundamental break with the United States or the UK since Merkel emphasized maintaining good relations with both Washington and London. However, it was a significant statement coming from such a normally cautious leader, and is part of an accelerating push for more EU integration motivated by European concerns about Trump and other trends.
Europeans have a new sense of unity and purpose driving them toward greater integration in many areas, including defense cooperation. In part, this impetus comes from the UK's plan to exit the EU, which removes the leading nation that acted as a veto in this area, the recent election of staunchly pro-European French President Emmanuel Macron, and a greater threat from Russia in the aftermath of that country's annexation of Crimea in 2014.
Of course, there is good reason not to expect anything like an EU army given the obstacles to greater defense cooperation within the EU such as redundancy in capabilities, insufficient integration of defense industries, interoperability issues, and inadequate essential resources such as airlift that will, for the foreseeable future, require access to NATO assets.
Intermittent progress has been made on this front over the years with the EU taking on a larger military role than in the past. However, at the end of the day, NATO will remain essential to European security since the EU will need to maintain access to existing NATO command structures, defense plans, and hardware, as Tomáš Valášek, former Slovakian ambassador to NATO, recently noted.
For all these reasons, the best course of action for the Trump administration would be to focus on how the glass is half full when it comes to European defense spending and reassure the Europeans that the United States has their backs.
Louis Golino, an independent writer, was formerly at the Library of Congress' Congressional Research Service where he analyzed European affairs and US-European relations.