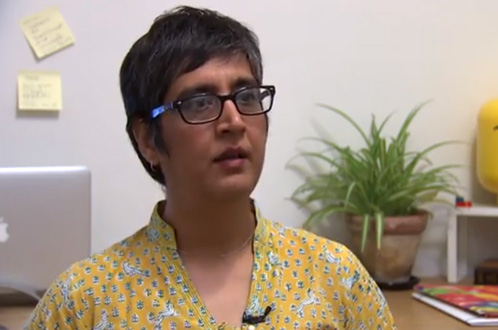 It was Friday afternoon and as I was getting ready for the weekend, news broke that Sabeen Mahmud, director of The Second Floor (T2F), had been shot dead in Karachi. Even after reading it a few times, it just did not sink in. I stared blankly.
The death of Pakistan's leading human-rights activist is a symptom of Pakistan's larger problem. Authorities have already banned YouTube and are now censoring Twitter. One by one, Pakistan's alternative voices are being silenced and avenues being shut down.

First there was Saleem Shahzad, a prominent Pakistani journalist found murdered a few days after he published a story alleging that Pakistani military journalists had been in secret negotiations with al-Qaeda. Then came Wali Khan Babar, another journalist who was shot after his story on gang violence aired on Geo TV, Pakistan's most widely watched news source.
Next on the hit list was Punjab Gov. Salman Taseer, assassinated by his bodyguard for opposing the blasphemy law and for defending a Christian woman who had been sentenced to death. Also killed was Shahbaz Bhatti, Pakistan's federal minister for minorities affairs, who advocated for an end to Pakistan's blasphemy laws. Then Perween Rehman, one of Pakistan's top development workers, was killed—presumably by the city's powerful land-grabbing syndicates—for documenting land use around Karachi. And now Sabeen, a fearless, not foolish, liberal who dared to venture into no-go areas. These are only the silencings we know about; undoubtedly many more go unreported.
I never had the opportunity to meet Sabeen, though we did exchange a few emails. When the South Asia Center was preparing to launch its Emerging Leaders of Pakistan (ELP) fellowship program in early 2012, Sabeen was one of the first people my former colleagues met with in Karachi. She offered her support, provided feedback on the application, and helped spread the word about our new fellowship.
Several of my friends who did know her had nothing but the utmost respect, gratitude, and appreciation for Sabeen, one of Pakistan's most prominent civil-society activists. She was always searching for ways to increase dialogue and encourage creative ventures. T2F is a brilliant literary space in Karachi, a perch from where she promoted the arts, music, culture, and free speech—liberties often taken for granted but which in Pakistan are becoming a scarcer commodity day by day, and which sometimes come at a cost.
Sabeen was an enabler, a mentor, a catalyst. She gave a voice to the voiceless. She knew the topics she spoke up for, and the events she hosted were bound to eventually tick off the wrong person. But that didn't stop Sabeen. Her passion to bring change in Pakistan was palpable, and she never shied away from broaching subjects that others leapt away from. This is precisely why T2F agreed to host "Unsilencing Balochistan"—on the disappearance of political activists and the killings in Balochistan—despite the fact that the event was originally scheduled in Lahore on April 9, but was cancelled due to pressure from government officials.
What the perpetrators fail to see is that suppressing voices does not solve the issue. It only strengthens resolve and makes those voices louder.
Huma Haque is Associate Director in the Atlantic Council's South Asia Center.