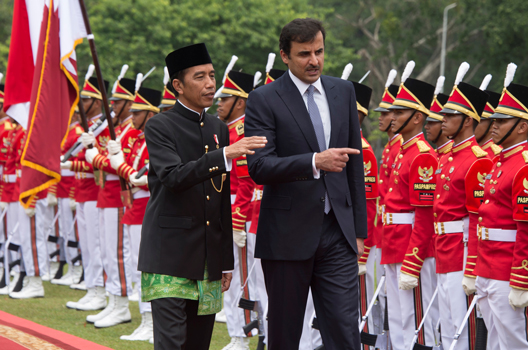 The months-old diplomatic crisis involving Qatar and the quartet—Saudi Arabia, the United Arab Emirates (UAE), Egypt, and Bahrain—has given Doha more reason to push for deeper energy, trade, and investment ties with dynamic economies of the Far East. To pursue these opportunities, last month Qatar's Emir Tamim bin Hamad Al Thani travelled to Malaysia, Singapore, and Indonesia, three countries which have not subscribed to the Saudi/UAE-led bloc's narrative of Qatar as a state sponsor of terrorism.
Although this trip was planned prior to the ongoing Qatar crisis, Al Thani's visit to these three Southeast Asian countries served to enhance efforts to make the Arabian emirate increasingly important to more countries around the world as part of a strategy to undermine Riyadh and Abu Dhabi's ability to isolate Qatar.

In June, Saudi Arabia, the United Arab Emirates (UAE), Bahrain, and Egypt cut diplomatic and trade ties with Qatar, citing Doha's support for terrorism. Since the Gulf dispute broke out, Kuwait's Emir Jaber Al-Ahmad Al-Sabah has pursued diplomatic efforts to repair the Gulf Cooperation Council (GCC)'s rift.
However, the row did not extend to Southeast Asia, where Doha's economic ties with the region have significantly helped keep Qatar afloat throughout the crisis.
Ultimately, demand from oil and gas-thirsty economies in Asia, which as a region accounts for 90 percent of Qatar's exports, has been directly connected to the emirate's prosperity. Although Japan, China, India, and South Korea are Asia's top buyers of Qatari liquefied natural gas (LNG), the Association of Southeast Asian Nations (ASEAN) members have become increasingly valuable partners of Qatar in recent years, collectively holding a share of half of Qatar's market. Doha's top ASEAN export partner is Singapore, rising from the number five export partner last year, receiving 5.3 percent of the emirate's exports.
The International Monetary Fund's October 2017 World Economic Outlook found that the Gulf dispute has not hurt Qatar's LNG exports, underscoring how the blockade's failure to stop the flows of Qatari gas to Southeast Asia has largely enabled Doha to remain economically resilient since June 5.
Building on strong relations
In Kuala Lumpur, Al Thani and Malaysian Prime Minister Najib Razak witnessed the signing of four memorandum of understanding (MoU) in the fields of diplomacy, education, legal, and judicial cooperation. During Razak's talks with Al Thani, he praised Doha for its counterterrorism efforts, showing Malaysia's divergence from the blockading countries' accusations against Qatar. Shortly after Al Thani left Malaysia, Qatar Airways announced that in February 2018 the airline will launch direct flights to its second Malaysian destination: Penang.
Al Thani's first official visit to Singapore, which his predecessor visited in 2005 and 2009, built on a close bilateral relationship and resulted in the signing of seven bilateral agreements in investment, business, training, and legal spheres through the Qatar-Singapore High-Level Joint Committee. Qatar has been the only Arab country to maintain such a bilateral institution with Singapore. Moreover, Singapore's president, Halimah Yacob, stated that Al Thani's visit opens the door for bilateral relations to reach the "next level."
The Al Thani's talks in Indonesia with President Joko Widodo addressed opportunities for Doha and Jakarta to strengthen relations in a host of sectors from energy to tourism and investment to infrastructure. In Indonesia, Al Thani declared that "there is no winner" in the Qatar crisis and that Doha stands "always ready for dialogue to find a solution" to the "unjust siege."
ASEAN and the Gulf dispute
That three major ASEAN economies are keen to deepen ties with Qatar underscores the extent to which the quartet has failed to sell its case against Doha to the international community. In addition to Russia and the West, governments of major Asian countries—including China, Malaysia, Indonesia, and Japan—have refused to back the blockade on Qatar. Instead they have called on the involved parties to mediate a settlement with US Secretary of State Rex Tillerson, placing blame for the lack of diplomatic engagement on the quartet's doorstep.
Put simply, ASEAN states have not viewed the blockade as beneficial from a counterterrorism standpoint. To the contrary, Southeast Asian governments perceive the crisis as a grave threat to their economic interests. ASEAN officials see the advancement of those interests through Southeast Asia's potential growing ties with all Gulf states, not only for securing sources of hydrocarbon resources but also for export markets, remittances, and tourism.
Simultaneously, with Islamic State of Iraq and al-Sham (ISIS)-affiliated militants spilling blood in several Southeast Asian countries, there are heightened concerns about battle-hardened radicalized citizens of ASEAN countries who joined ISIS' ranks in Iraq and Syria returning home. Thus, like the United States, ASEAN members see a GCC beset by such an internal rift undermining their ability to cooperate with Gulf states in countering such transregional security threats.
To be sure, just as Qatar is important to ASEAN's economic future, so are the Gulf states blockading Doha, thus Southeast Asian officials are vested in the deepening of their countries' banking, energy, investment, and commercial ties with all six GCC states. A nightmare scenario for ASEAN members would entail the quartet's imposition of conditions on Doha's international trade partners, requiring them to pick between trading with the Saudi/UAE-led bloc or Qatar. After meeting the Qatari emir, Razak asserted that, despite Malaysia's position on the Gulf dispute, Kuala Lumpur's ties with Saudi Arabia will not suffer as Malaysia's foreign policy rests on the principle of wasatiyyah (moderation) and the upholding of good relations with all countries in the Muslim world.
In February, when Saudi King Mohammad bin Salman took his own trip through Southeast Asia, Saudi and Malaysian officials announced the King Salman Center for Global Peace to "concert the Islamic world's effort to confront extremism." Clearly, in addition to securing deeper economic links with Southeast Asia, Salman's three-week Asia tour was also aimed at promoting the kingdom's narrative about violent extremism. Yet ASEAN members are not on the same page as Saudi Arabia regarding the "Qatari threat" and Doha's alleged role as a sponsor of terrorism. Indeed, Al Thani's Southeast Asia tour demonstrated how Doha, not Riyadh, has effectively won this war of narratives in the region. If the quartet sought to convince ASEAN countries that it would serve their interests to help the Saudi/UAE-led bloc isolate Qatar, such efforts were futile.
Giorgio Cafiero is the chief executive officer of Gulf State Analytics (@GulfStateAnalyt), a Washington, DC-based geopolitical risk consultancy. You can follow him on Twitter @GiorgioCafiero.