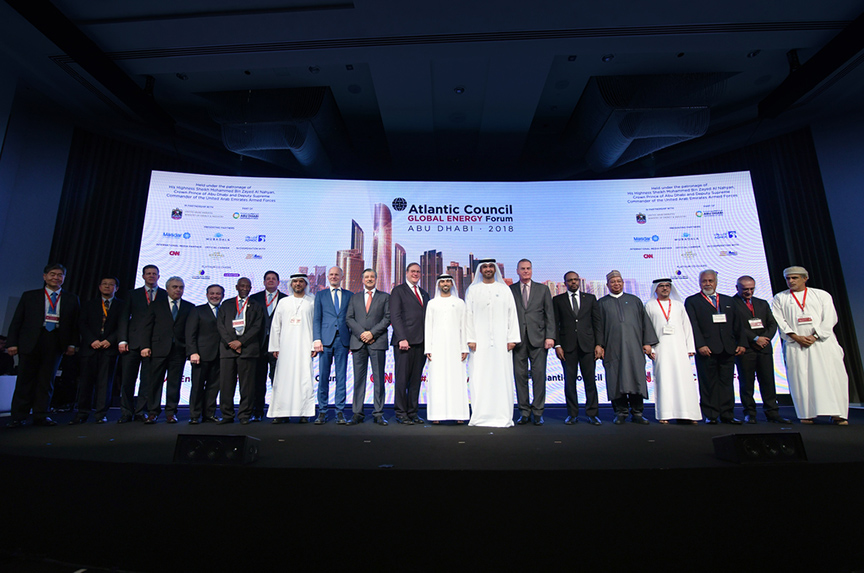 The Atlantic Council kicked off its second annual Global Energy Forum in Abu Dhabi, the United Arab Emirates, on January 12.
Atlantic Council President and Chief Executive Officer Frederick Kempe said that the forum, which marks the start of Abu Dhabi Sustainability Week, convenes the world's energy leaders to "take stock of the challenges we face in the year ahead, to identify opportunities, and to set the agenda for a year of cooperation and progress."
The forum also seeks to formulate responses to the changing geopolitics of the energy transition, and "shine a light on the unique success of the UAE," he added.

The forum is hosted under the patronage of Sheikh Mohamed bin Zayed Al Nahyan, the crown prince of Abu Dhabi and deputy supreme commander of the UAE's armed forces. It is convened in partnership with the UAE's Ministry of Energy and Industry, the Abu Dhabi National Oil Company (ADNOC), and Mubadala Investment Company.
In his remarks, retired Gen. James L. Jones, Jr., interim chairman of the Atlantic Council, emphasized the critical role energy plays in ensuring global stability and prosperity. "The reverse is also true: that peace and security are essential contributors to functioning energy markets," he said.
Jones said that there is an economic and moral imperative to ensure that in order to achieve peace, energy should be everybody's right. He exhorted energy sector leaders to "be prepared to respond to the rapidly changing geopolitical environment."
"From the transition to a low-carbon energy future to falling renewable costs to electrification of everything and the digital revolution, technology and the world is changing at a rapid and unprecedented pace. With these shifts, we have seen an emergence in the new geo-economic and geopolitical dynamics," Jones said.
These changes present a host of new opportunities and risks, which the Global Energy Forum presents a platform to discuss and address, he added.
Sultan Ahmed Al Jaber, UAE minister of state and chief executive officer of the Abu Dhabi National Oil Company (ADNOC), said the Atlantic Council's forum had very quickly established itself as an important venue for the global energy dialogue.
In his remarks, Al Jaber laid out the UAE's energy agenda. "As we diversify the energy mix, hydrocarbons will continue to play a vital role in meeting the global energy demand," he said. In fact, he added, by the end of 2018, global demand for oil is set to exceed 100 million barrels per day.
Al Jaber said a fast-evolving energy landscape has pushed everyone in the industry to "form new strategies, rethink business models, and, basically, up our game."
At ADNOC, Al Jaber said, "we are redefining the rulebook of how an NOC should operate." In December, ADNOC floated 10 percent of its retail distribution subsidiary in an initial public offering (IPO). This was the biggest listing on the Abu Dhabi stock exchange in a decade.
Al Jaber said ADNOC aims to increase crude refining capacity by at least 60 percent and more than triple petrochemical production, an expansion that will create the single-largest integrated refining and chemical site in the world in the UAE. Once achieved, ADNOC will convert almost 20 percent of its crude to chemicals diversifying its range of high-value products and "providing a natural hedge to oil price movements," he said. "Ensuring security of supply will remain our number one priority," he added.
Al Jaber underscored the importance of technology—artificial intelligence, in particular—to help minimize disruptions, balance supply and demand, optimize costs, and enhance profits in the energy sector.
"As the pace of innovation accelerates, we must be more agile, resilient, more flexible, nimble, and responsive than ever before," Al Jaber said, adding, "Most importantly, we must engage with non-traditional partners beyond our industry's limits, to deliver creative solutions and to meet the world's energy needs."
Suhail Mohamed Faraj Al Mazrouei, the UAE's minister of energy and industry, noted that the UAE's energy strategy calls for a transition to on equal mix of clean and fossil-based energy by 2050. Moreover, he noted, the strategy seeks to reduce carbon emissions by 70 percent.
"We will make money reducing emissions," he added.
Adnan Z. Amin, director-general of the International Renewable Energy Agency, said he was convinced that "we have entered an age of energy transformation." This transformation, he added, is underpinned by renewables.
"Taking advantage of the opportunities of this new energy age requires bold leadership, high ambition, and strategic and long-term vision, and even more importantly the ability to implement such a vision which makes it a reality," Amin said, while paying tribute to the UAE's leadership on this issue.
"What the UAE is showing us is that leadership on renewables and conventional energy is not mutually exclusive," Amin said.
Ashish Kumar Sen is deputy director of communications at the Atlantic Council. Follow him on Twitter @AshishSen.