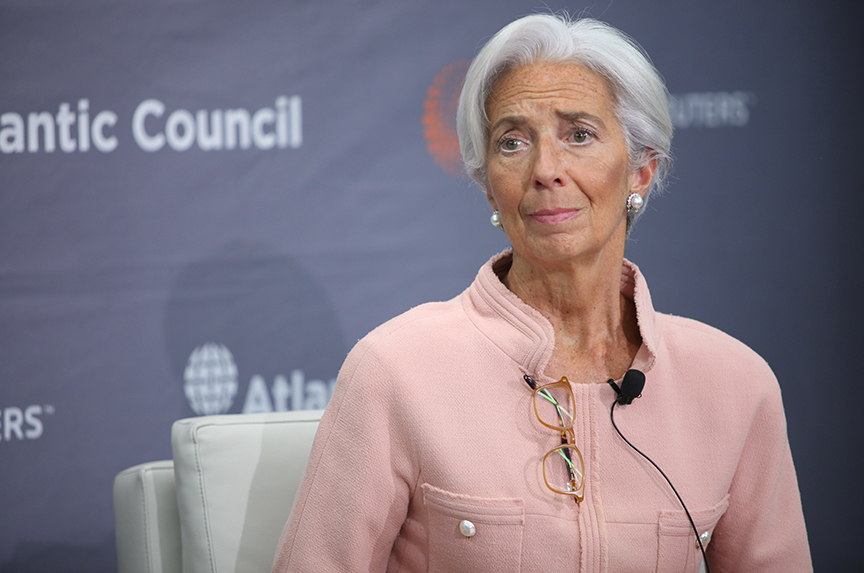 IMF Managing Director Lagarde warns against a protracted period of low growth becoming the 'new reality'
The global economic recovery is "moderate and uneven" and policymakers must work together to prevent a protracted period of low growth from becoming the "new reality," International Monetary Fund Managing Director Christine Lagarde said April 9.
While the global economy has benefited from "a shot in the arm" provided by lower oil prices and a strong performance by the US economy, macroeconomic risks have decreased, Lagarde said in a speech at the Atlantic Council ahead of the IMF-World Bank spring meetings in Washington April 17-19.
"The global recovery continues, but it is moderate and uneven. In too many parts of the world it is not strong enough. In too many parts of the world, people do not feel it enough," Lagarde said. "In addition, financial and geopolitical risks have increased."

In advanced and emerging economies, potential growth is being pared down—a reflection of the "lasting scars from the financial crisis, but also the undercurrents of changing demographics and lower productivity," she said.
Lagarde said that while global growth is not bad—at 3.4 percent last year it was roughly the average for the past three decades—it is "just not good enough."
"Six months ago, I warned about the risk of a 'new mediocre'—low growth for a long time. Today, we must prevent that new mediocre from becoming the 'new reality,'" she said. "The 'new mediocre' growth environment is not a comfortable place with respect to financial stability."
Lagarde advocated a combination of structural reforms and macroeconomic and financial policies to generate investment to prevent this "new mediocre" from becoming "the new reality." Policymakers must combine policies needed to boost growth not just today but also in the future, she said.
Congress urged to ratify reforms
Lagarde used her address to renew her call to the US Congress to ratify the IMF's 2010 quota and governance reforms, which the Fund agreed to in December 2010. These reforms would reflect the growing influence of emerging-market economies such as China, India, and Brazil by giving them a bigger say in IMF decisions. They would also double the Fund's resources.
Describing congressional ratification of the reforms as a "no-brainer," Lagarde said that this "is overdue, but we are not giving up and our membership is currently considering interim steps that can take us closer to the ultimate objective."
The United States could reinforce its leadership role in the global economy by ratifying the IMF governance and quota reform, she added.
China's bank a 'great initiative'
The IMF Managing Director came out strongly in support of China's new Asian Infrastructure Investment Bank (AIIB), which she described as a "great initiative" that "reflects the transformation of the global economy with new key players."
She listed greater cooperation with AIIB as one of the steps that would "reinforce" the international monetary system and help it become more stable.
The United States opposes the AIIB. This opposition notwithstanding, some of its European partners, including Britain, Germany, France, and Italy, and India have joined the bank. China announced this week that Iran, too, has joined the bank as a founding member.
US recovery 'firming up'
In her remarks, Lagarde noted that the economic recovery is "firming up" in the United States and Britain, prospects in the Eurozone are improving in part due to the European Central Bank's monetary easing, but predictions for emerging and developing economies are slightly worse.
She listed India as a "growth bright spot," China as "slowing but growing more sustainably," sub-Saharan Africa as performing "strongly," Russia as "experiencing economic difficulties," Brazil as "stagnating," and much of the Middle East as being "beset by political and economic turmoil."
"With overall growth moderate, the global economy continues to face a number of significant challenges. For example, what I have called the 'low-low, high-high' scenario: the risk of low growth-low inflation, and high debt-high unemployment persists for a number of advanced economies," she said.
Structural reforms need to go "hand-in-hand" with macroeconomic and financial policies to raise confidence and generate investment, she added.
Lagarde emphasized the importance of strengthening the international development system. She highlighted three critical issues on the agenda—financing for development, the new "sustainable development goals" or SDGs, and climate change—and said that the IMF is a committed partner in this effort.
The IMF can contribute in areas such as financing, policy advice and analysis, and capacity building and technical assistance. "Here, 2015 presents a special moment: an opportunity to make a tangible difference in the lives of a large number of people in the world—especially the poorest people," Lagarde said.
'I got my money back!'
Lagarde confirmed that Greece had met its April 9 deadline to repay part of its loan from the IMF. The installment was worth $494 million.
In response to a question from Atlantic Council President and CEO Frederick Kempe on whether Greek had paid up, Lagarde replied: "Yes, I got my money back!"
By repaying the money, Greece has bought itself time to secure the final installment of its international bailout. Eurozone finance ministers had agreed earlier this year to extend Greece's bailout program.
"Greek authorities, together with [the European Union, the European Central Bank, and the International Monetary Fund] have to really sit down… focus on the objective of what is intended for the better for Greece, which is restoring the economy, stabilizing it, and by so doing re-establishing and reinforcing the sovereignty of the country," said Lagarde.
Focusing closer to home, Kempe asked Lagarde what the ramifications would be if the Trade Promotion Authority (TPA), Transatlantic Trade and Investment Partnership (TTIP), Trans Pacific Partnership (TPP), and ratification of IMF reforms were not achieved by the end of President Barack Obama's term in office.
Obama has sought to promote his trade agenda in Congress and win TPA, which is key to negotiating two important free-trade agreements: TPP, which includes the US and eleven other countries, and the TTIP, which includes the US and the European Union.
Lagarde said that if there is no progress on this front and if she were a big US corporation looking to invest "instead of investing in the United States of America, I am going to look at other investment opportunities and probably invest where there are very serious growing markets—either in terms of purchasing powers or in terms of population."
Ashish Kumar Sen is a staff writer at the Atlantic Council.