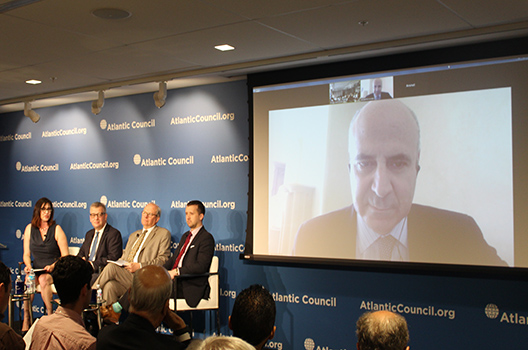 Bill Browder believes that US President Donald J. Trump will be "handing me over to my death" if he agrees to Russian President Vladimir Putin's plan to get access to eleven Americans in exchange for allowing Special Counsel Robert Mueller to interview twelve Russian intelligence officials indicted in the investigation of Russian interference in the 2016 elections.
Browder spoke via Skype at a conference hosted by the Atlantic Council's Eurasia Center on July 19. A financier and an outspoken critic of Putin's, Browder inspired the Magnitsky Act after his lawyer, Sergei Magnitsky, died under mysterious circumstances in a Russian jail in 2009.

Putin called Browder out by name at a joint press conference with Trump following their summit in Helsinki on July 16. Browder's business associates, Putin alleged, "have earned over $1.5 billion in Russia. They never paid any taxes, neither in Russia nor in the United States, and yet the money escaped the country."
"So we have a solid reason to believe that some intelligence officers accompanied and guided these transactions. So we have an interest of questioning them," he added. In exchange for access to these US officials, Putin promised members of Mueller's investigation could travel to Russia and witness the interrogation by Russian officials of the twelve indicted Russian intelligence officers.
Trump called Putin's proposal an "incredible offer."
By floating the possibility of a quid pro quo, "Trump is effectively considering handing" these Americans "over to an enemy state," Browder said. Besides Browder, Michael McFaul, a former US ambassador to Russia, is wanted for questioning by Moscow.
The White House ruled out that possibility on July 19, as Browder was addressing the Atlantic Council event.
Russian authorities have lodged six unsuccessful INTERPOL arrest warrants for Browder and Putin now "decided to make it a big part of the summit in Helsinki to ask for President Trump to effectively hand me over on a platter," Browder said.
Browder stressed that the risk is not primarily for him—he is a naturalized British citizen living in the United Kingdom—but to the many US officials from the US Helsinki Commission on Security and Cooperation, the US Department of State, and the US Department of Homeland Security, that Putin has his sights on. These officials are "not people who are doing their work for glory but as their duties for serving the United States of America. They were servants of the government trying to protect the United States against Russian malfeasance, organized crime, and money laundering," Browder said.
Browder warned Trump not to betray the numerous US officials who helped him pass the 2012 Magnitsky Act, which allows the US Department of the Treasury to sanction individuals involved in the case of Magnitsky or other human rights abuses in Russia and freeze their assets.
The legislation, which has been adopted in six additional countries since 2012, is "the single-most effective tool for fighting kleptocracy on the face of the planet right now," according to Browder. By sanctioning an individual under the legislation, a human rights offender not only faces punishment in the United States, "but every bank in the world will stop doing business with that person because they don't want to be in violation of US Treasury sanctions."
Rolling back the Magnitsky Act and its global counterparts has been the "single-largest foreign policy priority" for Putin since 2012, Browder argued because, "he feels as if his money he has in the West could be frozen."
Browder participated in an event that marked the launch of a new report by the Atlantic Council's Eurasia Center—Russia's Interference in the US Judiciary. Anders Åslund, a resident senior fellow at the Eurasia Center and the author of the report, echoed Browder's concern about US cooperation with Russia and stressed the need to stop Russian attempts to arrest the officials behind the Magnitsky Act and other Russian refugees.
"Should we treat Russian judicial authorities as judicial authorities?" Åslund asked. "No, we should deal with them as organized criminals."
Åslund argued that the US Department of State and US Department of Justice should issue guidance that immigration and law enforcement reject Russian requests until the evidence could be proved independently by US officials. Browder agreed, saying "the burden of proof should be shifted from taking at face value Russian claims or judgments, to assume that they are not legitimate unless the case can be proven otherwise."
Browder argued that Russian authorities have abused international legal cooperation institutions, using "every tool in their book in abusing international laws in order to try to destroy their opponents." Pavel Ivlev, a Russian refugee and lawyer who used to work for Mikhail Khodorkovsky, an exiled former oligarch, and his company Yukos, described the consistent harassment and intimidation by the Kremlin both of himself as well as other Russian exiles through Moscow's manipulation of INTERPOL and other judicial cooperation products.
Browder argued that Russian requests should be ignored by the international community wholesale. "The Russian government is a corrupt government. They have no rule of law there. The courts are not independent," he said. "Effectively, anything coming out of Russia has to be looked at with extreme skepticism. Any criminal request has to be rejected until it is proven it is legitimate. What comes out of Russia almost uniformly is not legitimate."
In addition to the discussion of Russia's continued judicial interference in the United States and Europe, Åslund and Ivlev were joined by ThinkProgress reporter Casey Michel for a conversation on Russia's interference in the 2016 US election and steps the Trump administration could take to build American resilience to Russian activity. Brittany Beaulieu of the German Marshall Fund's Alliance for Securing Democracy moderated the discussion.
David A. Wemer is assistant director, editorial at the Atlantic Council. Follow him on Twitter @DavidAWemer.