The Nigerian terrorist group Boko Haram delivered its most recent shock to Nigeria and the international community when its leader, Abubakar Shekau, threatened in a videotaped message to sell into marriage or slavery the approximately 230 schoolgirls the group abducted April 14 from a boarding school in the north of the country.


The story of the girls has triggered a global repsonse on social media. The hashtags #BringBackOurGirls and #FreeOurGirls have spread like wildfire on Twitter. A tweet by rapper Chris Brown was retweeted more than 10,000 times. Now, former US Secretary of State Hilary Clinton has jumped in.
Access to education is a basic right & an unconscionable reason to target innocent girls. We must stand up to terrorism. #BringBackOurGirls

— Hillary Clinton (@HillaryClinton) May 4, 2014
Memes like this one have been popping up across social media platforms.
#BringBackOurGirls. We repeat call for immediate release of Nigerian school girls. RT to stand with #Nigeria! pic.twitter.com/tH7F3IywYW

— UNICEF (@UNICEF) May 5, 2014
It can be hard to calculate the true reach of a message on social media, especially when there is more than one hashtag. A tool called Tweetreach looks at the 1,500 most recent tweets containing a specific hashtag and calculates unduplicated twitter accounts reached by those tweets. It will also show how long it took to generate 1,500 tweets. Variations of the hashtags above reached more than four million unduplicated twitter accounts in less than ten minutes when running a sample report. This is clearly a topic that's hitting home for people.
Trendsmap shows the geographic location of the accounts using the hashtags. The map below shows the global impact of the story.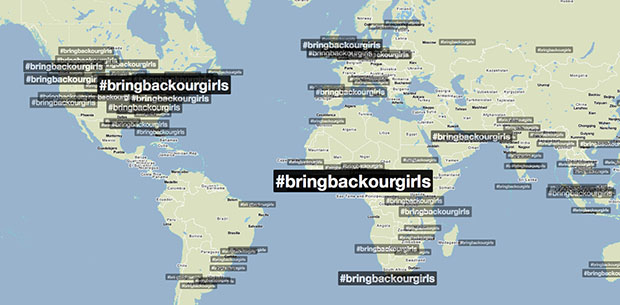 While many are just learning about Boko Haram and the terror they've inflicted, the Atlantic Council's Africa Center has closely engaged with the Boko Haram challenge since the Center's founding in 2010, when Nigerian President Goodluck Jonathan delivered a major policy address at the Center's launch event. In the four years since, Center experts have provided Boko Haram-focused analysis to various media outlets from the BBC to the Los Angeles Times, testified before Congress, written a brief for the Africa Center for Strategic Studies, and hosted a number of round-table discussions and panels featuring experts from government, academia, and other think tanks.
The Atlantic Council's Africa Center Director J. Peter Pham has been quoted numerous times recently on the handling of the kidnappings by the Nigerian government. He said in USA TODAY, "The failure of the government to even to get a clear count further reinforces a perception of systemic governmental failure that plays into the narrative not only of Boko Haram, but also other dissident groups opposing Nigeria's constitutional order." Bronwyn Bruton, the Center's deputy director, wrote Monday on what it will take for the Nigerian governament to locate the girls while waiting to tape an interview at CBS.
Nigerian President Goodluck Jonathan has vowed his government will find the girls, and US Secretary of State John Kerry promised on his visit to Africa to do "everything possible" to help the Nigerian government defeat Boko Haram. One thing is certain; the world is watching.