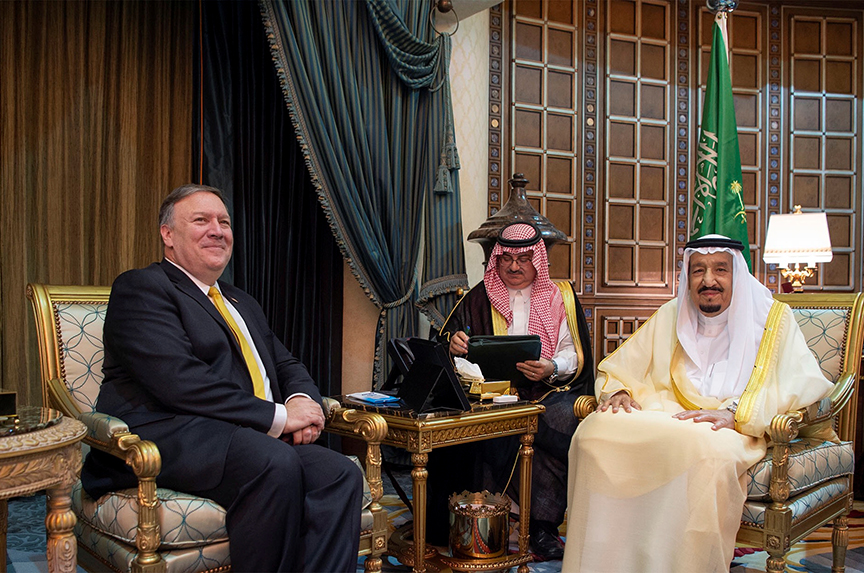 Relations between the Gulf Cooperation Council (GCC) states have been fractured for much of the past year. Saudi Arabia, the United Arab Emirates (UAE), Bahrain, and Egypt cut diplomatic ties with Qatar in June 2017 citing reports that Qatari Emir Tamim bin Hamad al-Thani had made remarks of the United States while offering support for Hamas, the Muslim Brotherhood, and Iran, and claiming Doha's policies fueled regional terrorism and extremism.

Qatar attributed the allegations against al-Thani to Qatar News Agency (QNA) and its affiliated social media accounts being hacked, and denied that the emir had made the comments. Nonetheless, reports were quickly seized upon and spread by news outlets and social media accounts in the UAE and Saudi Arabia. In July 2017, the Washington Post cited US intelligence officials as saying that investigations showed the UAE orchestrated the cyber breach of QNA. Despite this evidence and shuttle diplomacy by US and Kuwaiti officials, the rift among GCC states remains, with dim near-term prospects for achieving an end to the crisis.
GCC state relations have gone through rough patches in the past. In 2014, for example, the UAE, Saudi Arabia, and Bahrain withdrew their ambassadors to Qatar over concerns about its foreign policy, including its continuing support for the Muslim Brotherhood throughout the region. But this most recent conflict represents an unprecedented escalation in light of its duration and its political and economic consequences. As the blockade drags on, the states involved continue to seek opportunity amid crisis.
Rachel Brandenburg, director of the Scowcroft Center for Strategy and Security's Middle East Security Initiative at the Atlantic Council, spoke with Michael B. Greenwald, senior advisor to Atlantic Council President and Chief Executive Officer Fred Kempe, about the implications of the ongoing feud for the Gulf states and US interests. Greenwald is a former US Treasury attaché to Qatar and Kuwait.
Q: It's been nearly one year since GCC states—in particular, Saudi Arabia, the UAE, Bahrain—and Egypt froze relations with Qatar. What have been the implications of this rift for the GCC?
Greenwald: Over the last year, the blockade has impacted the GCC's political, economic, social, and national security structure that will unlikely return to pre-blockade times. Because of the blockade, Qatar has had no choice but to pivot its trade routes away from its GCC neighbors to Turkey, Iran, and Pakistan. Banking relationships between Qatar and Saudi Arabia/UAE have shifted and likely are not returning.
As it enjoys expanded influence, Iran stands as the sole victor. This new power dynamic for Iran is the most troubling implication of the standoff.
Q: How has this rift affected Qatar economically? What impact has it had for Saudi Arabia and the UAE?

Greenwald: The blockade has fractured and energized the GCC region from an economic perspective. This economic shock has only added fuel to the fire of GCC competition, spawning a race in economic diversification, foreign investment, and new trade relationships. The blockade has propelled both Saudi Arabia and Qatar to make some domestic economic changes.
Qatar has announced a number of labor reforms, including granting permanent residency to children of Qatari mothers and foreign fathers and pledging to end the sponsorship system of labor employment.
In reviewing the economic impact on Qatar, the March International Monetary Fund (IMF) report indicates in its findings that the impact of the GCC crisis is starting to decline and the biggest risks Qatar faces are dealing with a higher budget/current account deficit if fiscal consolidation is delayed, and greater funding costs due to a tightened global credit environment.
As a result of the blockade, Qatar has been able to diversify its trade routes, opening its $7.4 billion Port Hamad, which in its first year captured twenty-seven percent of Middle Eastern trade flows, and increased trade through Oman. The combination of a $200 billion infrastructure program ahead of the 2022 World Cup and ongoing/future structural reforms, Qatar hopes will continue to diversify the economy away from its reliance on energy. Looking ahead, the March IMF report projects growth of 2.6 percent in 2018 and an average growth rate in the 2017-2023 period of 2.7 percent. Qatar has built on the success of its June 2016 bond sale that raised $9 billion with an additional $12 billion debt sale in April projecting a narrative of healthy demand from investors.
Another implication is that Qatar, which enjoys close commercial ties with Turkey, has strengthened those ties. In the wake of the GCC crisis, these ties have deepened, with the Qataris promising an additional $19 billion of investment into Turkey in 2018, on top of the $20 billion figure cited by Qatar's Chamber of Commerce Vice Chairman Muhammed Bin Ahmed Bin Towar Al Kuwari. Of that investment, $650 million will target agriculture and livestock, seeking to improve Qatar's food security.
In Saudi Arabia, the government has started the process to end the ban on female drivers and accelerated the pace of Vision 2030 reforms, including the establishment of a new economic zone.
Oman has seen cargo volumes increase thirty percent in its port of Sohar, but the economy remains held down by the country's reliance on external lenders to finance its current and fiscal account deficits.
Abu Dhabi, the largest emirate in the UAE that holds six percent of global oil reserves, saw its recent October 2017 debt sale three times oversubscribed, with strong demand from foreign investors (seventy-eight percent of buyers), especially from the United States. As a result of the blockade, Dubai has seen many of its banks and companies divest from Qatar. It's unlikely that Dubai will retain its former status as a currency clearing hub for Qatari multinationals.
Q: What do you make of Secretary of State Mike Pompeo's recent comments while in the region? Does the United States have the leverage to bring Gulf partners back together?

Greenwald: Secretary Pompeo's trip showed positive signs of the first steps of a rejuvenated US diplomatic corps. As a former US diplomat serving as the former US Treasury attaché to Qatar and Kuwait, I witnessed firsthand the critical role that US diplomatic personnel play in resolving this crisis. The United States should redouble diplomatic efforts at the highest level with each GCC country to mend ties between Qatar and the blockading states, and without further favoring one country against each other. The next best opportunity for this is for the United States to push for a fall Camp David GCC Summit to begin this process to mend ties and work together to aggressively confront Iran and its proxies which all GCC states can agree on.
Q: What have been the implications of the rift for US interests?
Greenwald: It is in the interest of the United States to have a unified GCC. Given the ongoing standoff and high unlikelihood of returning to pre-blockade times in the GCC, the United States faces greater challenges confronting Iran and its proxies. As it enjoys expanded influence, Iran stands as the sole victor of the standoff.
Rachel Brandenburg is the director of the Scowcroft Center for Strategy and Security's Middle East Security Initiative at the Atlantic Council. Follow her on Twitter @RCBrandenburg.