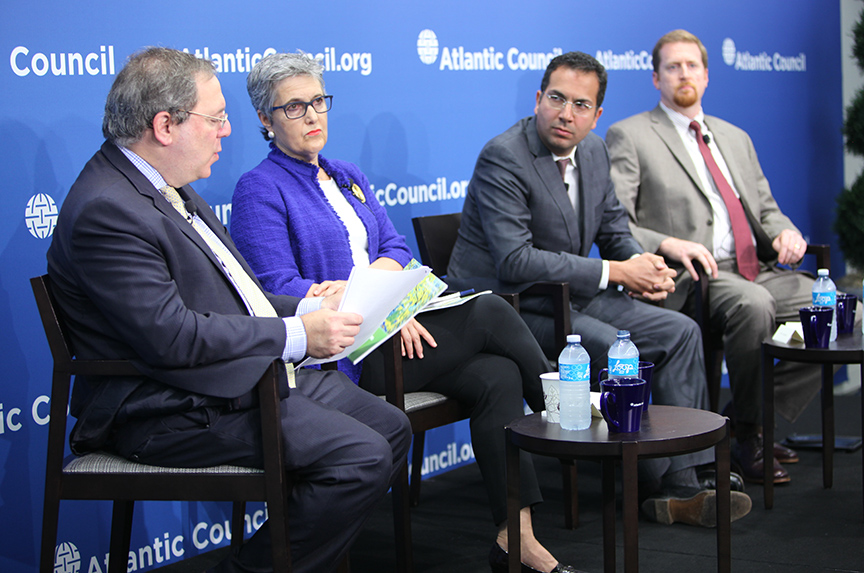 The next president of the United States must build on the opportunity provided by the nuclear deal to normalize ties with Iran, said Ellen Laipson, a distinguished fellow at the Atlantic Council, in Washington on October 19.
"Iran is not a peer adversary of the United States. We should be able to manage the challenge of Iran in a slightly more agile and productive way than we have in past decades," said Laipson.
She said that while the United States has to ensure its security priorities and those of its partners in the Middle East, "I would like to see us take a little more risk in deepening the channels for engagement [with Iran]…I would like to think of the nuclear agreement as a new factual reality that would allow the next president to think of a decade-long process to begin moving toward normalization."
Normalization of relations will depend to a large extent on Iran's domestic politics and US national security interests, "but it should be a long-term objective of the United States to try to get to a more normal relationship," with Iran, she added.

Laipson, a former president of the Stimson Center who also served as vice chair of the National Intelligence Council from 1997 to 2002, spoke at an event to mark the roll out of her strategy paper: "A New Strategy for US-Iran Relations in Transition." She was joined in a panel discussion by Amir Handjani, a member of the Atlantic Council's board of directors, and Michael Connell, director of the Iranian Studies Program at the Center for Naval Analyses. David Sanger, a national security correspondent with the New York Times, moderated the discussion.
Hillary Clinton, the Democratic Party's presidential nominee, has embraced the nuclear deal with Iran, but said it will only work as part of a "larger strategy" that contains the Islamic Republic's power in the region.
By contrast, Donald Trump, the Republican Party's presidential nominee, has said he will renegotiate what he has termed a "disastrous" deal. However, Trump's running mate, Mike Pence, has promised that a Trump administration would "rip up" the multilateral agreement.
Nuclear deal: A window of opportunity
The Joint Comprehensive Plan of Action (JCPOA)—the nuclear deal struck between Iran and the P5+1 (the United States, the United Kingdom, France, Russia, China, and Germany)—came into effect in October of 2015. In January, the United States, the European Union, and the United Nations lifted nuclear-related sanctions on Iran after the International Atomic Energy Agency (IAEA) certified that Iran was in compliance with the terms of the deal.
The agreement limits Iran's enrichment program for fifteen years. Restrictions on research and development will be eased in about ten years. However, some restrictions will remain in place for up to twenty-five years.
While Iran is abiding by the terms of the nuclear deal—a fact that has been corroborated by the IAEA, the UN's nuclear watchdog—it continues to pose other challenges through its support for Syrian President Bashar al-Assad, the terrorist groups Hezbollah and Hamas, and Houthi rebels in Yemen. Iran's relationship with Saudi Arabia, too, has become increasingly fraught. Additionally, its human rights record has been poor, as was clear on October 18 when an Iranian court sentenced two Iranian-Americans—Baquer Namazi and his son Siamak—to ten years in prison for "cooperating with Iran's enemies."
US officials have been reluctant to link the diplomatic breakthrough of the nuclear deal to a transformation in Iran's behavior both at home and in its neighborhood.
US Secretary of State John Kerry, who forged a close personal bond with his Iranian counterpart, Mohammad Javad Zarif, over the course of the nuclear negotiations, has talked about testing the proposition that the deal may have created grounds for greater cooperation in the bilateral relationship.
Laipson said warm personal relationships can go a long way in resolving small problems—as exemplified by the swift release of ten US sailors who were captured after they sailed into Iranian waters in January. However, she contended, "it is indisputably true that both in the United States and in Iran there was a course correction after the nuclear agreement to make sure that the pendulum didn't swing too wildly in one direction."
"In both countries… there were clearly constituencies that were very skeptical about the merits of the deal and did not want to see us moving fast to a full normalization of relations," she added.
Open for business?
As Western sanctions have been eased, Iran's exports of crude oil have risen to near pre-sanctions levels. European companies have taken tentative steps toward resuming business, and economic growth is at over four percent. That's the good news.
The bad news is that average Iranians have yet to reap the benefits of the nuclear deal, said Handjani. Inflation and the rate of unemployment are high, and foreign direct investment from Europe is scarce.
Americans thinking of doing business in Iran have been restrained by US sanctions, including a ban on dollar transactions in Iran being processed through the US banking system. As a consequence, European banks have been "skittish" about getting involved in Iran, said Handjani. So despite the fact that Kerry has declared Iran open for business, the Europeans have been wary to jump in.
Americans are also prohibited from dealing with blacklisted Iranian officials and entities. This is a tricky challenge to negotiate because the Islamic Revolutionary Guards Corps (IRGC), which is on the US Treasury Department's Specially Designated Nationals (SDN) list, has deeply entrenched business interests in Iran.
Iran recently announced multi-billion dollar deals to purchase or lease around 200 planes from Boeing and Airbus. The US House of Representatives in July approved legislation to block the sale and in a letter to Boeing, two Republican lawmakers cited accusations that the IRGC uses commercial airlines to transport weapons and troops to Hezbollah, Hamas, Houthi rebels, and Assad's regime. Boeing has said the deal will be contingent upon US government approval.
As a result of such obstacles, public anger toward the United States appears to be growing in Iran where a recent survey among what is a mostly pro-US population found 72.6 percent of the respondents had a negative view of the US government. The poll was conducted by the Center for International and Security Studies at Maryland.
"That has never been the case," said Handjani, referring to the poll results. "That's because they blame the US for in some ways not reaping the benefits of the nuclear deal."
The regional picture
Iran's actions in its neighborhood continue to pose a challenge to US policymakers.
Iran has made investments in defense in areas where there is a good return on investments, said Connell. As an example, he cited Iran's use of naval mines that pose a threat to US and Arab Gulf naval ships. Iran also continues to test and develop ballistic missiles.
Handjani said there is a lack of appreciation in the United States of the transformed dynamics in the Middle East since the US invasion of Iraq in 2003 that toppled Saddam Hussein—a longtime adversary of Iran. "We view [Iran] as a regional power, they view themselves as a great power with a sphere of influence now that extends from Tehran to southern Lebanon," he said.
"They are about consolidating their great power status. And what does the great power do? Eventually, it wants to challenge the status quo power," he added, noting that Tehran is aware of US red lines in the region: energy security and the security of Saudi Arabia and Israel.
Laipson said "Iran's great strategic goal to get the United States out of the region—that's not going to happen."
"We're a little bit locked in a dynamic that still has friction in it, but I'd like to believe [it] can be refined a bit more so that… we can communicate to the Iranians and be clearer about a smaller list of activities that would be truly unacceptable to the United States, but also acknowledge that Iran is a weaker power and then try to draw from the Iranians their own desire to see the region more stable," she said.
"How do we find some common ground, but make clear to the Iranians that we will deter them from doing significant aggressive action toward us or toward any of our regional partners," she asked.
Ashish Kumar Sen is deputy director of communications at the Atlantic Council. You can follow him on Twitter @AshishSen.