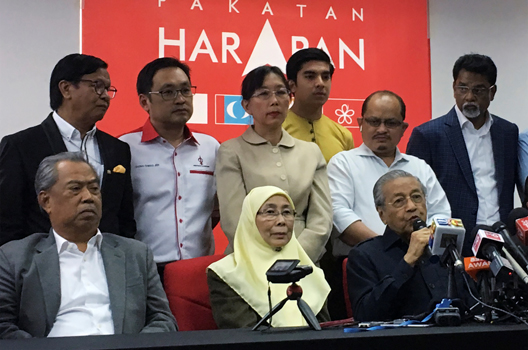 Southeast Asia does not often get the attention it warrants in Washington, but a cluster of events this month deserve reflection and celebration for showing that democracy in Southeast Asia is still a force to be reckoned with.
Namely, two elections in May bucked a growing authoritarian trend in Asia with strong electoral processes resulting in new governments to reinvigorate their countries.

In Malaysia, a shock election outcome on May 9 saw the country peacefully transfer power for the first time ever. It is hard to overstate just how important this election was. The election of new Malaysian Prime Minister Mahathir Mohamad's Pakatan Harapan (PH) coalition trounced the incumbent Barisan Nasional (BN) coalition and broke their sixty-year control of government.
In his current term, ninety-two-year-old Mohamad is Malyasia's seventh prime minister. However, he had also held the office as Malaysia's fourth prime minister, from 1981-2003.
Although the return of a politician who had previously been prime minister for over two decades does not immediately seem like the start of a new era, it must be taken in context. The incumbent BN party had gone to extraordinary lengths to secure its control of government, including extreme gerrymandering, patronage, and use of identity politics. Against these systemic obstacles, PH was able to tap in widespread discontent over the economy, the unpopular GST tax, and the 1MDB scandal to build support across religious and cultural lines.
Already, it appears that those members of the past administration who were involved in a huge corruption scandal will be held accountable. On May 11, Mohamad's predecessor, former Malaysian Prime Minister Najib Razak, was stopped from boarding a plane to Jakarta due to his alleged redirecting of public funds to his personal accounts. In addition, Mohamad has also released from prison and pardoned prominent politician and former ally turned rival, Anwar Ibrahim, after he was jailed over dubious charges. Ibrahim is now free to participate in politics again is expected to take over power from Prime Minister Mohamad in the future.
On May 12, Timor Leste, already considered the most democratic country in Southeast Asia, went to the polls to clear a political impasse stemming from last year's parliamentary election. From that election the two major parties gained almost identical electoral share, requiring the formation of a coalition to form the government. After one of the smaller parties switched from the government coalition to the opposition, Fretilin found itself in the position of a minority government and unable to enact its parliamentary agenda.
Former President, Prime Minister, and independence hero Xanana Gusmao took his party's narrow electoral loss last year as a sign from the electorate for the need for change. Gusmao formed a coalition with two smaller parties that drove them toward a clear electoral majority and therefore a mandate to govern, paving the way for an empowered incoming government. It is likely that Gusmao's recent success leading the negotiations of a permanent maritime boundary with Australia no doubt also boosted his electoral support.
This result is good news in and of itself, but there are several reasons to be particularly encouraged by this election. Like many parliamentary democracies, if a party does not win an outright electoral majority in parliament then the largest minority winner can be asked by the president to form a coalition government. However, without a majority, it can be difficult to pass legislation. Under Timor Leste's constitution, if a budget fails to pass twice, the president can call a new election. Therefore, while the political impasse was unfortunate, this election reflects a maturing of a political system that adhered to still developing political processes.
Despite an isolated and widely condemned incident, the heated campaigns were mostly free of violence and assessed as free and fair by independent observers. The staff of Timor Leste's election management bodies were praised for their efforts to maintain election integrity, despite stretched resources.
Moreover, this election addressed two key concerns about the Timorese political system. Prior to last year's election, the two parties ruled cooperatively in a "consensus politics" approach. This meant there was not an effective opposition to enforce checks and balances on the government. Despite gaining more votes than the last election, and retaining the same number of parliamentary seats, theFretilin party has lost its grip on governmentand has become the opposition. However, the party retains control of the presidency under Francisco Guterres. Therefore, the biggest question going forward is whether Fretilin can play a constructive counter balance to the ruling coalition or whether it will simply seek to oppose or block all government efforts for the sake of undermining them.
The second common criticism of Timorese politics is its ongoing reliance on a handful of high-profile personalities drawn from the battle for independence. The likely return of Xanana Gusmao as prime minister will not address this in the short term, but he has precedent of handing over power to new voices when he deems the country ready for it. Moreover, his ruling coalition contains the Khunto party which is focused on the issues and interests of the exploding population of young Timorese. Anecdotal evidence from the campaign suggest that Gusmao as prime minister would be receptive to their ideas and policies. However, only time will tell.
Indonesia, meanwhile, prepares to celebrate the twentieth anniversary of the fall of the its former President Muhammad Suharto's New Order regime in 1998, and the emergence of true democracy in the country. This pivotal moment set off a period of reform in the country that the West often fails to appreciate. It is no coincidence, for instance, that this anniversary coincides with that of the anniversary of Timor Leste's vote for independence which will celebrate its twentieth anniversary next year. After all, it was Suharto's successor, B. J. Habibie, who gave in to international pressure and allowed the Timorese to vote for independence, something long seen as an existential threat to Suharto's authoritarian regime.
The reforms initiated in 1998 brought incremental but steady reforms to Indonesia's constitution, judiciary, freedom of expression, and human rights. Indonesia today has an strong civil society, and provides an example of modern, moderate Islam in the world's largest Muslim country. While challenges remain, the country's remarkable progress embodies the development of the region and provides a role model for other nations in the region and beyond.
Local elections in Indonesia will occur next month to elect seventeen governors and thirty-nine mayors across the archipelago. Given the tone and outcomes of recent elections, these will be a crucial test and preview for the upcoming Indonesian general election in April 2019.
Considering Indonesia's size and importance, its upcoming elections will be the next great test for democracy in Southeast Asia, and a sign of whether the elections in Malaysia and Timor Leste this week are outliers or the start of democratic renewal in this vital region.
John Watts is a senior fellow in the Atlantic Council's Scowcroft Center on Strategy and Security. Follow him on Twitter @John_T_Watts.