As Europe and the United States face off over trade, defense spending, and other high-profile disagreements, the foreign ministers of Central Europe signaled that they are ready to take the lead in repairing the vital transatlantic relationship.
Speaking at the Atlantic Council's conference "The United States and Central Europe: Celebrating Europe Whole and Free" on July 17, ministers from the Visegrád countries—the Czech Republic, Hungary, Poland, and Slovakia—celebrated the deep relationship their countries have with the United States and stressed the importance of a strong transatlantic bond.
"Transatlantic relations are crucial," Poland's Minister of Foreign Affairs Jacek Czaputowicz said. While Central Europe is "satisfied with our membership" in the European Union, they also understand that "we cannot provide security for our part of Europe without the help [of] and a strong bond with the United States," he explained.
Aleš Chmelař, the deputy minister of foreign affairs of the Czech Republic, said that at a time when many in Europe are focused on disagreements with the United States over tariffs, NATO defense spending, and Iran's nuclear program, the countries of Central Europe must stress that "the transatlantic bond is something that is extremely important for Europe…and to be able to explain to other member states of the European Union that we have to take special care of it."
Hungary's Minister of Foreign Affairs and Trade, Péter Szijjártó, celebrated that after years of disinterest and criticism, the relationship between the United States and Central Europe is strengthening, marked by the visit of US Secretary of State Mike Pompeo to the region in February. "A couple years back we understood that our region was not really on the radar screen of US foreign policy," Szijjártó explained, adding that "we are happy that Central Europe is [now] being taken into consideration as a strategic location."
The need for stronger US-Central Europe ties, as well as the larger transatlantic relationship, will increase as the United States and its allies are confronted with challenges from authoritarian regimes such as Russia and China, Slovakia's Minister of Foreign and European Affairs Miroslav Lajčák said. "In this complicated multipolar competition, even the biggest powers will need friends. Strong friends." He warned that "in this competition, the strength of the transatlantic bond will determine whether the Western civilization will be the major player or a playing field."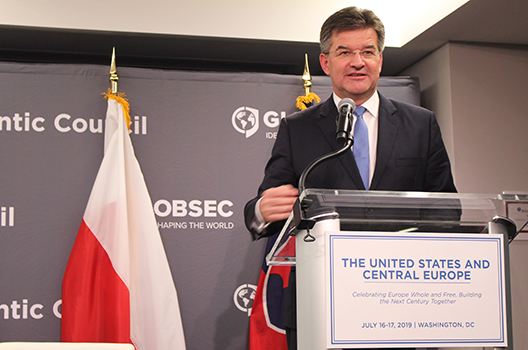 Slovakia's Minister of Foreign and European Affairs Miroslav Lajčák speaks at the Atlantic Council on July 17, 2019.
The ministers distanced themselves from suggestions that the disagreements between both sides of the Atlantic means that Europe needs to "go it alone." While within the European Union "some countries try to position the United States at the same level as other superpowers—Russia and China—to maintain equal distance," Czaputowicz said, "it is a wrong policy." For Europe, he argued "our relations are of special importance. They are different than the relations with other external actors."
Read more: Lajčák's full remarks
Chmelař agreed, saying that Europe must remember that the goals of the United States and Europe "are not similar; our goals are the same. What sometimes differ—both inside the European Union and in our transatlantic relationship—is the tools," to achieve these ends. While US President Donald J. Trump may see the European Union as a competitor, Lajčák maintained that "it is a vital American interest to see the European Union succeed and vice versa. Our own national interests are better served when we keep the transatlantic bond strong."
The Challenge and Opportunity of Energy
The need to diversify Central Europe's energy supply is both a subject of tension in the transatlantic relationship and a ripe opportunity for cooperation, the ministers said. US officials have consistently pushed Central European countries to reduce their dependence on Russian gas, as they argue it allows Russia to hold dangerous leverage over the region. The United States and other allies have specifically criticized the planned Nord Stream 2 pipeline, which is set to deliver gas to Germany and others in Central Europe and could allow Russia to bypass Ukraine, depriving that country of considerable transit income.
Czaputowicz argued that the energy dependence on Russia also has a direct connection to Central European security, as by buying Russian gas, "we provide [Moscow] with financial resources which then Russia turns into military might and threatens the neighborhood, [including] Ukraine."
Switching to a new source of energy is easier said than done, however, according to Szijjártó. Hungary still imports 100 percent of its gas from Russia because "this is what the infrastructure dictates. We can only buy gas from Russia, period," he said. Although there are plans to build new pipelines to give Hungary more options, such as from Croatia and Romania, until these projects are completed, Szijjártó maintained that Hungary has no other option.
Solving this problem is the focus of the Three Seas Initiative, of which the Czech Republic, Slovakia, Poland, and Hungary are all members. The project aims to fund new road, rail, and energy infrastructure throughout Central Europe in order to strengthen interconnectivity and establish more north to south routes. "Our part of Europe…is simply less developed," than the rest of the continent, Czaputowicz explained. "The links between north and south in our part [of Europe] are weaker than [those] between east and west," necessitating new construction, he added.
Successful implementation of Three Seas projects will not only help reduce the dependence of the region on Russia, Chmelař explained, but will also help spur the region's continued economic growth. "It is difficult to compete worldwide if energy prices are exorbitant," he explained. With more options to choose from, Central Europe can unlock even more growth potential as it catches up economically with the rest of its fellow EU members.
Central Europe Flexes its Muscles in Europe
In addition to newly improved relations with the United States, Central Europe is also seeing its voice grow in Brussels. The nomination of former German Minister of Defense Ursula von der Leyen to the post of European Commission president was approved by the European Parliament on July 16, after she emerged as a compromise candidate among Europe's leaders.
The Central European ministers welcomed Von der Leyen's selection, as it marked the failure of the spitzenkandidat system, which attempted to ensure that the Commission presidency would go to a pre-selected candidate from the pan-European party which received the most seats in the European Parliament. Chmelař argued that the spitzenkandidat system was "not a democratic one," as it put too much power in the hands of political parties and "would have been detrimental to European democracy," by taking away power from the member states.
Czaputowicz argued that Von der Leyen's success was proof of Central Europe's growing strength in the European Union and also "that we are in the mainstream," despite high-profile accusations by the European Commission and European Parliament against Poland and Hungary over alleged democratic backsliding. The leaders of each of the four countries supported Von der Leyen in the nomination process and were joined by the Christian Democrats, Social Democrats, and Liberals in the European Parliament vote. Although he said that the Central European countries had some doubts about Von der Leyen they thought it was "very important to maintain [political] consensus, not to create crisis situations."
Szijjártó argued that Central Europe's role in Von der Leyen's success signalled that their growing economic power and strong cohesion are making them a force in EU decision-making. "We definitely do have an influence on the future of the European Union because four of us are able to speak [with] the same voice," he said.
Whether it is advocating for a stronger transatlantic bond, building greater infrastructure in their region, or raising their voice in Brussels, the Central European ministers signaled that their region is, thirty years after freeing themselves from Communism, ready to play their part in Europe and the world.
David A. Wemer is assistant director, editorial at the Atlantic Council. Follow him on Twitter @DavidAWemer.