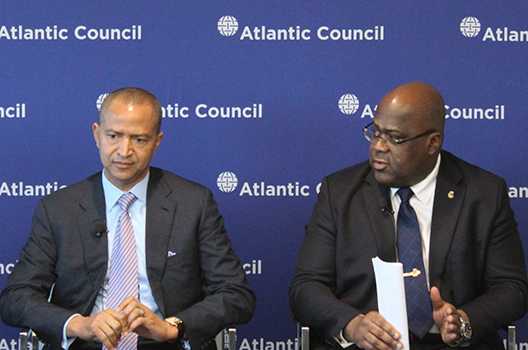 Two prominent Congolese presidential hopefuls, speaking at the Atlantic Council in Washington on May 23, announced that they were joining forces against the Democratic Republic of the Congo's longtime president Joseph Kabila.
Moïse Katumbi, who is tipped to win the election—if one is held and if he is allowed to participate—and Félix Tshisekedi, the president of the Union for Democracy and Social Progress, the DRC's oldest and largest opposition party, said opposition parties are discussing the possibility of fielding a single unity candidate in elections scheduled for December 23.

Katumbi and Tshisekedi participated in a discussion moderated by J. Peter Pham, director of the Atlantic Council's Africa Center.
Tshisekedi is the son of Étienne Tshisekedi, a prominent Congolese opposition leader who died on February 1, 2017. The appearance at the Atlantic Council was the first time since the senior Tshisekedi's death that his son and Katumbi have shared a public platform.
Katumbi launched his presidential campaign and Together for Change party in March. Seeking to dispel a widespread belief that the Congolese opposition is not united, he said his presence at the Atlantic Council with Tshisekedi should serve as a "big signal" of unity.
Tshisekedi, who spoke in French, said through a translator: "This is not just a unity in appearances. We have actually combined working together."
"We have moved beyond words and into action and we have also discussed the possibility of having one candidate among the opposition at the time of elections," he added.
Tshisekedi said other opposition groups, including Jean-Pierre Bemba's Movement for the Liberation of the Congo (MLC), are also part of the alliance against Kabila. Bemba, a former Congolese rebel leader, is in prison after being convicted in 2016 for crimes committed by forces under his command in the Central African Republic.
Katumbi served as governor of the DRC's copper-rich southern Katanga province from 2007 to September 2015. The 53-year-old is considered the most prominent challenger to Kabila with whom he was formerly allied.
Katumbi has been in self-imposed exiled in Belgium since May 2016 when he split with Kabila. In June 2016, a Congolese court sentenced him in absentia to three years in prison for illegally selling property. He denies the charges, which he calls politically motivated. He said other accusations that he is plotting a coup to overthrow Kabila are a big joke and only give him the strength to fight for his country.
A Katumbi-Tshisekedi alliance could be formidable. A survey conducted by New York University's Congo Research Group in February found Katumbi and Tshisekedi in the top two positions in a presidential election with 24 percent and 13 percent of the vote, respectively.
Katumbi recalled that in 2010 he had suggested to other opposition leaders to field a unity candidate against Kabila. "I told them 'If you find one candidate that candidate is going to win the election. The regime is going to go,'" he said.
That idea never did materialize and Kabila won a disputed election in 2011.
The crisis in the DRC
The DRC has been enveloped in a crisis since Kabila refused to step down at the end of his constitutionally mandated two terms in office on December 19, 2016. Elections, originally scheduled for November 2016, were cancelled after the election commission cited logistical and financial hurdles. Kabila formed a transitional government and promised elections would be held in 2018.
Andre-Alain Atundu, a spokesman for Kabila's ruling Presidential Majority coalition, said in April: "No other solution is possible in the current electoral process except the organization in December 2018 of presidential, national, and provincial elections."
But both Katumbi and Tshisekedi are skeptical.
"At the moment, Kabila is doing everything to not organize the election," said Katumbi.
"Only blind people can say there are going to be elections in the country," he said, adding, "Kabila is taking us straight to civil war."
Katumbi and Tshisekedi accused Kabila of failing to respect the terms of a 2003 peace agreement that ended almost five years of civil war in the DRC. More than two million people are believed to have died in that war.
The two opposition leaders also spoke of the repressive political environment in the DRC.
Opposition politicians in the DRC today face three options: spend time in jail, go into exile, or face the prospect of being killed, said Katumbi. "Kabila is preparing a graveyard for all the opposition people," he added.
Electoral uncertainty
Electronic voting machines introduced by the national election commission, which goes by its French acronym CENI, have raised suspicions of the public who see this as an attempt by the government to rig the election.
Tshisekedi raised these concerns while also pointing to irregularities in the electoral register. Both these factors have created conditions that undermine the fairness of the election, he said. What's more, he added, Kabila controls CENI and the constitutional court is packed with the president's allies.
"The political atmosphere in the country is terrible," Tshisekedi said.
"We are here today to sound the alarm," he said. "Tomorrow when the catastrophe arrives you cannot say you didn't know. Now is the time to act with pressure, with sanctions so that we can force Mr. Kabila not to run for a third term and also to allow for free and democratic elections."
Besides a political crisis, the DRC is also grappling with a health emergency as a result of an Ebola outbreak. The World Health Organization said on May 23 that there have been fifty-eight cases of Ebola since the outbreak was declared on May 8; twenty-seven have resulted in death.
A call for sanctions

The DRC has never had a peaceful, democratic transition of power since it won independence from Belgium in 1960. Kabila's critics accuse him of using delay tactics to extend his rule and amend the constitution.
The fact that Kabila's Presidential Majority has not as yet named a presidential candidate has caused some unease in the opposition. However, candidates must file their applications between July 25 and August 8, according to CENI's calendar.
Katumbi and Tshisekedi called on the United States to use targeted sanctions against Kabila and his family.
Noting that past sanctions on Kabila's political entourage had failed, Tshisekedi said: "If you were to target his wife, his children, his brothers or his sisters Mr. Kabila might start to think differently," said Tshisekedi.
Katumbi said that the United States, the European Union, and the African Union must all join together to pressure Kabila to give up power.
Kabila came to power in 2001 following the assassination of his father Laurent Kabila. He served two five-year terms after elections in 2006 and 2011—the latter a highly disputed poll whose results were denounced by independent observers ranging from the country's influential Roman Catholic bishops to the European Union's election monitors.
Discussing his election platform, Katumbi said that he would seek to replicate the success he had as governor of Katanga—he would fight corruption and build infrastructure.
Asked when he would return to the DRC, Katumbi said he would like to do so soon but speculated that Kabila would use the hype surrounding his return to stir trouble and perhaps use that as an excuse to delay the vote.
"I have to be responsible," Katumbi said.
Ashish Kumar Sen is deputy director of communications, editorial, at the Atlantic Council. Follow him on Twitter @AshishSen.