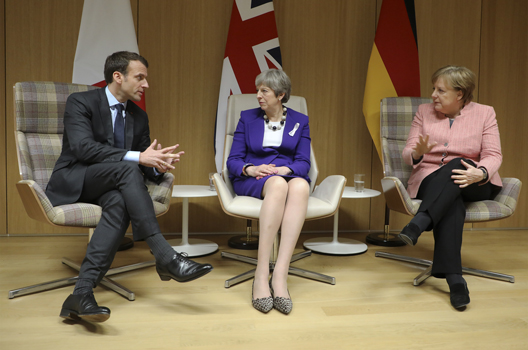 The announcement of the coordinated expulsion of more than 150 Russian diplomats and intelligence officers from the US, Europe, and other global partners showed what the deft hand of diplomacy can accomplish in countering Russian aggression.
The expulsions, declared by allies around on the world on March 25, constituted a direct response to the attempted assassination of former Russian intelligence officer Sergei Skripal and his daughter Yulia in the United Kingdom (UK).
Although Moscow may have anticipated a response to the poisoning, which took place on March 4, from Washington and maybe a few other UK allies, the breadth of this response almost certainly caught the Kremlin off guard.

The scope and solidarity of the reaction has been one of its greatest strengths. After all, one of the key factors of the sanctions placed on Russia for its aggression in Ukraine has been not only been the sanctions themselves, but the persevering transatlantic unity of the United States, European Union (EU), and others who imposed and upheld them.
That said, as impressive a diplomatic accomplishment as this was, more is needed to effectively deter Putin from his assault on the western world order. At the moment, however, western countries lack the strong leadership to set forth and execute such a coherent and coordinated strategy.
The United States has taken several credible actions, but suffers from a president who muddies any message with his refusal to speak out against Russian President Vladimir Putin. The United Kingdom remains embroiled in its own version of America First as it devotes most available resources to the Brexit negotiations. German leadership has stagnated during its prolonged government formation, and the French have yet to truly seize hold in the EU leadership vacuum. Predating the issue of ineffective leadership, there was a widespread reluctance among Western nations to pursue harsher sanctions against Russia for a litany of reasons.
Against that backdrop, here are a few suggestions of what ought to come next in the push to coordinate an international coalition to resist Russian aggression.
For starters, Trump must be convinced to take on Putin and condemn Russia's aggressive activities on the world stage, both publicly and privately. US leadership in the international arena is critical, but US action to deter the Kremlin remains doomed to failure as long as Trump does not buy into the message that the United States will stand up to Russian aggression, and reiterate it publicly, in concert with US allies.
Moreover, not only public, but private conversations as well must drive home this message if the United States is to maintain any credibility in working with its allies. This does not mean there are no avenues for cooperation with Moscow. There still must be coordinated efforts on counter terrorism and North Korea, for instance. Rather, Russia must be called to task by the leader of the free world when it threatens that very concept.
Regardless of the success of efforts to convince Trump to articulate criticism of Putin's regime, US Secretary of State nominee Mike Pompeo needs to assume his post with a focus on rebuilding a depleted diplomatic corps. The expulsions are a victory for diplomacy, but future success cannot happen without a staffed-up State Department.
The State and the Treasury Department should then be given marching orders to rally like-minded allies and partners in a coordinated effort to push back against Russian aggression, especially its interference in democratic institutions and electoral processes. The most effective approach involves targeting Putin's wallet and those of his cronies whose support keeps him in power.
The popular media narrative of imposing sanctions against Putin's money men, cronies, and their networks is a valuable path, but one that will be very difficult to implement. Despite the proliferation of Magnitsky Act-style sanctions regimes targeting Russian abuses of human rights , the United States remains the only country with an effective framework in place that allows for unfettered targeting of Putin and his cronies' financial networks.
Unfortunately, as has been the case in the past, there may be little desire from even Washington's closest allies in Europe to pursue new sanctions against those actors. Additionally, the information needed to bring sanctions against these targets, especially Putin's personal financial network, is often extraordinarily difficult to uncover. The United States should prioritize these targets, especially domestically, while working with allies on other worthwhile avenues.
Chief among these targets must be the hardening of financial systems against Russian abuse. The United States and United Kingdom, especially, have financial laws that are far too permissive and allow for anonymity of money launderers, including Russians. The dark money flowing out of Russia, from mirror trading to shell purchases of real estate in New York City and London, needs to be illuminated.
This effort needs legislation from the US Congress and UK Parliament on beneficial ownership of the shell companies used by Russians to launder assets abroad, among other items. Further, leadership by the US Department of the Treasury at the Financial Action Task Force, as well as diplomatic legwork by State and Treasury with other partners that struggle with financial transparency (looking at you, Cyprus, Latvia, and Malta) to strengthen laws and enforcement.
The United States should also explore working with partners to strengthen electoral financing and anti-corruption-related laws. Foreign money from anywhere, let alone Russia, that influences our political systems can be used to undermine democratic institutions. The United States clearly has issues, as evidenced by the 2016 election controversy, but it is not alone. The right-wing opposition candidate in France's 2017 presidential election, Marine Le Pen, took millions from Russian banks for her campaign. The involvement of former German politicians with Nord Stream II also raises serious questions about Berlin's decision-making regarding a project despised by many of its closest neighbors, and which undermines EU energy security.
Finally, the United States should work with all of those countries that have recently passed Magnitsky-style sanctions laws to coordinate human rights sanctions targeting the Putin regime. While such efforts may not target Putin's inner circle, these sanctions clearly irk the regime in Moscow in a way that few other international actions can accomplish.
No action here is a silver bullet, and neither is any one action necessarily better than others. Instead, the most important thing that the United States can do, following the important steps taken this week in showing a united front to Russia, is to build on that coordination. This administration has shown that when it focuses its energy on multilateral diplomacy, it can actually do quite impressive work (ask North Korea). What's next for this effort is a need to continue that focus and good work.
Brian O'Toole is a nonresident senior fellow in the Atlantic Council's Global Business and Economics Program. You can follow him on Twitter @brianoftoole