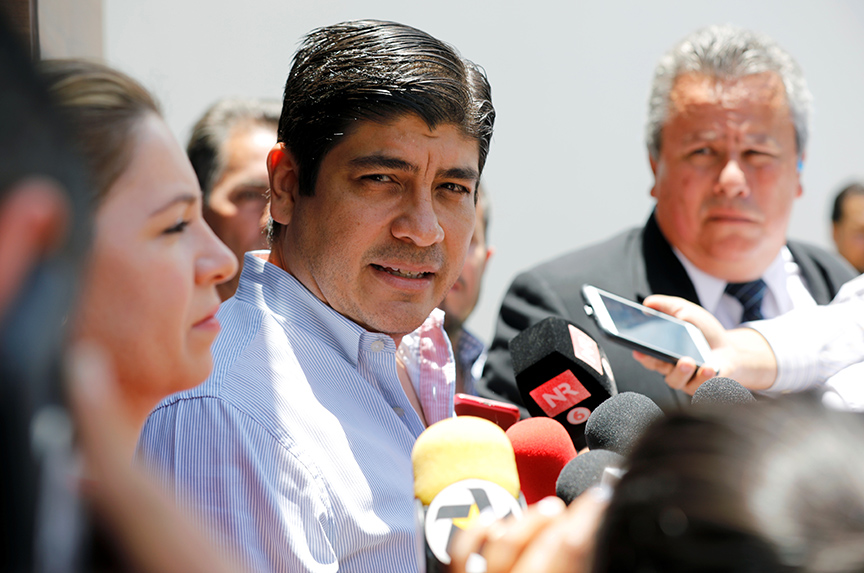 Carlos Alvarado Quesada's election as president of Costa Rica on April 1, which defied every recent opinion poll, marks the rejection by Costa Ricans of fundamentalist populism.
The thirty-eight-year-old ruling party candidate—a former labor minister, musician, journalist, and novelist—won 60 percent of the vote. Despite taking place amidst rampant corruption, rising crime and inequality, and a looming financial crisis, the election was defined by the issue of same-sex marriage.
Alvarado Quesada's opponent, Fabricio Alvarado Muñoz, an ultraconservative evangelical preacher, relied on family values rhetoric and opposition to same-sex marriage to garner support. In the end, that was not enough.

Alvarado Quesada has a long road ahead of him to repair not only societal divisions that have been deepened by the fierce election campaign, but the institutional and economic damage caused by previous administrations.
In a year marked by critical and high-profile elections in Latin America, Costa Rica's election received more international press coverage than usual because of an advisory opinion issued by the Inter-American Court of Human Rights that appeared to legalize same-sex marriage in Costa Rica.
The international media intensely covered the impact of the opinion that described same-sex marriage as a human right. The Court's opinion caused outrage in deeply religious Costa Rica, was seized upon by ultraconservative Alvarado Muñoz, and, as a result, had an impact on electoral forecasts.
Alvarado Muñoz made his opposition to the opinion the central issue of his campaign. He called for Costa Rica to withdraw from the Inter-American Court of Human Rights. Such rhetoric was enough to catapult him from an afterthought to leader in the polls and earned him a surprising victory in the first round of elections.
The Court's opinion and Alvarado Muñoz's unexpected surge polarized the country and sparked a national debate on human rights, the separation of church and state, so-called gender ideology, and the rise of evangelical churches as a powerful political force.
In the end, it was ruling party candidate Alvarado Quesada who triumphed.
Alvarado Quesada inherits the presidency from the most unpopular administration in years. Outgoing President Luis Guillermo Solis, a member of Alvarado Quesada's center-left Citizens' Action Party (PAC), leaves behind a largely dysfunctional country. Mismanagement of public funds and unchecked spending by the Solis administration have stoked fears of an economic crisis—Costa Rica closed 2017 with the highest fiscal deficit in almost four decades. In 2017, it also witnessed the highest levels of violence in its history with more than 600 homicides. According to some estimates, 2018 will be even worse.
Finally, the Solis administration left Costa Ricans with the Cementazo: the single-largest corruption scandal in the country's history. The Cementazo uncovered a complex and far-reaching influence-trafficking network that involved deputies from all of the country's major parties, the Supreme Court of Justice, and many of Solis's closest allies.
Despite the deep polarization in the country, there are a lot of reasons to celebrate. Voter turnout was high compared to the first round despite the fact that the election took place on Easter. The Supreme Electoral Tribunal (TSE) officially announced Alvarado Quesada as the winner just two hours after polls closed. Less than an hour later, Alvarado Muñoz delivered a concession speech in which he called for national reconciliation and respect for the results, an increasingly rare gesture in Latin America. The election also made a bit of history. Alvarado Quesada's vice-presidential candidate, Epsy Campbell, will be continental America's first black female vice president.
One of Alvarado Quesada's biggest challenges during the campaign was to convince Costa Ricans that despite belong to the same party he is different from his predecessor. He must now address the fiscal deficit, the most ominous cloud hanging over his incoming government. A first step would be to push tax reform through the legislative assembly and impose legal limits to growth of public spending. He must also deal with the ballooning homicide rate, which, out of all countries in Central America, is the only one going up. He must also implement anti-corruption reform, a task made all the more urgent by the Cementazo.
Finally, and most importantly, he must heal the deep divisions that are the consequence of the recent election. He has already started down this path by offering half of the ministerial-level positions to opposition parties as long as they agree to help push forward a negotiable legislative agenda. The new president will also need to rebuild bridges with the marginalized and rural coastal areas that voted against him. As a Costa Rican journalist succinctly stated, it was necessity, not ignorance, that led these communities to vote for Alvarado Quesada's opponent.
Significant challenges lie ahead, but Alvarado Quesada is uniquely situated to push the country forward. If he plays his cards right, Costa Rica, under his leadership, could come out stronger and more united than ever.
Alberto Matamoros is an intern in the Atlantic Council's Adrienne Arsht Latin America Center.