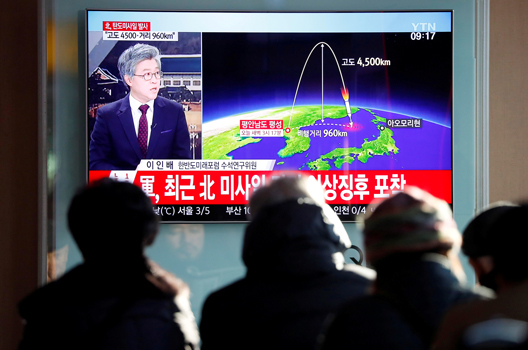 While it does not confirm any specifics regarding Pyongyang's nuclear capabilities, North Korea's latest test of an inter-continental ballistic missile (ICBM) indicates it may be able to strike the continental United States.
According to the Pentagon's initial assessment, the missile travelled approximately 1,000 kilometers before landing in the Sea of Japan. It flew higher and for a longer duration than two previous ICBM launches.
"North Korea's missile launch is yet another step forward in the country's march toward fully deliverable nuclear weapons capable of hitting the United States, China, Japan, South Korea, and any other potential targets," said Jamie Metzl, a nonresident senior fellow in the Atlantic Council's Brent Scowcroft Center on International Security.

Metzl told CNN that what North Korea is trying to do is to "develop a credible, nuclear-armed ICBM capability and they are marching forward in the process of doing that."
While "the latest North Korean ballistic missile test is indeed concerning as it represents additional progress for their rapidly advancing program… most of the reporting on assessments of their current capability as revealed by this test is inaccurate," according to Barry Pavel, senior vice president, Arnold Kanter chair, and director of the Brent Scowcroft Center on International Security. Pavel said: "As far as we can tell, North Korea still has not demonstrated the ability deliver a nuclear warhead at intercontinental range."
The ICBM tested on November 28 was fired straight into the air, leaving any conclusions of potential distance it could travel or re-entry capabilities up for debate, according to retired Lt. Gen. Patrick O'Reilly, a nonresident fellow in the Atlantic Council's Brent Scowcroft Center on International Security.
The ICBM test "once again was a test [in which the missile flew] almost straight up and, therefore, did not test the accuracy of their navigation system, stability over a horizontal flight, and survivability of their re-entry vehicle," said O'Reilly. He said that the "test went higher and of longer duration than before, but without flying a long-range horizontal flight, most of the essential ICBM functions still have not been demonstrated."
"Nonetheless," urged Pavel, "we must work closely and vigorously with our South Korean allies and our other partners in this global effort to increase the pressure on the North Korean leadership to come to the bargaining table."
After a summer of successive ICBM tests, which both threatened adversaries and explored North Korea's nuclear capabilities, and a nuclear test, the latest missile launch further ratchets up the ongoing nuclear crisis.
"We should have known better than to think there was any particular conclusion to draw from sixty-plus days of quiet," Robert A. Manning, a senior fellow in the Atlantic Council's Brent Scowcroft Center on International Security, said in an interview with Voice of America (VOA).
In light of the test, US President Donald J. Trump encouraged North Korean ally Chinese President Xi Jinping to further increase pressure on the rogue nation. However, restrictions imposed by Beijing and a series of US and United Nations (UN) sanctions on Pyongyang have not slowed North Korean leader Kim Jong-un's progress toward achieving a missile capable of reaching the United States.
According to Metzl, "North Korea's continued advance signifies both the failure of past efforts to prevent full nuclear weaponization and the spectacular insanity of the Trump administration's North Korea policy to date."
Trump reacted to the latest ICMB test on Twitter saying the situation "will be handled!" He promised yet another round of US sanctions on Pyongyang.
However, "in spite of President Trump's aggressive tweets and crazy talk, his and his administration's words and actions to date have only decimated US leverage, undermined America's relations with key allies like Japan and South Korea, strengthened North Korea, and gifted China multiple concessions in exchange for little help pressuring Pyongyang," said Metzl. He added that: "Seen through a wider lens, the words and actions of the Trump administration represent a grave threat to the post-war international order that has guaranteed global peace, security, and prosperity for over seventy years."
Manning said Trump's inflammatory rhetoric will not alleviate the situation. Speaking with VOA, he said: "Trump's hysterical, ridiculous tweets and taunting of Kim were key instigators in creating this pseudo-crisis atmosphere."
In an earlier interview with the New Atlanticist, Manning suggested the need for patience when it comes to sanctions. "Sanctions may work in nine, twelve, fifteen months, but they are not emotionally satisfying after an event like this that is really a step short of war," he said after North Korea launched a missile over Japan in August.
The latest ICBM tested could reach also a number of European capitals, drawing NATO's attention and concern. Further, the UN Security Council held a meeting on November 29, at Japan's request, to assess the situation and the group's response.
The United States has steadily ratcheted up pressure on North Korea in response to its missile and nuclear tests.
On November 20, the Trump administration put North Korea back on the State Department's list of State Sponsors of Terrorism. Only three other nations—Iran, Sudan, and Syria—are on that list.

Rachel Ansley is an editorial assistant at the Atlantic Council.